Campus Sustainability Menu
Help Us Write the 2020 iCAP!
iSEE is seeking the input as we put together the new Illinois Climate Action Plan. Pleases fill out the form below (scroll through it) or visit the form directly here >>>
Interested in learning about iCAP 2020 and providing feedback on our progress?
We are live-streaming our April iCAP Celebration and Forum! RSVP  and learn more.
The Illinois Climate Action Plan
In 2008, the University of Illinois at Urbana-Champaign signed the American College & University Presidents' Climate Commitment. This action committed the campus to carbon neutrality by the year 2050. The Illinois Climate Action Plan (iCAP) describes a path toward the fulfillment of this commitment.
As the flagship public university in the state of Illinois, the campus has a moral and ethical responsibility to lead, to set aggressive goals, to work to meet them, and to serve as a model for the community, state, and nation. The Plan represents a roadmap to a new, prosperous, and sustainable future for the University. It outlines strategies, initiatives, and targets toward meeting the stated goal of carbon neutrality by 2050.
Click the cover image to the left to download a copy of the full Illinois Climate Action Plan, or 
In a hurry? Try a condensed version:
Reaching Carbon Neutrality
In 2014, the University of Illinois used 1,076,722 megawatt hours (MWh) of electrical and steam energy, roughly the same amount of energy as 28,000 average U.S. homes. 
Each year, campus releases more than 500,000 tons of carbon dioxide equivalent greenhouse gases into the atmosphere. 
To help the University of Illinois become a model of sustainability both in the community and for the world to emulate, the Institute for Sustainability, Energy, and Environment (iSEE) has developed a three-tiered system for campus sustainability procedures. In June 2014, the Chancellor approved this Procedure for Formulating and Evaluating Campus Sustainability Policies & Initiatives, offering a big-picture process for updating and evaluating the iCAP — and explaining the roles of the Sustainability Council, the iCAP Working Group (iWG), and the Sustainability Working Advisory Teams (SWATeams).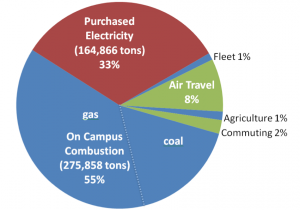 Sources of Campus Greenhouse Gas Emissions
Delving Deeper with the iCAP Portal
Since developing the 2010 iCAP, the University of Illinois at Urbana-champaign has developed hundreds of projects to tackle the broad range of sustainability issues that face our campus and our world. The iCAP Portal is a repository for summary information about each iCAP project, both to share the information publicly and to assist in collecting information for reporting purposes. Each project page includes a project description, contact names, funding details, location map(s), and more.
Greenhouse Gas Reports
Please check out the latest report on greenhouse gas emissions for the University of Illinois Urbana-Champaign campus on our iCAP Portal.