Campus Sustainability Menu
Recognition
The University of Illinois Urbana-Champaign campus has been noted locally, statewide, nationally, and internationally for its green efforts. Here are some of the more recent awards this campus has received:
STARS Gold Level — Recertified 2022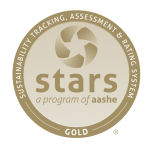 In 2022 — for the fifth time in a row — the University of Illinois at Urbana-Champaign earned Gold Level honors in the Sustainability Tracking, Assessment & Rating System (STARS), the nation's most comprehensive sustainability rating system. View the iSEE news release >>>
The Gold rating was made possible by outstanding energy and resource savings work performed by Facilities & Services, as well as completion of the university's 54-acre Solar Farm 2.0 along Curtis Road and First Street, generating 20,000 megawatt hours per year of photovoltaic electricity on campus; a geothermal energy system for the new Campus Instructional Facility, which will provide almost 65 percent of the building's energy demand; and the NRES 285 "iCAP Student Ambassadors" course, taught by iSEE. Other highlights: A significant reduction in water use through energy conservation efforts and installation of low-flow replacement faucets; public engagement, including a focus on community partnerships and continuing education opportunities; support for sustainable research opportunities and the number of participating researchers; sustainable dining options, such as vegan/vegetarian, and support for locally sourced procurement through the Sustainable Student Farm and on-campus farm stand; and campus diversity and affordability efforts through new policies and training, including support for underrepresented groups. 
STARS is a self-reporting framework for colleges and universities to measure sustainability performance. As of its certification in May 2022, Illinois was one of 89 schools to achieve up-to-date Gold in version 2.2 of the STARS tool (and one of more than 1,000 institutions overall to use the tool). The U of I was also certified Gold in 2019, 2017, 2015, and 2013.
To check out the 2022 reporting on AASHE's website, click here. 2019 report here. 2017 here. 2015 here. 2013 here.
Bicycle Friendly University
In November 2023, the University of Illinois at Urbana-Champaign earned its fifth straight Silver designation as a Bicycle Friendly University (BFU) from the League of American Bicyclists, which renewed the U of I's designation through 2027. 
The U of I, which maintained bronze-level BFU certification since 2011 and moved up to silver for the first time in 2019, is one of 221 colleges and universities recognized nationally, for taking significant steps to address health and environmental challenges by creating safer, more welcoming and accessible areas for people who bike. More details in the Facilities & Services news release >>>
The BFU program evaluates applicants' efforts to promote bicycling in five primary areas: engineering, encouragement, education, enforcement and evaluation/planning. Some of the university's recent initiatives that contributed to receiving silver certification were the publication of the 2014 Campus Bike Plan, bike path and bike lane improvement projects, bicycle rack parking upgrades and additions (11,635 bike parking spaces in 2019), the launch of the Bike at Illinois website, the start of VeoRide bike sharing availability in 2018, and the improvement of bicycle route network through the MCORE project. The F&S Transportation Demand Management Department championed for this award.
2022 AASHE Sustainable Campus Index
In September 2022, the Association for the Advancement of Sustainability in Higher Education (AASHE) recognized University of Illinois Urbana-Champaign as a top performer in its 2021 Sustainable Campus Index.
The U of I, which earlier in the year achieved Gold status in AASHE's Sustainability Tracking, Assessment & Rating System (STARS) program, was recognized as the first institution to join the U.S. EPA's SmartWay Transportation Partnership in 2004 (the University of Illinois System joined in 2020). SmartWay tracks, documents and shares information about fuel use and freight emissions across supply chains, allowing organizations to select more efficient carriers and processes. Since the launch in 2004, the program has helped shippers and carriers save more than 65 million barrels of oil and cut air pollution by more than 28 million metric tons of carbon dioxide.
The campus also earned a tie for ninth place for its work on water conservation.
Learn more at https://www.aashe.org/sustainable-campus-index/. 
Tree Campus Higher Education
In 2022, the University of Illinois Urbana-Champaign earned its seventh straight designation as an official Tree Campus Higher Education, a registered trademark by the Arbor Day Foundation, for its commitment to effective urban forestry.
The U of I is one of 411 recognized campuses.
To care for its more than 20,000 trees, campus maintains a tree advisory committee and a campus tree-care plan.
The Arbor Day Foundation has been awarding the U of I a Tree Campus designation since 2016.
2023 International Freezer Challenge 'Winning Streak Award'
For the sixth straight year, the University of Illinois Urbana-Champaign was honored with an award for achieving significant energy conservation results in the International Laboratory Freezer Challenge. From January to July, researchers on the Urbana campus collectively earned a third "Winning Streak Award" by operating their labs with efficient and sustainable cold-storage sample management practices to improve energy efficiency, reduce costs, and protect sample integrity while earning competition points. During that time, 94 labs combined to save an estimated 479,792 kilowatt-hours (kWh), or the equivalent energy usage of 42.9 typical U.S. homes annually. For the first time since the U of I joined the competition in 2016-17, two lab groups also received special recognition for outstanding participation in their respective categories:
Read the full 2023 release by Facilities & Services >>>
LabManager.com also recognized the U of I and other regular award winners with an in-depth article into how labs conserve energy. Read the full article >>>
EPA Green Power Partnership 2023
On April 24, 2023, the University of Illinois Urbana-Champaign was listed 29th in the EPA Green Power Partnership College and University category. Thanks in large part to its solar farms, the U of I campus uses $16.4M kWh of on-site electricity, accounting for 4 percent of its total. The U of I was fifth among Big Ten Conference universities.
In 2022, the U of I was 25th. Read more on the EPA website, and check out the 2022 news release from Facilities & Services.
Sierra Club Cool Schools
Illinois was No. 51 — and third in the Big Ten Conference — out of 328 four-year higher education institutions in Sierra Club Magazine's "Cool Schools" contest in 2021. Campuses participate by completing an extensive questionnaire (61 questions and a supplemental question about fossil fuel investments) on sustainability practices, which is then evaluated by experts at the Sierra Club. The U of I campus was No. 48 out of 312 schools in 2020, No. 20 (and tops in the Big Ten) out of 282 schools in 2019, placed top 100 in 2018, 56th in 2017, 33rd in 2016, and 38th in 2015. 
Bee Campus USA
As of 2021, the University of Illinois Urbana-Champaign was recognized as a Bee Campus USA, one of 122 campuses nationwide designated as pollinator-friendly.
The U of I was recognized for the first time in October 2018 as the 53rd Bee Campus USA — and the first in the Big Ten Conference. Read the Facilities & Services news release >>>
Our campus has met and — will continue to strive to meet — all of the requirements: convening a Bee Campus USA Committee of faculty, staff, and students (read the iSEE story on the student who started the movement on campus >>>); fostering community engagement through awareness events; sponsoring on-campus service learning projects; offering pollinator-focused courses; educating campus and the broader community through communications and a web presence (view the U of I's Bee Campus website and Facebook page); developing a campus habitat plan; and continuing to pursue and update its Bee Campus USA status annually.
2021 AASHE Sustainability Award
On Nov. 9, 2021, the Associate for the Advancement of Sustainability in Higher Education (AASHE) announced that two University of Illinois Urbana-Champaign achievements were nominated as finalists for the 2021 Campus Sustainability Achievement Award, recognizing outstanding progress in higher education sustainability.
The first recognition was for an iSEE course — NRES 285 "iCAP Student Ambassadors" — taught by Sustainability Programs Manager Meredith Moore and Academic Instructor/Advisor Eric Green in Spring 2021. The 23 students were trained in a bottom-up approach to campus sustainability implementation and learned about building-level Illinois Climate Action Plan (iCAP) goals. The idea for the class originated as a Zero Waste SWATeam recommendation spearheaded by student member Maddy Liberman, a 2021 graduate. The second campus recognition was for the completion and launch of Solar Farm 2.0, generating more than 50 acres of new photovoltaic electricity on campus.
The AASHE Sustainability Awards provide global recognition to the individuals and organizations leading the higher education sustainability movement. The program raises the visibility of high-impact projects, pioneering research, and student leadership that helps to disseminate innovations and inspire continued progress toward environmental, social and economic health. The finalists were selected based on overall impact, innovation, stakeholder involvement, clarity, and other category-specific criteria.
"The higher education sustainability community continues to show themselves as leaders in the global sustainability movement. This is never more evident than through the many entries received for the AASHE Sustainability Awards," said Executive Director Meghan Fay Zahniser. "I am proud to recognize the innovation and leadership demonstrated by this year's finalists."
Learn more about AASHE's Sustainability Awards program at http://www.aashe.org/get-involved/awards/.
Second Nature 'Marks of Distinction'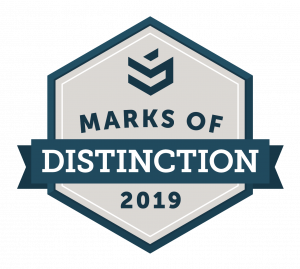 In November 2019, environmental nonprofit Second Nature recognized the University of Illinois at Urbana-Champaign with "Marks of Distinction" for advancing climate action in higher education and 1) being "On Track" for 25% carbon reduction; 2) participating in the Billion Dollar Green Challenge; and 3) participation in Second Nature's Carbon Credit and Purchasing Program, which helps the University sell credit for the carbon it doesn't emit to an other entity — and reinvest those earnings in further carbon reductions.
In April 2018, Second Nature gave the Illinois campus Marks of Distinction for two financial planning-related efforts for campus sustainability: 1) a commitment to a revolving fund worth at least $1 million to support campus sustainability projects; and 2) participation in C2P2.
2018 Second Nature Climate Leadership Award

In January 2019, the University of Illinois at Urbana-Champaign was named the ninth winner of the Climate Leadership Award.
Read the full U of I News Bureau article >>>
Each year, Boston nonprofit Second Nature and the U.S. Green Building Council select one four-year and one two-year institution for recognition. The U of I and Delta College were honored for 2018.
Illinois was specifically cited for its depth and breadth of sustainability, energy, and environmental research, measures such as the Solar Farm and renewable energy purchasing, its comprehensive energy savings efforts, educational offerings in sustainability from across the campus curriculum, and behavior-change and student activities that engage the campus community in sustainability and environmental stewardship.
AASHE Sustainable Campus Index 2018
The University of Illinois at Urbana-Champaign has maintained its gold standing in the Association for the Advancement of Sustainability in Higher Education (AASHE)'s 2018 Sustainable Campus Index. Visit the Index here >>>
In 2017, the AASHE Index recognized Illinois for an innovative, high-impact initiative. Fresh Press is a University of Illinois initiative that is looking to fundamentally change the commercial paper product industry to one that is more sustainable. Agricultural residue from the student farm is used to create paper that is sold on-campus, with students involved in growing, harvesting and manufacturing the paper products. In 2016, the first shares of artisan and writing paper were completed, and 75 percent of these shares were sold to Illinois faculty, staff, and students. Sales from paper products continue to be reinvested to make the Fresh Press business model a sustainable one. The Illinois Solar Farm was also featured in a full-page photo in the 2017 Index.
In the 2016 Index, Illinois was a No. 2 in the Building category and No. 3 in the Water category
Illinois was also honored in the 2015 Index, which put the campus No. 1 among all schools in the buildings category and No. 2 for water, among the Top 10 sustainable campuses overall, and with perfect scores on campus engagement and coordination and planning highlights.
Princeton Review's 2016 Top 50 Green Colleges

The University of Illinois at Urbana-Champaign campus sustainability initiatives have been named as some of the best in the country, as highlighted in by the No. 44 ranking (and second in the Big Ten Conference) in the release of The Princeton Review's 2016 Top 50 Green Colleges (more info at TPR's website).
In 2015, Illinois was No. 24 on the list, and the previous two years the U of I made the Princeton Review's Green Honor Roll (top 20), one of a handful of institutions to earn a perfect score of 99 and the only Big Ten school to make this list. TPR evaluates more than 800 schools each year.
2015 Campus Conservation Nationals Top 20%
Campus Conservation Nationals (CCN) is the largest electricity and water reduction competition for colleges and universities in the world. In the University of Illinois at Urbana-Champaign's second year of participation in the competition, dorm residents reduced their energy consumption by 7.9%, earning the Illinois a spot in the top 20% of energy savers in the 2015 competition. The Illinois campus was also the winner of the Big TenUnplugged challenge held between six Big Ten schools participating in CCN2015.
No. 1 in Division, Kill the Cup University Challenge
For five weeks in October and November 2015, Illinois students competed against 15 other campuses nationwide to reduce landfill waste by opting for reusable mugs instead of paper and Styrofoam cups at local coffee shops. The Urbana-Champaign campus took first prize in its division for Social Impact — the number of student participating in the campaign — and ranked 4th overall in the waste reduction category with an average reusable rate of 14.7%. As a reward, campus received a $500 grant for future campus sustainability projects.
Small Steps Big Wins Earth Week Challenge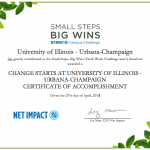 The University of Illinois finished sixth among universities in the national Small Steps Big Wins Earth Week Challenge in April 2015. Seventy Illinois students participated, performing 691 "sustainable actions" that led to a reduction of 1,513 pounds of carbon dioxide and a cost savings of $502. iSEE congratulates the participants for taking small steps to make a big difference on our campus!
Mother Nature Network Sustainable Schools
The University of Illinois at Urbana-Champaign was featured as one of 17 campuses nationwide "doing some impressive things" for the environment on Mother Nature Network's website. They were most excited about our LEED-certified buildings, the Spring 2015 solar farm project, and iSEE's SWATeams.
College Raptor Greenest College Campuses in the U.S.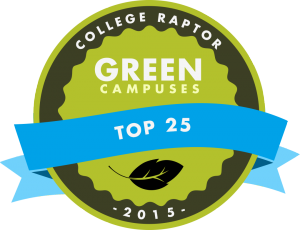 In April 2015, Illinois made the College Raptor list as one of the 25 greenest college campuses in the United States. The rating was based on the College Sustainability Report Card, the Sierra Club Cool Schools 2014, the EPA Top 30 College and Universities, and the AASHE Stars ratings.
Online Schools Center Top 50 Green Schools
Illinois is No. 13 on the list at onlineschoolscenter.com, which uses several factors in determining its rankings: the Princeton Review Green Honor Roll, EPA.gov, Sierra Club, U.S. News' Eco-friendly Campuses, AASHE gold or silver rating, and current or pending green initiatives.
Governor's 2013 Sustainability Award
Illinois was one of 27 organizations — and one of four educational institutions (Jefferson Middle School, Lewis & Clark Comm. College, and the U of I's Chicago and Urbana-Champaign campuses) — awarded the Governor's Sustainability Award on Oct. 29, 2013. The Governor's Award recognizes organizations for their demonstrated commitment to environmental excellence through outstanding and innovative sustainability practices. Winners are selected through a rigorous process of review and examination. Illinois was recognized for its efforts in the reduction of energy and water consumption, as well as for waste diversion.
2013 Gold Level Compact School
Gov. Pat Quinn and the Green Governments Coordinating Council have recognized the campus as a Gold Level Compact School within the Illinois Campus Sustainability Compact program. This designation serves as a signal to our community and peer institutions that the campus is a leader in higher education sustainability. Our campus began participating in the program at a Gold Level in 2010 and has retained this level through continued progress toward campus sustainability goals and initiatives.