Student Action: Sustainability Jobs, Campus Groups, Volunteer Opportunities
Campus Sustainability Menu
Student Groups
We want to engage talented, passionate people to discuss, work together, and help solve challenges in sustainability, energy, and environment on campus. No matter your area of study, you have lots of opportunities to get involved in the campus sustainability sphere.
Directory of Student Organizations
The University of Illinois at Urbana-Champaign is home to more than 40,000 undergraduate students, many of whom are passionate about sustainability — as demonstrated by the numerous groups whose work revolves around sustaining our planet. Click through the categories below to discover a group that matches your interests.
Don't see your group on the list? We want to know! Please email us at sustainability@illinois.edu with information about your organization.
Student Sustainability Leadership Council
The Student Sustainability Leadership Council (SSLC) is iSEE's finger on the pulse of student-led initiatives in sustainability. SSLC — made up of the leaders from numerous campus student organizations focused on sustainability and environment — is a place for student leaders to interact and collaborate. It is also the bridge between iSEE and the student body, serving as a two-way conduit of information and concerns about campus sustainability issues.
Our students want a voice in the decisions being made about how their campus reduces its environmental footprint. In the long run, the SSLC will foster deep collaboration between campus leadership and the student body.
SSLC has its own listserv, distributing information and opportunities quickly to students interested in sustainability. Student organizations also can market upcoming events and recruit volunteers for initiatives. Faculty and staff can offer opportunities to students as well. By improving communication between the different student organizations, SSLC extends its impact and ability to help campus reach its sustainability goals.
Participating SSLC organizations include Illinois Solar Decathlon; Eco-Olympics; ActGreen; Students for Environmental Concerns; the Student Sustainability Committee; Red Bison; the Sustainability Living-Learning Community; the Illinois Biodiesel Initiative; the Illinois Student Government Committee on Environmental Sustainability; Alpha Phi Omega; the Green Observer; and Beyond Coal.
You can follow SSLC on social media on Facebook, Instagram, and Twitter.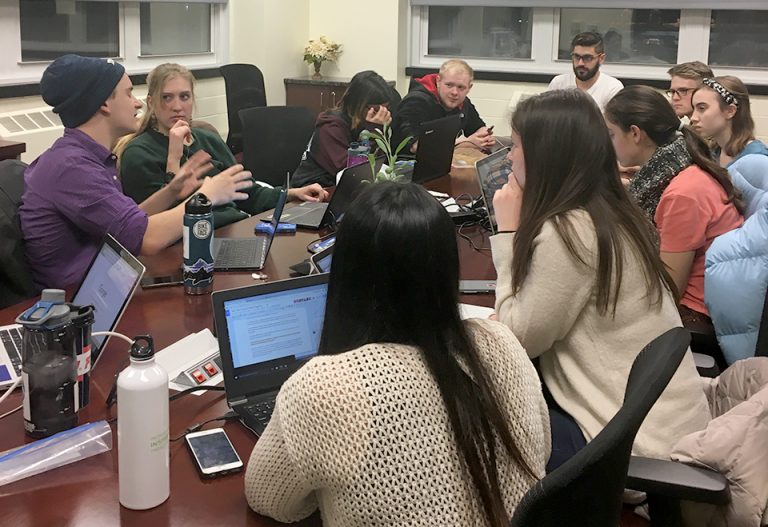 Student Sustainability Committee (SSC)
At Illinois, each student pays $14 in sustainability fees each semester, which translates into a pool of more than $1 million per year that is allocated annually to sustainable projects on campus. You could help decide how this money is used next! The fund is administered by the Student Sustainability Committee, 12 students appointed on a yearly basis and advised by faculty and staff members. Students can also be a part of the SSC's working groups, which review the projects in depth.