IBI Student Group Converts Used Cooking Oil into Quality Biodiesel, Soap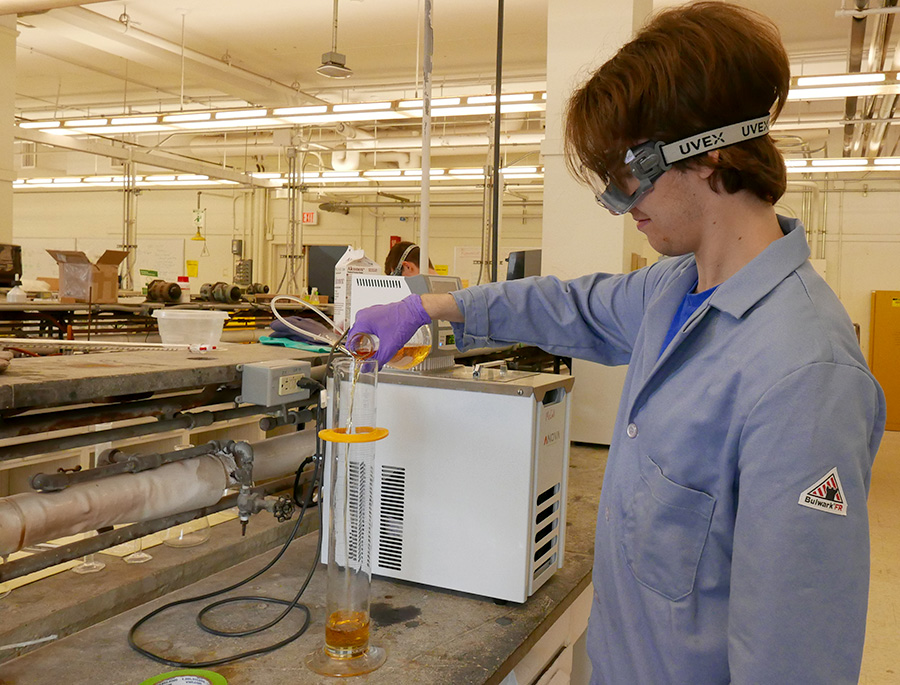 When working on homework in the hushed stacks of Noyes Laboratory's chemistry library, soon-to-be sophomore biochemistry major Alex Ruzicka is struck by inspiration.
Rather than jotting down the idea and saving it for another day with less homework, fewer exams, and minimal obligations, Alex gathers his things. With only answers to be gained, he darts up to the lab on the second floor itching to improve biodiesel quality assurance testing.
Here at the University of Illinois, students take it upon themselves to create sustainable solutions sooner rather than later.
One way students like Ruzicka are doing this is through the Illinois Biodiesel Initiative (IBI), which trains students to process waste cooking oil from University Housing and Dining Services into usable fuel. Funded in part by the Student Sustainability Committee (SSC), the club uses a bioreactor to combine the waste oil with methanol to yield two products: biodiesel fuel and glycerin. The fuel is sold back to University Garage and Carpool (which currently uses a 5% blend known as B5). The glycerin continues to be tested for soap development for future use in residential student housing.
In the Spring 2017 semester alone, IBI created 100 gallons of biodiesel fuel and 2 gallons of soap from about 100 gallons of waste vegetable oil with hopes of increasing production in the fall. Compared to regular diesel fuel, 100 gallons of B5 fuel saves 95 pounds of carbon dioxide equivalent emissions from entering the atmosphere — the same as planting a tree seedling and watching it grow for 10 years.
Yet beyond concrete numbers and products, IBI yields valuable scientific experience for all ages and majors.
"A year ago, I wanted to get involved in something chemical engineering related," said Lillian Wong, a graduating senior in chemical engineering. "At the time, I wasn't too into research, but I was immediately drawn into the sustainability aspect of IBI. I went to the first general meeting and applied to be a production testing lead. I've been involved with it ever since."
Dan Mace, an incoming senior and chemical engineering major, just completed his fourth semester with IBI, most recently serving as Vice President. In Spring 2018, he will continue his leadership role by becoming the club's President. Until then, Mace plans to spend the fall semester interning full time with a chemical manufacturing company.
"I love talking about IBI in interviews because companies really value when you have scientific experience that extends beyond the classroom," he said. "Throughout high school and middle school, I was always interested in math and science. I always knew I wanted to be an engineer, but I wasn't sure on what type until I discovered chemical engineering: a great combination of math, science and problem solving."
Since joining IBI, Mace has been able to use the skills he learns in the classroom to turn a problem — waste cooking oil — into a solution.
"The cool thing about IBI is that you get to solve a problem and see if what you did works," he said. "It's preparation for the real world."
Blake Banks, an agricultural and biological engineering student, just finished her junior year with hopes of turning her IBI experiences into a career as well. As a student in the CHEM 199 GL class, Banks worked alongside Ben McCall, Illinois Professor of Chemistry and Assistant Director for iSEE Special Projects, receiving hands-on biodiesel production training as well as class credit.
"Chemistry has never been my favorite subject, but it's definitely much easier to understand now. I haven't taken (organic chemistry) yet, but it hasn't held me back. IBI works for all different levels of understanding," she said.
"(Working with biofuels) is something that I want to do after college, so it definitely helps to know a little bit about the process before I hit the job market."
Outside of future professional development, IBI provides ample opportunity for undergraduates to explore individual interests within the registered student organization. During this past school year, Ruzicka worked as the Director of Quality Control.
Before this year, the club paid other laboratories to perform quality assessments. Ruzicka now runs the control tests himself in IBI's Noyes Laboratory lab space, developing and writing protocols and setting up the necessary equipment. He double-checks that the biodiesel made by IBI students complies with industry standards to protect the safety of both the users of biodiesel and the machinery they operate.
Because of his insatiable curiosity and drive to find answers, it's a job that extends beyond the hours of weekly IBI meetings. Sometimes putting in seven or more hours a week, Ruzicka is constantly researching ways to improve the quality experiments.
There's no better example than a late-April push to pass the latest quality assurance test — one that requires biodiesel to pass through a microfilter in less than six minutes. The test required vacuum-like conditions to filter the oil through a thin wafer-like material permeated with tiny holes 0.7 microns wide — when a single micron is the size of a single E. coli cell.
First attempts of the test resulted in a filter time of eight minutes, as the presence of too many globular structures — or "globs" — prevented the oil from quickly draining through the filter. Ruzicka continues to work on different biodiesel "formulas" in order to pass the test in the future.
"In any sort of independent standards test, you're always aware of the possibility of failure," he said. "But you learn to adapt and come up with better solutions."
Overall, IBI matches student interests with real-world problem solving to engage all levels of undergraduates while providing an emphasis toward sustainability.
"My favorite part about Illinois Biodiesel Initiative is that it brings people together who have the same attitudes towards sustainability," Mace said. "It's a cool thing when you're able to build something that could actually be productive to others."
NOTE: In 2018, IBI moved to the Integrated Bioprocessing Research Laboratory (IBRL). Learn more about IBI >>>
— Story and photos by Katie Watson, iSEE Communications Intern