Campus Sustainability Menu
Sustainability Council
The Sustainability Council is made up of top-tier leaders on the University of Illinois' Urbana-Champaign campus with the Chancellor as its Chair. It provides strategic direction and oversight of the campus sustainability initiative, including major campus policies and large-scale expenditures regarding sustainability, energy conservation, and eco-friendly practices.
See more on the Council's role in campus sustainability procedures >>>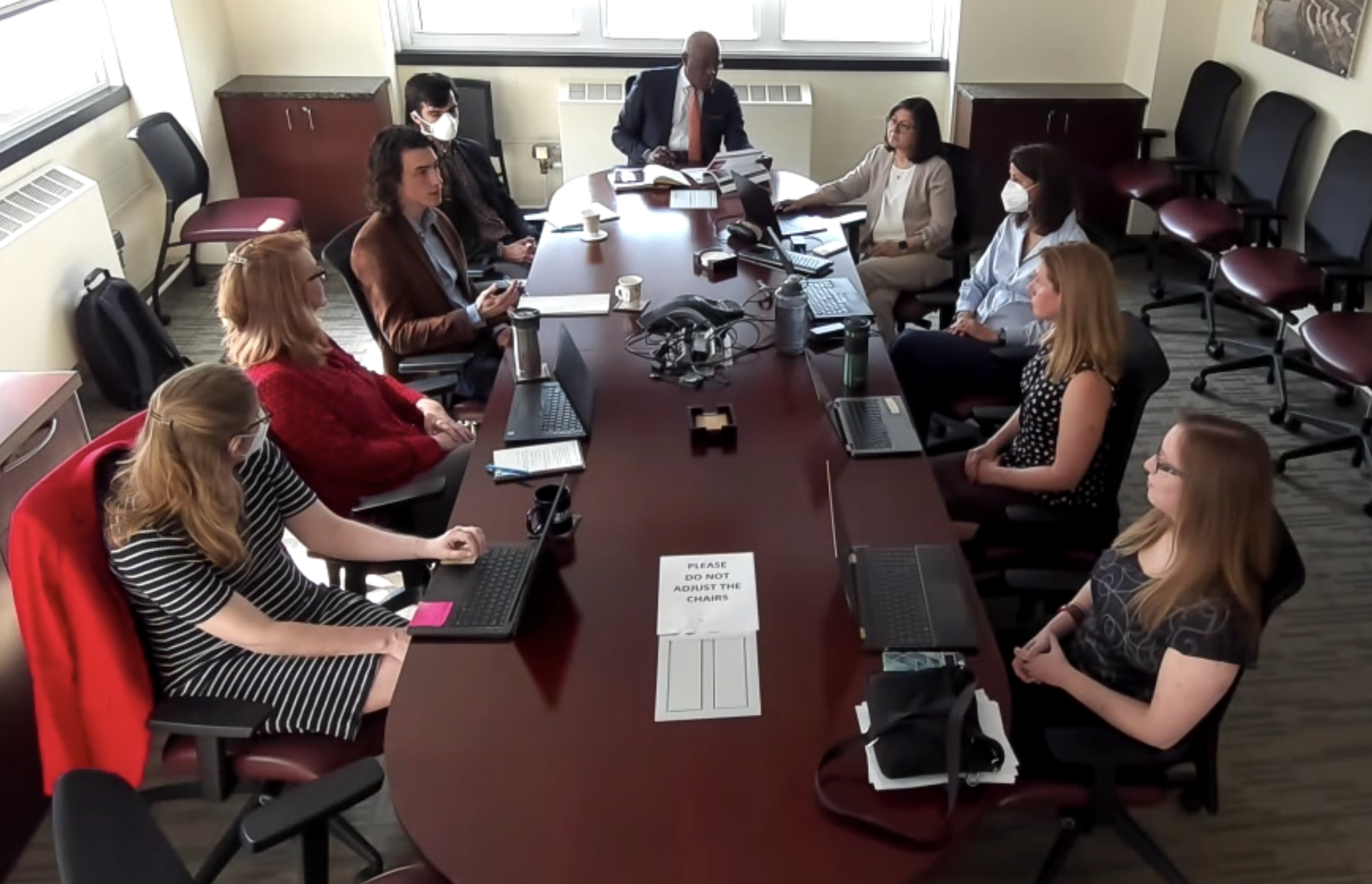 Chancellor Robert J. Jones chairs the May 12, 2022, Sustainability Council meeting.
2022-23 SUSTAINABILITY COUNCIL MEMBERS
• Chair: Robert J. Jones, Chancellor, University of Illinois at Urbana-Champaign
• Vice Chair: Madhu Khanna, Alvin H. Baum Family Chair and Director of iSEE
• Bill Bernhard, Interim Vice Chancellor for Academic Affairs and Provost
• Barry Benson, Vice Chancellor for Advancement; Illinois Foundation Senior Vice President
• Danita Brown Young, Vice Chancellor for Student Affairs
• Mike DeLorenzo, Senior Associate Chancellor for Administration and Operations
• Susan Martinis, Vice Chancellor for Research and Innovation
• Ehab Kamarah, Associate Vice Chancellor and Executive Director, Facilities & Services
• Lowa Mwilambwe, Associate Vice Chancellor for Auxiliary, Health & Well-Being
• Paul Redman, Associate Provost for Capital Planning
• Rashid Bashir, Dean, College of Engineering
• German Bollero, Interim Dean, College of Agricultural, Consumer, and Environmental Sciences
• Chrystalla Mouza, Dean, College of Education
• Venetria Patton, Dean, College of Liberal Arts & Sciences
• Josh Whitman, Director of Athletics
• Jeff Jenkins, Chair, Senate Executive Committee
• Garrett Forrest, President, Illinois Student Government (ISG)
• Jack Reicherts, Chair, Student Sustainability Committee (SSC)
• Owen Jennings, Co-Chair, Student Sustainability Leadership Council (SSLC)
• Non-voting attendees: Jennifer Fraterrigo, iSEE Associate Director for Campus Sustainability and Co-Chair of the iCAP Working Group; Morgan White, Associate Director of Facilities & Services (F&S), Sustainability, and Co-Chair of the iCAP Working Group
• Secretary: Elizabeth Murphy, iSEE Managing Director
Council Subcommittee
In FY21 the Chancellor approved a Sustainability Council subcommittee, which will meet each semester to address medium or medium-large recommendations that need the involvement of the campus administration — as well as to have preliminary discussions on large policy or monetary recommendations that will go to the full Council later in the semester.
2022-23 SUBCOMMITTEE MEMBERS
• Chair: Mike DeLorenzo, Senior Associate Chancellor for Administration and Operations
• Susan Martinis, Vice Chancellor for Research and Innovation
• Paul Redman, Associate Provost for Capital Planning
• Lowa Mwilambwe, Associate Vice Chancellor for Auxiliary, Health, and Well-Being
• Ehab Kamarah, Associate Vice Chancellor and Executive Director, Facilities & Services
• Madhu Khanna, Interim Director, iSEE
• Jennifer Fraterrigo, iSEE Associate Director for Campus Sustainability
• Morgan White, Associate Director of Facilities & Services (F&S), Sustainability
• Owen Jennings, Co-Chair, Student Sustainability Leadership Council (SSLC)
• Non-voting attendee: Meredith Moore, Sustainability Programs Manager, iSEE (ex-officio)