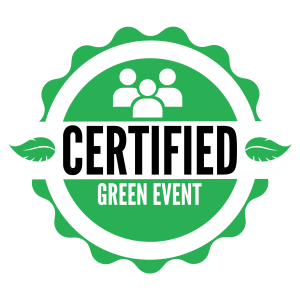 Greener Events. Greener Illinois.
1. Select a Green Team Leader
It helps to have one person take the lead. Identify someone from your event team who can handle communicating with iSEE and developing a plan to green your event.
2. Create a Green Event Plan
Go through the checklist below and identify what steps you plan to implement. If you need help with anything, just drop us a line at iseegreenoffice@gmail.com.
3. Submit Your Plan
Once you've identified the steps you plan to take and a method for taking them, complete the form online and we'll get you certified! Click here for the form >>>
Congratulations! Your event is now Certified Green!
Here to Help: Tutorials, Hints & Tips
iSEE is developing a detailed resource guide to help you green your event. In the meantime, please feel free to email us at iseegreenoffice@gmail.com if you have any questions!
You could be our first Certified Green Event!
Certified Green Event Credits
You have the power to reduce the environmental impact of the University of Illinois at Urbana-Champaign.
The Certified Green Event Program offers a number of different ways to green your event. All you have to do is integrate at least four of the actions below into your event!
Encourage carpooling for out-of-town attendees and provide information about lower-carbon ways to travel (e.g. rail instead of flying)
Offer teleconference opportunities for attendees to participate remotely
Offer at least one vegetarian or vegan option at all event meals
Go paperless and offer the conference program online
Use paper with recycled content for any printed materials
Ensure recycling bins are available at the event location
Reduce waste through encouraging people to bring their own reusable mugs and/or offering them to attendees as a promotional item
Communicate ways the event is sustainable via signage or other means