iSEE Congress Spring 2021: The Future of Water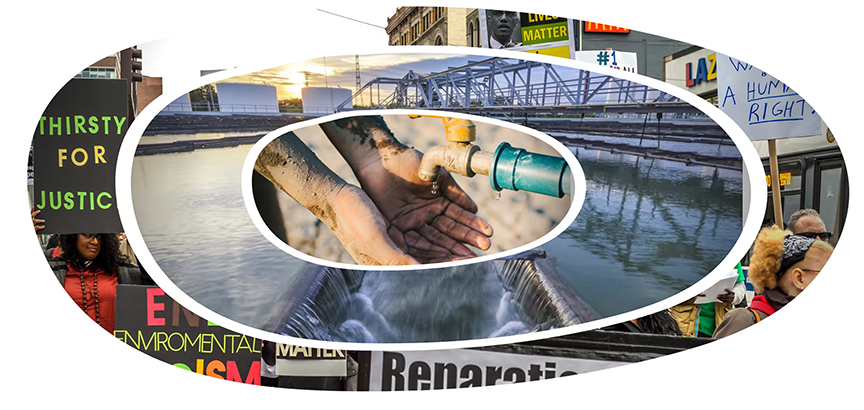 April 2021
Online via Zoom
#iSEECongressSp21
Zoom webinar registration links below 
for each event!
About the Congress
In the seventh iSEE Congress, we are partnering with the Joint Area Centers (JACS), three of which are funded through U.S. Department of Education Title VI grants, and the
Illinois Global Institute
to readdress the topic of global water crises.
Water is not only a basic human need, but also serves as a critical input for energy and food production as well as ecosystem services — which in turn affect human livelihoods and well-being. Climate change is leading to increased hydrologic variability with a significant impact on the hydrologic cycle, water availability, and water demand at the global, regional, and local levels.
Over a series of Zoom events (see schedule and speakers below), "The Future of Water" brings together a diverse group of researchers, educators, journalists, and activists to dive deeper into the topic. Our modified "teach-in" will introduce the Illinois campus and community to cutting-edge thinking from highly influential scholars on topics ranging from drought to the global politics of water to pollution, public health, and biodiversity.
iSEE is pleased to report that Congress 2021 is a
Certified Green Event
 (see more details at the bottom of this page). The organizing committee included iSEE Associate Director for Education & Outreach Gillen D'Arcy Wood, Geology Professor and Illinois Water Scholars Chair Jim Best, Center for Global Studies (CGS) Director and Associate Professor at the International & Area Studies Library Steven Witt, Musicology Associate Professor Michael Silvers, CGS Associate Director Donna Tonini, iSEE Academic Program Instructor/Advisor Eric Green, iSEE Graduate Educational Research Intern Paul Gharzouzi, and student volunteers. The Peter Gleick and Joan Rose events are MillerComm Lectures sponsored by the Center for Advanced Studies.
Noon Tuesday, April 6: Marcus King
Marcus King
Associate Professor of International Affairs, George Washington University
Presentation title: "The Weaponization of Water in the Middle East and Africa"
Abstract: Overuse, population growth, and climate change are turning water into a tool for conflict in the Middle East and Africa. Violent Extremists Organizations (VEOs), among others, have seized upon this opportunity to weaponize water. Strategies and tactics for doing so vary widely according to the capabilities and goals of the group that wields it. Using examples from Syria and Iraq, the Sahel, and the Horn of Africa, this lecture will elucidate emerging approaches toward — and categories of — weaponization, and suggest actions national governments and the international community can take to discourage water weaponization in modern conflicts.
Bio: King's areas of expertise include environmental security, climate change and security, environmental scarcity and fragile states, and energy security. He is Director of the Elliott School's Master of Arts in International Affairs Program after previously serving as Director of Research and Associate Research Professor. King draws on experience in public service, research, and the private sector. He joined the Elliott School in 2011 from the research staff of CNA Corporation's Center for Naval Analyses where he directed studies on security, resilience, and adaptation aspects of climate change. He was also Project Director for the CNA Military Advisory Board (MAB), an elite group of retired admirals and generals constituted to provide recommendations and reports on how these topics affect U.S. national security. From 2003 to 2006, King was Research Director of the Sustainable Energy Institute; and Senior Manager for Energy and Security Programs at a private consultancy. During the Clintan Administration, he held Presidential appointments in the Office of the Secretary of Defense, where he represented the United States for negotiation of the UN Framework Convention on Climate Change, and the Office of the Secretary of Energy, where he directly supported the Deputy Secretary and participated in negotiations on the peaceful uses of nuclear energy with the Russian Federation.King is a member of the Center for Climate and Security's Advisory Board. His current research focuses on identifying ties between water scarcity and large-scale violence. He is a regular contributor to radio, television and print media.
A video of the Congress event:
Noon Wednesday, April 14: Book Talk with Catherine Coleman Flowers
Catherine Coleman Flowers
Author, Researcher, Environmental Activist
iSEE Levenick Resident Scholar in Sustainability Leadership
Book title: "Waste: One Woman's Fight against America's Dirty Secret"
Discussion (and read ahead!): Participants were invited to a round-table discussion with the author and other experts. All were invited to read the book beforehand for a more lively discussion. The e-book is available through the U of I Library here >>>
Roundable Participants: 
Mark Duey, Chief Programs Officer, Water for People (Denver-based nonprofit with international/global water outlook).
McKenzie Johnson, Assistant Professor of Natural Resources & Environmental Sciences, University of Illinois Urbana-Champaign
Flowers bio: An environmental health researcher and writer, Flowers is the founder of the Center for Rural Enterprise and Environmental Justice (CREEJ) and a Senior Fellow for Environmental Justice & Civic Engagement at the Center for Earth Ethics at Union Theological Seminary. An environmental activist bringing attention to the largely invisible problem of inadequate waste and water sanitation infrastructure in U.S. rural communities, she was selected as a MacArthur Fellow in 2020. And in March 2021, she was named to the White House Environmental Justice Advisory Council.
Read more about Coleman Flowers >>>
A video of the Congress event:
Noon Tuesday, April 20: Peter Gleick (MillerComm Lecture)
Peter Gleick
Co-Founder, Pacific Institute
Presentation title: "The Past, Present, and Future of Water"
Abstract: Freshwater has played a central role in human evolution, the rise and fall of civilizations, the revolutions of chemistry, physics, and biology, and the complex challenges facing modern society. Gleick will offer a look at this role, address the current water crises facing the planet, and discuss how we might transition from the difficult water crises of the 21st century to a more positive, sustainable vision for the future.
Bio: Gleick is a leading scientist, innovator, and communicator on global water and climate issues. He co-founded the Pacific Institute in Oakland, one of the most innovative, independent non-governmental organizations addressing the connections between the environment and global sustainability. Dr. Gleick's work has redefined water from the realm of engineers to the world of sustainability, human rights, and integrated thinking. Gleick pioneered the concept of the "soft path for water," developed the idea of "peak water," and has written about the need for a "local water movement." Among many other honors, Gleick received the prestigious MacArthur "genius" Fellowship, the U.S. Water Prize, and has been named "a visionary on the environment" by the BBC. He was elected in 2006 to the U.S. National Academy of Sciences. In 2018 he was awarded the Carl Sagan Prize for Science Popularization. Gleick is the author/editor of many scientific papers and books, including The World's Water series, Bottled and Sold: The Story Behind Our Obsession with Bottled Water (Island Press, Washington), and A 21st Century U.S. Water Policy (Oxford University Press, New York).
The video of Gleick's talk:
Noon Friday, April 23: Joan Rose (MillerComm Lecture)
Joan Rose
Nowlin Chair in Water Research, Michigan State University
Presentation title: "From Polio to Covid: Environmental Virology at its Best"
Abstract: Since the era of waterborne jaundice and polio, diseases spread by viruses were present prior to our understanding of these unique biological entities. Environmental virology attempts to understand the disease risk through the monitoring of viruses in wastewater, fresh and marine waters. The advent of molecular tools and high throughput sequencing technologies coupled with metagenomics has offered the opportunity to identify human viral pathogens including global spread of diseases such COVID-19. We now have the ability to monitor community health via the surveillance of our wastewater thus addressing global grand challenges including the implementation of world-wide vaccination programs.    
Bio: Rose has spent her career tracking pathogens in water, from E. coli to the COVID-19 virus.The 2016 recipient of the prestigious Stockholm Water Prize, Rose studies waterborne health threats by mapping the world's waterways. Her global activity includes investigation of waterborne disease outbreaks and the study of water supplies, treatment, and reclamation. Her applied research interests include study of microbial pathogens in recreational waters and climatic factors impacting water quality. She has published more than 300 manuscripts.
The video of Rose's talk: 
To Start the Conversation …

This blog post was prepared by Pacific Institute Co-Founder Peter Gleick to help start the conversation in advance of his Congress presentation on April 20, 2021, at the University of Illinois Urbana-Champaign. To add your voice to the conversation, please send your responses in the space available below.
Fresh water. The lifeblood of the planet. The resource most critical for human and ecosystem evolution, survival, and well-being. The natural resource that consistently polls highest in public opinion about the importance of the environment. And the natural resource at the heart of a broad, persistent, and complex set of local and global challenges.
Water is connected to everything we care about: growing food, human and ecosystem health, the production of a vast array of industrial and commercial goods and services, international security, and climate change. We live on a water planet — indeed, the only planet known to harbor life — and water was critical to the development of life (at least, so our water-based biologist lifeforms tell us). Indeed, in our search for extraterrestrial life of any kind, we focus on "Goldilocks" planets, where the conditions for life include forms of water most similar to our own.
It is the 21st century and Earth faces a series of deepening environmental challenges that threaten the ecosystems on which we all depend, and the health and well-being of humanity itself. We have failed to provide safe and affordable drinking water and sanitation for billions of people. Freshwater ecosystems are among the most damaged and degraded because of our overuse and pollution of water. A substantial fraction of global food production relies on completely unsustainable overdraft of groundwater. Political violence associated with competition and control of freshwater resources is increasing. Human-caused climate change is accelerating, with worsening impacts on freshwater availability, quality, extreme events, and more.
What will the future bring? My crystal ball is no clearer than yours, my visions of the future no more accurate than any ancient soothsayer or fortune-teller. But I believe we have two choices, two paths.
The first path, the "hard" path for water, involves doing more of the same: building more massive, traditional water infrastructure in the form of dams, aqueducts, groundwater pumps, centralized treatment plants, and continuing to extract more and more water from already stressed and failing ecosystems and groundwater. This hard path approach brought enormous benefits to us in the 19th and 20th centuries, building the water institutions and infrastructure many of us today take for granted: Turn on the tap and cheap, clean water comes out; flush the toilet and our wastes magically vanish. But we now know that the hard path also came with unanticipated or long-ignored costs to disadvantaged communities without the economic resources to participate and to the environment in the form of destroyed or dried up rivers, devastated fisheries, and climate change.
Continuing to follow the hard path for water leads, I believe, to a dark and dismal future, a future we would not go to if we had a choice. And we do have a choice.
We can follow a different path, what I call the soft path for water. In fact, I believe we're starting down that path now. The soft path for water requires that we rethink water "supply" and rather than taking more water from already overtapped rivers and groundwater, we capture, treat, and reuse wastewater and stormwater instead of throwing it away. We explore, where economically and environmentally appropriate, desalination of brackish water, and in some cases seawater. It requires that we rethink water "demand" and massively improve the efficiency of water use. The potential to do what we want with far less water — grow food, produce goods and services, wash our bodies and clothes — is enormous. Let's stop wasting the water we already capture, clean, and use. The soft path also requires rethinking water economics acknowledging the human right to water while also pricing water properly to encourage efficiency and sustainable use. It requires moving away from old water institutions that think of water as a purely engineering problem toward institutions that acknowledge the social, cultural, and intrinsic values of water resources.
The good news is that we're already on the soft path in some ways. All around us is evidence of a transition from the old ways of managing water resources to new thinking, new technologies, and new institutions that offer a way out of the global water crises we face. Our challenge is to accelerate that transition, to take the lessons of the failure of the hard path and to look at the successful examples of new solutions and build them into a whole, a strategy, and a replicable and scalable approach to bringing our use of freshwater resources back into balance.
A FEW RESPONSES TO GLEICK ...
From Dayna Cueva Alegría, Ph.D. Candidate in Geography, University of Kentucky — In spite of the need to rethink our relationship to water and implement a shift from the hard path to the soft path for water, what is critical to such a change will depend on the quality and arrangements of governance. For example, there is wide recognition that realizing the right to water is about upholding democratic governance processes and advancing social equity. Addressing barriers and constraints in our varied political landscapes is crucial for achieving water governance outcomes that integrate the social with the ecological.
From Lisa Lucero, Professor of Anthropology, University of Illinois Urbana-Champaign — What do you think of the feasibility of constructed wetland biospheres to naturally clean water? I study ancient Maya urban reservoirs, and this is how they kept millions of gallons of water potable during the five-month annual dry season. Also, what are your thoughts on water and population? If human bodies are over 60% water, and water is finite, wouldn't increasing exponential population growth eventually impact water supplies?