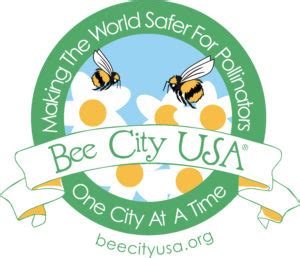 Communities across the country are pulling together in support of the nation's pollinators, and the University of Illinois recently added its name to the list.
This year, the U of I applied for Bee Campus certification through Bee City USA, an initiative of the Xerces Society dedicated to fostering a pollinator-friendly environment. The process was fairly smooth sailing: It turns out that the U of I did not have to make any drastic changes to be considered eligible. And so Illinois became the 53rd Bee Campus USA — and the first Big Ten Conference school with that designation.
The idea to pursue Bee Campus USA certification originated with Rachel Daughtridge, an Undergraduate junior in Natural Resources and Environmental Sciences (NRES).
One of the many ways that Daughtridge engages with on-campus sustainability is through her internship for Lincoln Avenue Residence Hall's Sustainability LLC, a floor designed for students interested in environmental issues. Having lived there her freshman year, she jumped at the opportunity to help coordinate the program and support students with sustainability projects of their own.
Last October, Daughtridge's involvement with the LLC led her to a student sustainability summit hosted by the Association for the Advancement of Sustainability in Higher Education (AASHE) in San Antonio, Texas. The summit featured a workshop led by Phyllis Stiles, founder and director of Bee City USA, during which she discussed the initiative's mission and outlined the steps to certification. Daughtridge's passion for pollinators and commitment to local environmentalism immediately drew her to the idea.
"I knew that we could make this happen," Daughtridge said, "because the university already met so many of the requirements."
Founded in 2012, Bee City USA aims to make the nation a safe place for pollinators (not only bees, but butterflies, beetles, bats, hummingbirds, and more) to live happily and healthily. Any city — or campus — can pledge to uphold a list of requirements to join the rapidly growing list of certified communities. The application outlines seven steps that Daughtridge was responsible for overseeing.
In January 2018, Daughtridge completed Step 1: forming an on-campus Bee Campus USA committee. Members include:
Morgan White, Associate Director of Facilities & Services (F&S), Sustainability;
Brent Lewis, Facilities & Services Campus Landscape Architect;
John Marlin, Academic Hourly Researcher in Natural Resources and Environmental Sciences at the Illinois Sustainable Technology Center;
Lesley Deem, Program Manager at the U of I Pollinatarium, Department of Entomology;
Undergraduate students Daughtridge, Sara Mason, Joseph Kreiling, Vivek Sriramineni, Teylor Hunter, Lauren Paddock, Kate Smith, Bhairav Valera, Alaina Bottens, Nora Grasse, Jenna Mattes, and Jane Halloran; and
May Berenbaum, Professor of Entomology and renowned bee expert.
The committee had two primary tasks. The first was to compose an integrative pest management plan outlining best practices for pollinator-conscious landscaping and pesticide use. The second was to maintain a native plants roster, which tracks what's currently planted on campus as well as what the U of I plans to incorporate in the future. While the committee was originally made up of students from Daughtridge's LLC, it is open for all who wish to join.
"Currently," Daughtridge said, "pollinators are threatened by habitat destruction and pesticides, so it's important that we create an integrative pest management plan to figure out whether we are a threat to them with our landscape management."
But Daughtridge was happy to report that the university had very little to change.
The second step in becoming Bee Campus certified is fostering community engagement through an awareness event. For Daughtridge, this was a no-brainer: She put together assorted pollinator-based trivia accompanied with a live screening of The Bee Movie to make for an undeniably successful night on the Main Quad.
"To promote the event, we passed out native plants grown at the Lincoln Avenue Residence Hall and organized pot painting activities so people could bring their plants home," she said.
Next, Daughtridge began researching Step 3: sponsoring on-campus service learning projects. She was pleasantly surprised to discover several student organizations with thriving campus presences already doing these things, including Red Bison — an RSO dedicated to ecological restoration and native species revival — and the relatively new Beekeeping Club.
Daughtridge is proud of the steps the U of I has taken to create a pollinator-conscious environment even before the incentive of Bee Campus certification arose.
"For Steps 3 and 4," she said, "I didn't have to do anything other than describe what the University is already doing to fulfill those requirements."
Indeed, Step 4 — offering pollinator-focused courses at the university — was not at all difficult to authenticate.
"Luckily, U of I has quite a few courses that do a unit on pollinators, especially in the School of Integrated Biology and the Department of Entomology," she said.
Steps 5 and 6 focus on communication and increasing awareness of the initiative's presence at the U of I. To do this, Daughtridge obtained a grant from the Student Sustainability Committee (SSC) to post permanent metal signage in swathes of native foliage and designated "pollinator pockets." Additionally, the Bee Campus committee developed a student-run website to post news and updates per the application's requirements.
Step 7 is ongoing: to maintain Bee Campus USA certification, an Illinois committee representative must annually apply for recertification. Daughtridge doesn't think this will be an issue given the significant interest she already observed among younger students.
"In the future years," she said, "it'll be pretty sustainable to keep it going."
Including the University's recent induction, there are 53 Bee Campuses and 75 Bee Cities in the United States, with more joining the ranks each year.
"Maybe that's the next step for Champaign and Urbana," she said.
And rightly so: the road to certification launched a campuswide ripple effect that not only increased pollinator-related awareness, but also heightened the community's consciousness of native plants and larger-scale ecological concepts.
Regardless of where they are in the process, any community can benefit from giving pollinator-consciousness a try. And if the U of I is any indication, there could be countless Bee Cities and Campuses scattered across the USA that just don't know it yet.
Read more on the U of I's Bee Campus USA website >>>
And check out the committee's Facebook page >>>
Read the Facilities & Services news release about the new designation >>>
Read more about U of I sustainability recognitions and awards >>>
— Jenna Kurtzweil, iSEE Communications Intern