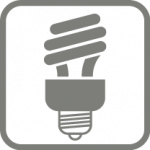 From highly efficient automobiles to efficient light bulbs to motion-sensing light switches, more efficient devices and reduction in waste can contribute as much toward a sustainable energy future as discovery of new energy sources. Research carried out at the University of Illinois is aimed at both improving efficiency of energy-consuming devices as well as conservation of energy by reducing waste.
Areas of Research Focus
Illinois researchers are leading the way on saving energy and resources — now and in the future.
Specific projects include:
Design and operation of motors.
MEMS and microelectronics for motor and energy applications.
Progress toward more efficient wind farms.
Dynamic energy management needs in energy-efficient buildings imposed by stochastic solar resources.
Applied fluid mechanics principles for efficient wind power harvesting.
Energy and water efficiency in residential homes.
Photoconversion efficiency of perovskite solar cell materials.
High-efficiency III-V solar cells and thin-film inorganic solar cells.
Visible light emitting diodes (LEDs) and thin-film flexible LEDs.
Wind energy and environment.
ONGOING GRANTS & GRANT OPPORTUNITIES