Crude oil pollution treatment project (2015-19)
Current
Funded
iSEE Work
Current
Funded
iSEE Work

Current
Funded
iSEE Work

Current
Funded
iSEE Work

Current
Funded
iSEE Work
Project Overview



Running from 2015 to 2019, the Nano-CarboScavenger project supported three of iSEE's research themes: Energy Transitions, Sustainable Infrastructure, and Water & Land Stewardship.
This project's purpose is to optimize a Nano-CarboScavenger (NCS), a particle designed to adsorb oil and remove it from water. In Lead Investigator Dipanjan Pan's words:
"As the demand for petroleum continues to rise, we will see an increase in petroleum transportation traffic — which will inevitably lead to an increase in chances for aqueous crude oil spills, land spills, and fracking byproduct-based pollution. These spills threaten our environment, and finding ways to clean them up has become a grand world challenge.
"But thus far, we lack efficient and safe cleanup methods for oil and petroleum spills. Typically, oil spills can affect animals and plant life in two ways: from the detrimental effect of the oil itself, and from the treatment for cleanup operations. Addressing both these challenges can help us minimize overall impacts to the ecosystem and facilitate a much quicker recovery.
"In response to this ecological threat, my team has developed a highly efficient, environmentally friendly, bio-digestible, and commercially amenable powder dispersant. This tiny, nanometer-sized agent is uniquely "dual functioning" — for simultaneous collection and removal of crude oil and petroleum distillates with remarkable efficiency. More importantly, this agent does not leave any residual footprint because it is degraded in the environment and in living systems — and any incidental biological uptake is not harmful to living organisms.
"Our reusable Nano-CarboScavenger powder dispersion leads to clumping and accumulates the oil for simple recovery by nets or booms. That makes our approach distinctly different from current approaches and introduces an ecologically compliant strategy for oil spill remediation.
"At the University of Illinois, this multidisciplinary project employs bioengineers, materials scientists, and analytical chemists to help solve a prevalent issue affecting the Earth's environment."
Co-PI BK Sharma offers a quick update four years after iSEE funded the project …
Beyond the paper that appear in the Journal of Materials Chemistry A (see article below), the team put forth a nearly $500,000 proposal in August 2018 to the U.S. Department of Agriculture's National Institute of Food and Agriculture for a new study titled "Electrically Receptive and Thermally Responsive Sensor (ER-TR Sensor) for Rapid, Quantitative Detection of Bacterial Cells in Consumable Products." That proposal was not funded.
When you dump expired cold syrup or rinse out an almost empty bottle of lotion into the sink, do you ever consider what chemicals are being introduced into the water supply?
The increase of pharmaceuticals and personal care products (PPCPs) entering public water systems was a problem that researchers at the University of Illinois at Urbana-Champaign challenged themselves to solve thanks to seed funding from the Institute for Sustainability, Energy, and Environment (iSEE).
"PPCPs pose dangerous ecological and health effects on chronic exposure even if they are present in low concentrations," said Dipanjan Pan, Associate Professor and the Director of Professional M.S. Program in Bioengineering. "We believe we have found a low-cost way to remove these harmful chemicals — and by making it biodegradable, we won't be introducing any complications to wildlife."
A team led by Pan collaborated with Wei Zheng, Senior Research Scientist at the Illinois Sustainable Technology Center (ISTC, a Division of the Prairie Research Institute), and B.K. Sharma, Senior Research Engineer at ISTC, to develop a unique technology to alter the harmful chemicals introduced to water. The results of their study were recently published in Journal of Materials Chemistry A.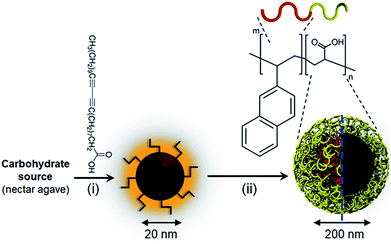 Team members from Pan Laboratory created a "smart filter," called a Pharmaceutical Nano-CarboScavenger (PNC), that efficiently and safely removes carbamazepine (found in medications treating a wide-range of physical and mental health issues), gemfibrozil (found in cholesterol medication), and triclocarban (an antibacterial agent found in soaps and lotions) from water.
This filter is vastly different from your average water filter. Instead, it places activated charcoal and sand on top of the PNCs, which are carbon-filled cores made from agave. Water is allowed in, the activated charcoal removes heavy metals, the sand helps remove impurities and contaminants, and the PNCs scavenge through the water to remove the PPCP pollutants.
"A nanoengineered system that is based on an environmentally degradable system is a major and unmetneed," Zheng said. "The materials are derived from inexpensive natural sources and completely biodegradable, making this approach highly adaptable and environmentally friendly for mass processes."
Other collaborators on the project: Indu Tripathi, former Postdoctoral Visiting Scholar in Bioengineering; Laurel K. Dodgen, former Illinois Postdoc and current Physical Scientist for the U.S. Department of the Interior; Fatemeh Ostadhossein, M.S. and Ph.D. Candidate in Bioengineering; Santosh Misra, former iSEE Postdoctoral Researcher in Bioengineering; and Enrique Daza, a recent Bioengineering Ph.D. graduate and an M.B.A. Candidate from Pan's lab.
Backed by iSEE funding, Pan's Nano-CarboScavenger team also has explored remediating crude oil spills in water and had successes in the lab at clumping oil globules that could be scooped by a fine net — again, with the particles completely biodegradable and having no effect on wildlife if consumed. Pan and his team have also explored possible cancer treatments using nanoparticles.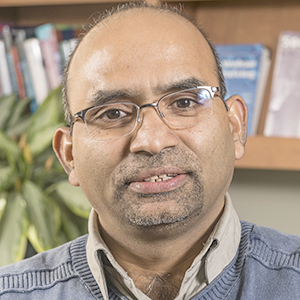 Co-PI BK Sharma offers a quick update three years after iSEE funded the project …
"Apart from oil remediation, the next work we have done is on chemical contaminant removal using these nanoparticles, and a manuscript has been submitted for publication on that work," he said. The article, titled "Biodegradable NanoCarbon-based Smart Filters for Efficient Remediation of Pharmaceutical Contaminants," has been submitted to Journal of Materials Chemistry A.
"Also, we are looking at potential of using these nanoparticles as lubricant additives in lubricants, such as engine oil, hydraulic oils, etc.," Sharma said.
PI Dipanjan Pan and other team members in Bioengineering continue to look at the nanoparticles' biomedical applications, including cancer treatment.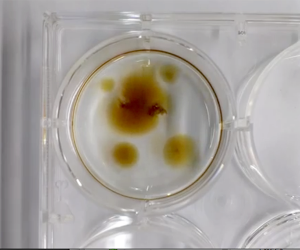 PI Dipanjan Pan offers an update two years after iSEE funded his project …
The team evaluated the potential of a second Nano-CarboScavenger (NCS) material to remove oil dissolved in seawater. As part of this, the following specific tasks were undertaken:

Oil-contaminated seawater samples were treated with NCS for six time point measurements over the duration of eight days.
Triplicate measurements of total organic carbon (TOC), fluorescence spectroscopy (EEM), and Acute Toxicity by MicroTox were performed at each time point.
The team extracted non-polar organics at select time points and analyzed extracts by gas chromatography mass spectrometry (GCMS).

Based on the studies, the following findings were made:

Addition of NCS material to seawater with and without contamination increased the dissolved total organic carbon (TOC) contained in the water fraction.
The team confirmed that addition of NCS material to contaminated seawater had no significant effect on acute toxicity of the water fraction as determined by MicroTox. Nor did addition of NCS material to seawater alone.
The addition of NCS material to contaminated seawater reduced the fluorescence intensities of the three components in the dissolved water fraction. The maximum difference occurred on Day 3.
Quantitatively, the addition of NCS material to oil contaminated seawater shows a ~40% reduction in the total petroleum hydrocarbon (TPH) content in the dissolved water fraction.

Using the NCS platform technology, a novel "smart water purification system" for remediation of pharmaceuticals, hormones, polyaromatic hydrocarbons and other contaminants was also developed. Several batches of second-generation NCS samples were successfully tested in Wei Zhang's lab at the Illinois Sustainable Technology Center for their activity in removing pharmaceuticals.
"We also developed mineral-rich algal nanoparticles from biomass (algae) for biomedical application," Pan said. "Spheroidal nanoparticles of algal (phytonic) origin were synthesized comprising carbonaceous architectures and surface-rich oxygenated functional groups." In two back-to-back publications in ACS Applied Materials and Interfaces (see publications below), the team reported that nanoparticles derived from algal biomass exhibit intrinsic anti-migratory properties against cancer likely due to the rich abundance of α-amino acids.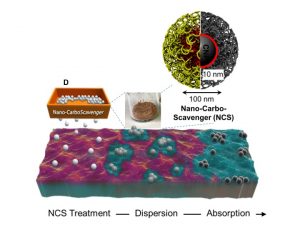 The Crude Oil Pollution Treatment Project team recently published a paper announcing its work on the Nano-CarboScavenger (NCS), which promises an environmentally friendly solution to aquatic oil spills around the world.
The NCS powder simultaneously diffuses oil floating on the water's surface for natural breakdown and absorbs oil and traps it for easy removal. Pan recently reported results in an article in Nature Publishing, a publication of Scientific Reports. Most methods for oil cleanup today rely on releasing toxic chemicals into the ecosystem, but the NCS particle leaves fish and other aquatic life, as well as humans, unharmed.
In laboratory tests, researchers removed more than 80 percent of oil contamination they introduced into water samples by sprinkling NCS powder across the surface of the water and scooping out clumped oil. The total cleaning effect will be even higher in natural bodies of water, where millions of microorganisms can gobble up oil molecules NCS particles disperse into the water.
PI Dipanjan Pan reports that the team is "totally in line with our proposed timeline for reaching all the milestones." Specifically …
The team's manuscript on Nano-CarboScavengers rehabilitating petroleum-contaminated water has been reviewed twice with Nature Communications, and another revised version is ready to be submitted.
Significant research progress has been made — and key data collected — to take the project beyond the level of proof of concept. New student members have been added to the team (see those updates below).
And new research directions have been identified — and progress has been made in those directions. They include:

"Utilizing our platform technology based on carbon nanoparticles, we are proposing a novel 'smart water purification system' for remediation of pharmaceuticals, hormones, polyaromatic hydrocarbons and other contaminants," Pan said.
A second project is looking at production of mineral-rich algal nanoparticles from biomass (algae) for agricultural, biomedical and environmental (metal, e.g. mercury scavenging) application.
"A third spinoff project is looking at a self-'reproducing' bacterial-nano-enzyme architecture for novel solution of biofuel production," he said.
Principal Investigators and co-PIs
Operating Team
Publications & Presentations
(iSEE project members' names in bold)
Publication: "Biodegradable Nano Carbon based Smart Filters for Efficient Remediation of Pharmaceutical Contaminants." Tripathi, I.; Dodgen, L.; Ostadhossein, F.; Misra, S.K.; Daza, E.; Sharma, B.K.; Zheng, W.; and Pan, D. Journal of Materials Chemistry A (2018).
Publication: "α-Amino Acid Rich Photo-phytonic Nanoparticles of Algal Origin Serendipitously Reveals Anti-migratory Property against Cancer." Misra, S.K.; Schwartz-Duval, A.S.; Ostadhossein, F.; Daza, E.A.; Saldivar, Z.M.; Sharma B.K.; Pan D. American Chemical Society Applied Materials & Interfaces (June 2017).
Publication: "Nanosalina: A Tale of Saline-Loving Algae from the Lake's Agony to Cancer Therapy." Ostadhossein, F.; Misra, S.K.; Schwartz-Duval, A.S.; Sharma B.K.; Pan D. ACS Applied Materials & Interfaces (March 2017).
Presentation: First place (oral), Daza, E., and Misra, S., Materials Research Lab (2015-16).
Presentation: Second place (poster), Daza, E., and Misra, S., Center for Nanoscale Science and Technology Poster Symposium in the Micro and Nanotechnology Lab (2015-16).
Presentation: First place (poster), Daza, E., and Misra, S., Bioengineering Days Poster Symposium in the Digital Computer Lab (2015-16).
Presentation: First place (poster), Daza, E., and Misra, S., Annual Society of Postdoctoral Scholars Poster Symposium in the Beckman Institute (2015-16).
Presentation: Postdoctoral soft materials seminar talk, Misra, S. (2015-16)