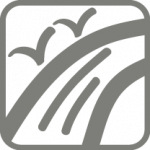 Water and land development has been a keystone of civilization, providing critical resources for agriculture, industry, urbanization, recreation, and public safety. Over history, development in watersheds has been centered on human needs without sufficient consideration of natural ecosystem requirements. This has caused the degradation of aquatic systems in the form of aquifer drawdown, modified river and lake hydrology, water pollution, and habitual destruction — all impacting aquatic organisms and food webs. Stressed environmental systems in turn have threatened human societies by reducing ecosystem services on which they depend. This situation has become even more pressing as the climate changes, and it has attracted wide interests in research communities to develop harmonious relationships between human and natural systems.
Areas of Research Focus
The University of Illinois at Urbana-Champaign has competitive research capacities and strengths in developing an integrated scientific framework to understand the complexity in human-interfered watersheds and to exploit policies and engineering solutions for ecosystem restoration, as well as reliable water supply and quality needed to support human societies. This includes but is not limited to:
engaging communities and developing decision support systems and policy-making processes to provide effective information to stakeholders and water users, giving them a voice and ensuring sustainability of human and environmental systems;

examining regional and national water and ecosystem impacts resulting from existing energy, agricultural, and land uses — and identifying potential solutions;

understanding linkages between land and water use, groundwater, surface and sub-surface water flow, and watershed resistance and resilience — to help define restoration and protection targets for all ecoystems;

improving understanding of risks and impacts to water supplies and the environment from extractive uses, carbon sequestration technologies, and extractive technologies; and

conducting economic and social science research that identifies decision-making processes that are necessary for watershed and ecosystem sustainability.
ILLINOIS RESEARCH CENTERS
ONGOING GRANTS & GRANT OPPORTUNITIES
STUDENT-LED WEBSITE: FISHES OF BONEYARD CREEK
Ichthyology students at the University of Illinois at Urbana-Champaign have created a website on aquatic life in the Boneyard Creek, a local landmark body of water. The students intend to continue adding more ecosystem and water quality information.