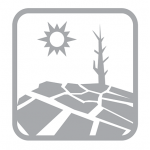 In recent decades, communities around the world have witnessed changes in climate conditions, including a significant warming trend and an increase in the frequency and intensity of extreme weather events. Concomitant changes are expected to occur in regional patterns of temperature, precipitation, and sea level, with resultant impacts on most societal, economic, and environmental aspects of existence on this planet. With the increasing world population, impacts can be expected not only in the areas of agriculture and water resources, affecting food security, but also via the sea-level rise affecting coastal settlements including a number of the world's major cities. These impacts are expected to impinge on the economy and the welfare of every nation. Uncertainty related to future weather conditions and extreme events will put additional pressure on arid regions, where water shortages are already occurring and agriculture accounts for the large majority of all water consumption. In addition, future weather conditions and extremes are expected to deeply reduce the yield of most crops and lead to new challenges in terms of food safety and food security. Climate change will also have important consequences on public infrastructures, transportation systems, on labor markets, trade and migration, health, air pollution and natural systems.
Areas of Research Focus
At the University of Illinois at Urbana-Champaign, research teams across campus are focused on various topics related to the impacts of changing climate.
These researchers are addressing the impact of the changing climate:
on water resources and water management; 
on crop productivity and land use;
on terrestrial, freshwater, and marine species;
on human health, pests, and diseases;
on urban areas and infrastructure; and
on international trade, human migration, and the regional and global economy.
FIND A GLOBAL CLIMATE CHANGE SCHOLAR