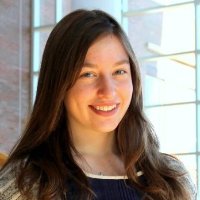 Elizabeth Shancer is a sophomore in Agricultural and Biological Engineering in the College of ACES. She is the co-founder and vice president of ActGreen, a Gies College of Business student organization focused on sustainability within business. She is also a brother of the Alpha Phi Omega service fraternity.
Her favorite place to study on campus is in the Illini Union, and she enjoys taking long walks around campus.
Elizabeth got involved with the Purchasing, Waste, and Recycling SWATeam because she noticed a general sense of confusion about recycling on campus. "I wanted to learn more about how waste is handled, and what can be done to be more effective," she says.
As a highly-rated institution of higher education, the University of Illinois ought to take a leading role in facing societal issues, she said. She believes that because of the size of the Urbana-Champaign campus, its sustainability efforts will have a large impact on the environment. Sustainability just makes sense, she says.
Elizabeth finds it challenging to understand the University's institutional restrictions and regulations, but with the help of the staff and faculty members, she thinks she's doing OK.
Before her time is done on this SWATeam, Elizabeth wants to see recycling bins on the Quad — and to see the topic of sustainability being integrated into the curriculum of more classes. A shared go-green attitude is a major strength, she says, for creating more accountability for proper waste disposal.
"I hope that student leaders throughout the University will acknowledge sustainability in wherever their lives and career paths take them," she says.