Illinois Shines in Sustainable Index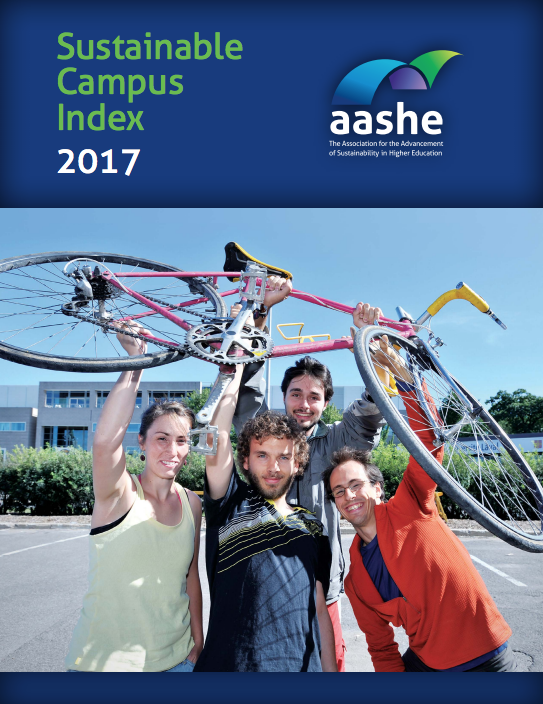 URBANA, Ill. (Nov. 7, 2017) — The University of Illinois has been highlighted in the 2017 Sustainable Campus Index in the Campus Engagement section for its efforts in advancing sustainability in higher education. The 2017 Sustainable Campus Index, a publication of the Association for the Advancement of Sustainability in Higher Education (AASHE), highlights innovative and high-impact initiatives from colleges and universities that submitted a Sustainability Tracking, Assessment & Rating System (STARS) report in the 12 months prior to July 1, 2016.
Fresh Press is a University of Illinois initiative that is looking to fundamentally change the commercial paper product industry to one that is more sustainable. Agricultural residue from the student farm is used to create paper that is sold on-campus, with students involved in growing, harvesting and manufacturing the paper products. In 2016, the first shares of artisan and writing paper were completed, and 75 percent of these shares were sold to Illinois faculty, staff, and students. Sales from paper products continue to be reinvested to make the Fresh Press business model a sustainable one.
"The University of Illinois at Urbana-Champaign's feature in this report shows its significant leadership and commitment to advance sustainability," AASHE Executive Director Meghan Fay Zahniser said. "We are excited to recognize the University of Illinois for working to secure a thriving, equitable and ecologically healthy world through its comprehensive sustainability efforts."
Fresh Press, which was highlighted in the Campus Engagement section of the index, was funded in part by a grant from the University of Illinois' Student Sustainability Committee (SSC), a board of students that allocates more than $1.1 million in student-supported green fees to campus sustainability projects. Nick Heyek, this year's chair, was thrilled the hear the news.
"A huge part of the mission of our green fund is to provide seed funding for unique projects to help get them off the ground," Heyek said. "Seeing one of the projects we helped fund receive national recognition on this scale really demonstrates the impact that our student body has on campus sustainability."
The 2017 Sustainable Campus Index also contained a full-page photo of the 20-plus-acre Illinois Solar Farm.
Illinois has already secured its third consecutive Gold Certification from the STARS process, and recognition for Fresh Press in the Sustainable Campus Index further underscores the strides it takes to make a significant societal impact.
The U of I's STARS report is publicly available on the STARS website >>>
Read more about the recognition the Illinois campus has earned >>>
About STARS
The Sustainability Tracking, Assessment & Rating System (STARS) is a transparent, self-reporting framework for colleges and universities to measure their sustainability performance. STARS was developed by AASHE with broad participation from the higher education community. The credits included in STARS span the breadth of higher education sustainability and are organized into four categories: Academics, Engagement, Operations, and Planning & Administration. All reports are publicly accessible on the STARS website. For more information, visit stars.aashe.org.
About the Association for the Advancement of Sustainability in Higher Education (AASHE)
AASHE empowers higher education faculty, staff and students to be effective change agents and drivers of sustainability innovation. AASHE enables members to translate information into action by offering essential resources and professional development to a diverse, engaged community of sustainability leaders. We work with and for higher education to ensure that our world's future leaders are motivated and equipped to solve sustainability challenges. For more information, visit www.aashe.org.