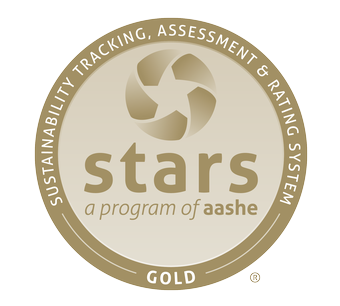 JULY 25, 2017 — The University of Illinois at Urbana-Champaign is continuing its legacy of environmental and sustainability leadership by earning its third consecutive Gold ranking from the Association for the Advancement of Sustainability in Higher Education (AASHE).
Through the Sustainability Tracking, Assessment, and Rating System (STARS) program, AASHE encourages higher-ed institutions of all sizes to report and be recognized for the steps they've taken to reduce greenhouse gas emissions and waste, as well as to increase campus participation in sustainability efforts. Based on a detailed set of criteria in 18 categories, schools earn points to improve their ranking. STARS offers four levels of ranking: bronze, silver, gold, and platinum.
This reporting cycle, Illinois turned in its highest score to date since it began reporting in 2013 (when it earned its very first Gold certification). STARS recognition is conferred every few years, and the campus recertified in 2015 before submitting again this year.
"Achieving Gold Certification, particularly for a campus this size, is testimony to Illinois' commitment to sustainability and to dramatically reducing our carbon footprint. Between now and our next recertification I look forward to even greater progress toward Platinum certification, AASHE's highest recognition," said Evan DeLucia, Director of Illinois' Institute for Sustainability, Energy, and Environment.
Illinois is one of 25 schools — and one of two in the Big Ten Conference — to achieve Gold in latest, most stringent version 2.1 of the STARS tool. The program has ranked 67 schools with its STARS 2.1 program; 827 overall have registered to use STARS reporting.
Becoming a Gold-ranked institution is no small feat. Hundreds of data on campus water and energy use, administrative policies, student efforts, waste handling procedures, transportation, and dining services were entered into the STARS report. In its latest Gold-winning report Illinois earned several innovation credits for the Sonified Sustainability Music Festival, the Fresh Press agricultural waste paper making project, a flour-milling operation to turn campus-grown wheat and oats into flour for the dining hall kitchens, and the student-run Styrecycle program to divert polystyrene coolers from campus waste.
Explore the full report of campus' sustainability efforts over the last year and a half.