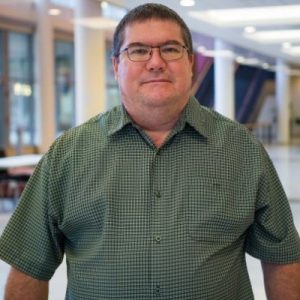 Thurman Etchison is the Assistant Director of Dining Services' Facilities and Equipment operations.
He spends much of his day researching, purchasing, and planning for installation of various equipment and also directing repairs and maintenance of Dining's equipment and facilities. He serves on several committees within Housing as well as the larger campus to help him stay connected to the issues facing his unit and campus as a whole.
Etchison inherited his position on the Agriculture, Land Use, Food, and Sequestration SWATeam from the previous person in his job, and says he's certainly glad he did.
"My eyes have been opened to the multitude of issues involved in reducing greenhouse gas emissions," he said. "I think global climate change as the most important issue we face, and I want my grandchildren to inherit the same Eden-like paradise that I inherited. As a global leader in many things, I feel the U of I has an obligation to find creative solutions to the problem, lead by example and educate others. We must be good stewards with our students' resources, including the environment."
So far, he and the team have put the bulk of their time into quantifying current levels of GHG emissions from agriculture on campus. The large variety of land uses and ever-changing farming methods make it tricky to get a reliable number, he said.
Etchison urges students to "go out into the world, share what you learned and take up the cause in your own backyard." His message for faculty and staff is to embrace the fact that they can make a difference every day if they try — and to help students realize the same fact.
Return to Zero Waste SWATeam page