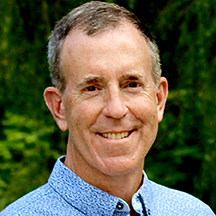 Mark Herman is iSEE's Media Lab Coordinator. His responsibilities are far-reaching and include capturing video footage, editing and polishing iSEE productions, and running the video production equipment in the iSEE Media Lab.
He received his undergraduate degree in Broadcast Journalism with a minor in Telecommunicative Arts from Iowa State University. While working toward his bachelor's degree, Mark worked for a few local TV stations, getting practice doing interviews in front of a camera. After college, he got a job for a small-market television station in Western Iowa, where he received an opportunity to try out reporting and anchoring.
After five years in broadcast TV, Mark came to realize it wasn't the right fit for him. He decided to attend Eastern Illinois University and obtained a master's in Speech Communication with a concentration in Public Relations.
"I saw this as an opportunity to improve myself and build a new career path," he said.
So that is exactly what he did: After getting his master's degree, Mark was hired at the University of Illinois Urbana-Champaign as the first-ever video coordinator for the athletic department, a job he held for 11 years. From there, his video production company started to take off and ultimately became his full-time career, working with clients like the Marching Illini.
As much as Mark enjoyed working for himself, he started to miss working with people in a team environment.
"One thing I really am looking forward to at iSEE is being part of a communications team — to  have a chance to work with the professionals here and be able to put together content we can all be proud of," he said.
In his free time, Mark enjoys being outdoors working on his family farm, fishing, gardening, and gazing at the stars with his telescope. His current interests helped him realize that iSEE was the place for him.
"Once I found the position announcement for iSEE's video opportunity, I immediately felt like I would fit into this job perfectly and be able to hit the ground running," he said. "I have a passion for nature and the outdoors that fits with the mission statement iSEE has."
Since joining iSEE in early December 2020, Mark has produced a variety of videos, including several for Earth Month 2021! One project he particularly enjoyed was creating a time-lapse video of a pre-Arbor Day tree planting in front of the National Soybean Research Lab. Moving forward, Mark is excited to start on his next big project: a new campus Sustainability Training Video.
"It will be challenging and fun to help create a campuswide educational video about sustainability here at the U of I," he said.
Check out more of Mark's work and other iSEE videos on our YouTube channel >>>
And read more about Mark's workspace, the iSEE Media Lab >>>
— Article by iSEE Communications Intern Grace Izzo