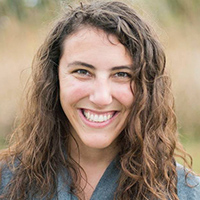 Jordan Goebig is iSEE's Communications Specialist. Before joining iSEE she worked as the Assistant Director at the Illinois Property Assessment Institute (IPAI) and as an Environmental Programs Coordinator at the American Lung Association. In May 2018, she made her way to the University of Illinois at Urbana-Champaign.
After completing her bachelor's degree in Journalism, she went on to pursue a master's in Communication, both from Illinois State University.  Because she has a passion for science — almost as much as she has a passion to communicate and create — the marriage between the two worlds was "natural fit." Currently, Jordan uses her communication skills to report on the work iSEE is doing at Illinois. Her day-to-day projects include using multimedia tools like social media, videos, photos, and writing to share iSEE's story and mission.
Jordan believes that creating a culture of sustainability is important. Finding ways to encourage yourself and others to make small changes in everyday life can have huge, lasting impacts, and universities should strive to "make sustainability a part of their identity."
Since starting at iSEE, Jordan has come to love the work of connecting  with the students, researchers, and staff, all of whom are working on environmentally focused projects. She has come to appreciate the passion and talent from these people, the hard work they do, and how much she always learns from them. One of her goals for iSEE's communications team is to continue to expand the audience and reach of the environment-forward science happening at Illinois.
When Jordan isn't at iSEE, she can probably be found hiking, cycling, or running with her husband Adam and their border collie, Emmy. And since her passion for helping others and making a difference in the world doesn't stop at sustainability, Jordan is also a certified therapy dog handler.