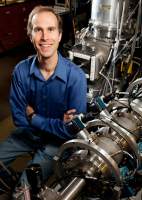 Ben McCall served from December 2013 through 2016 as iSEE Associate Director for Campus Sustainability, and was Assistant Director for iSEE Special Projects through 2017. In Spring 2018, he was hired to become the first Executive Director of the University of Dayton's Hanley Sustainability Institute.
McCall joined the University of Illinois faculty in 2004 as an Assistant Professor of Chemistry and Astronomy. During his U of I career, he has taught a variety of undergraduate courses in chemistry, astronomy, and climate science. His primary research focus is molecular spectroscopy — the study of which colors of light molecules absorb or emit.
Ben admits that there is not much overlap between his chemistry and sustainability interests. Recognition of an ethical obligation of mankind "not to trash the place" and the threat of the limits of a finite planet motivated him to get involved in sustainability initiatives.
His involvement began in 2011 when he joined the campus operations committee of the University of Illinois academic senate. Soon after Evan H. DeLucia was hired as Director of iSEE's precursor, the Center for a Sustainable Environment, Evan approached the campus operations committee with his vision for what the Institute would be doing and its impact for campus. "I got really excited [by that presentation], and offered to help out in any way I could. Evan took me up on that way more than I anticipated," Ben says.
As iSEE's first Associate Director for Campus Sustainability, he was instrumental in coordinating the 2015 update to the Illinois Climate Action Plan and creating a new Procedure for Formulating and Evaluating Campus Sustainability Policies & Initiatives — which was adopted by campus higher administration in 2014. He shared this model with hundreds of other institutions at the 2015 annual meeting of the Association for the Advancement of Sustainability in Higher Education's (AASHE). Here is a pdf of McCall's presentation.
Ben served as a rallying point for several campus sustainability projects. His main task at iSEE was to interface with campus stakeholders and to expedite collaboration between campus units on sustainability issues. He especially enjoys working with student groups.
Ben received his B.S. degree in Chemistry from the California Institute of Technology in 1995 and a joint Ph.D. in Chemistry and Astronomy & Astrophysics from the University of Chicago in 2001. He was then a postdoctoral fellow at the University of California at Berkeley.
Ben lives north of Champaign on 5 acres of country land. His favorite hobby is making his lifestyle as sustainable as possible. He has installed solar panels and wind turbines on his property and drives an electric vehicle. He also enjoys gardening.
View his Astronomy profile page
View his Chemistry profile page