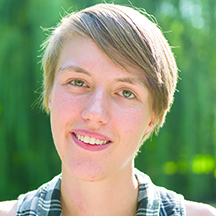 April Wendling was hired in December 2021 as a Communications Specialist at iSEE after years of communications work as an intern and an hourly employee at the Institute. As of fall 2021, she's also a graduate student at the University of Illinois pursuing a Master of Science in Journalism.
Originally from Darien, Ill., April has lived in Urbana for the past six years, as she earned her bachelor's degree here at Illinois, too. She double majored in Earth, Society, & Environmental Sustainability (ESES) and Geography & Geographic Information Science, with a minor in Integrative Biology.
April's involvement with iSEE began with ESE 498: Environmental Writing for Publication, a course in the Certificate in Environmental Writing. Students in this course have the opportunity to contribute to Q Magazine, iSEE's professionally produced magazine that showcases students' environmental writing.
The piece that April worked on for Q Magazine, "Life in the Dead Zone," took an "integrative look at the environmental history of the area that became the Chernobyl Exclusion Zone in Ukraine." She found the interaction between native species and the radioactive zone fascinating from both an ecological and social/historical standpoint and wanted to share this intrigue with her readers.
Following her initial work with Q Magazine, April joined the communications team at iSEE in August 2019.
"iSEE is the big central hub for sustainability on campus," she said. "One of the best ways to get involved in sustainability at Illinois — be it research, classes, or campus events — is to keep up with iSEE's offerings. It's really exciting to be a part of promoting that."
April is passionate about science communication and wants to continue exploring this field to further her career. Her favorite part about working with iSEE is studying and engaging with different scientific topics.
"Getting to interact with all these experts from different fields is a really humbling learning opportunity," she said. "It's nice to get to learn something new regularly for your job."
April's role at iSEE involves creating and editing a variety of written and graphical content for the iSEE and CABBI websites. Additionally, she oversees some of the writing interns, works with students from the Certificate in Environmental Writing, and conducts interviews with iSEE and CABBI scientists to write news releases on their latest research.
When she's not in the office or doing work for her grad program, you can probably find April outside. In addition to being an avid bird watcher, she enjoys hiking and biking. She also loves to bake and is confident that she has the best pizza recipe in town.
— Article by iSEE Communications Intern Kratika Tandon