Sustainability leadership, research, education, and practices will remain at the forefront of University of Illinois priorities, thanks in part to significant endowments from Stuart L. and Nancy J. Levenick of Naples, Fla.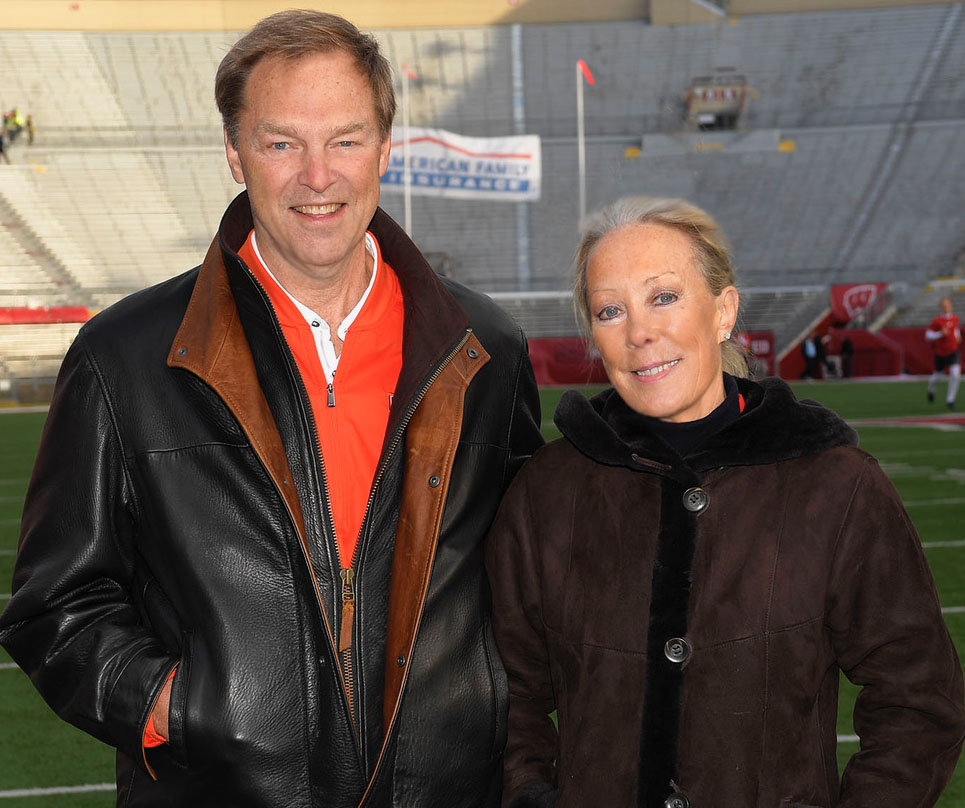 Mr. Levenick, a U of I alumnus who captained the 1975 Illini football team and received a B.S. in forestry in 1976, and his wife have designated this major endowment in two parts:
for the Stuart L. and Nancy J. Levenick Sustainability Chair Fund, which will establish an endowed chair in the College of Agricultural, Consumer and Environmental Sciences' Department of Natural Resources and Environmental Sciences (NRES); and
for the Stuart L. and Nancy J. Levenick Resident Scholars in Sustainability Leadership Program Fund, to establish a resident scholars program at the Institute for Sustainability, Energy, and Environment (iSEE).
"As a forestry major on this campus, I learned the value of a strong, resilient environment and humanity's place in nurturing it," said Mr. Levenick, a former executive at Caterpillar Inc. and a longtime resident of Peoria. "As a growing world population must address its increasing food, clean water, energy, shelter, and basic health needs — without doing damage to the environment — we need leaders to emerge. New critical thinking is needed to address these challenges.
"Nancy and I hope that our funding can play a role by establishing a thought leadership program at Illinois that will benefit future generations."
NRES will select a faculty member to serve as the Levenick Chair in Sustainability. As an iSEE affiliate, this newly funded Chair will also recruit and manage the Resident Scholars Program at the Institute.
"We are excited about the impact the Levenick Chair in Sustainability will have for our department," NRES Head Jeffrey Brawn said. "As the first endowed chair in NRES, it will create stability and drive excellence in environmental sustainability research and instruction.
"As the chair brings together experts worldwide to collaboratively inform translational research, the University and society will also benefit. This gift helps to ensure we continue to bring the best and brightest leaders in environmental sustainability to Illinois — today and for many years to come."
The Levenick Resident Scholars in Sustainability Leadership Program at iSEE will bring in experts from other universities, the private sector, and nonprofit organizations to share fresh perspectives and innovations with the Illinois community.
"Stu and Nancy have again helped advance iSEE's mission with their incredible support," said Evan H. DeLucia, the Institute's Baum Family Director. "Their previous generosity in funding a research and educational fellowship program was an integral part of our efforts toward researching real-world solutions to sustainability, energy, and environmental issues. It has helped Illinois students learn to be sustainability-minded on campus, in the work force, and as future community leaders."
With backgrounds from a variety of disciplines, the new Resident Scholars will enhance and accelerate the broader impact of sustainability research and innovation, he said. As the Levenick Chair leads the program, it will help "close the circle" on sustainability efforts already established among the College of ACES, iSEE, and NRES.
"This campus will become a destination for worldwide sustainability experts — offering them creative opportunities and exposing faculty, students, and staff on our campus to real-time sustainability solutions from across the globe," DeLucia said.
This is not the first time the Levenicks have shown their generosity to Illinois. In 2015, their gift allowed creation of the Levenick iSEE Fellows Program, funding faculty and student research as well as faculty instructors for courses in the campuswide minor led by the Institute. A partial match in 2016 from Mr. Levenick's former employer Caterpillar helped fund the iSEE Collaboratory, which opened in January 2019 and features a cutting-edge i-Flex classroom/meeting space/teleconferencing area, as well as a media studio. Current Fellows are using this space, and it will become a meeting and creative space for the Resident Scholars.
In addition, the Levenicks have donated to the U of I's Division of Intercollegiate Athletics. In 2018 as part of the University's $2.25 billion fundraising campaign, With Illinois, they provided a significant gift toward the football team's new performance center that will house a weight room, coaches' offices, meeting rooms, locker rooms, a two-lane bowling alley, a barbershop, and the Levenick Auditorium. The Levenicks had previously endowed a scholarship fund for walk-on football players.
Mr. Levenick, a former walk-on with the Illini, went on to become an All-Big Ten selection and a 1976 NFL draftee by the Baltimore Colts.
— Tony Mancuso, iSEE Communications and Public Affairs Director