FEB. 26, 2015 — The Institute for Sustainability, Energy, and Environment (iSEE) is ready to expand its base of research and scholarship at the University of Illinois at Urbana-Champaign thanks to a generous endowment from Stuart L. and Nancy J. Levenick of Peoria.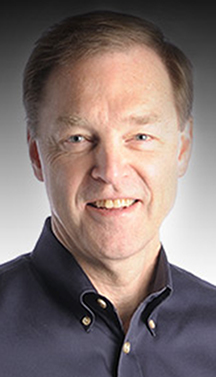 Mr. Levenick, who retired Feb. 1 as Group President of Customer & Dealer Support at Caterpillar Inc., gave $500,000 to the University of Illinois Foundation in late 2014 for the creation of the Levenick iSEE Fellows Program Fund.
The fund will support the Institute through resident Scholars, Research Fellows and Teaching Fellows, iSEE Director Evan DeLucia said.
"The Levenicks' gift will advance iSEE's mission," DeLucia said. "We envision these Fellows as an instrumental part of our efforts to conduct 'actionable research' — that is, work that leads to lasting, real-world solutions to the world's current and future sustainability-, energy- and environment-related issues.
"In addition, these Fellows will support our goals in the areas of campus sustainability, education, and outreach. As future leaders in their communities and places of work, iSEE Fellows will guide efforts in these areas while on campus."
Mr. Levenick is a 1976 graduate of the University of Illinois at Urbana-Champaign with a Bachelor of Science degree in Forestry. He is a Sloan Fellow with a Master of Science degree in Management from the Massachusetts Institute of Technology, and has spent 37 years at Caterpillar. A former Illini football co-captain, All-Big Ten selection and a 1976 NFL draftee by the Baltimore Colts, he and his wife Nancy already have created the Stuart L. and Nancy J. Levenick Endowment Fund, which finances a scholarship for a walk-on Illini football player. In 2014, Mr. Levenick was awarded the Varsity "I" Association Achievement Award, the highest honor for a U of I letter winner for post-graduate accomplishments. He also has made generous gifts to the College of ACES.
"Levenick iSEE Fellows will be an integral part of cutting-edge University of Illinois research, helping find new ways to sustainably provide a growing global population with water, food, and energy," DeLucia said. "The Fellows will lead the way in making the Urbana-Champaign campus a model of sustainability, and through their learning and outreach, they will carry this work forward as a significant message to the world."
iSEE was launched in December 2013 to lead an interdisciplinary approach for the world's pressing sustainability, energy, and environmental needs today and tomorrow. The Levenicks' donation is the second major gift to the Institute: The Alvin H. Baum Family Fund, which previously supported the Center for a Sustainable Environment and the Environmental Change Institute, helped establish iSEE with $2 million in funding.
To see coverage of the Levenicks' gift in The News-Gazette, please click here.