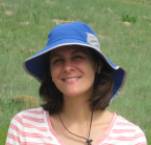 Jennifer Fraterrigo is an Associate Professor of Natural Resources and Environmental Sciences (NRES) at the University of Illinois at Urbana-Champaign. She teaches two courses each fall — NRES 454: Geographic Information Systems in Natural Resources Management, and NRES 465: Landscape Ecology.  When not teaching, she leads a research lab that studies the ecological mechanisms at work in our environment with the goal of better understanding human impacts there.
She also lends her landscapes expertise to the Agriculture, Land Use, Food, and Sequestration SWATeam. So far, team members have identified a wide range of issues on campus from reducing food and packaging waste, to increasing the fraction of food that is locally sourced, to learning about the makeup of campus lands so the U of I can enhance its ability to naturally take carbon out of the air and store it.
"I think the university as an institution of higher education should be setting an example for the community and the state. We should be showcasing innovative solutions that increase sustainability," Fraterrigo said.
During her time on the team, she's learned that improving campus sustainability requires input from a diverse group of stakeholders.
"The most rewarding aspect is having the opportunity to interact with people who want to make a difference with respect to campus sustainability," she said. "The most challenging aspect is that we often lack the resources to effect change.
"We need to invest in tangibles. Having leadership is critical, but funding new equipment and personnel to carry out programs is important for realizing change."
Return to Zero Waste SWATeam page