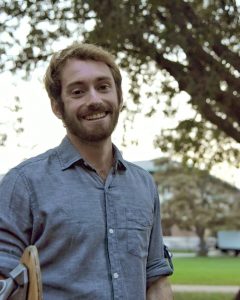 Jack Morrissey is a senior majoring in Civil Engineering and a member of our Energy Generation, Purchasing, and Distribution SWATeam.
Being a SWATeam member allows him to act on the causes he cares about.
"I've always thought of moving away from fossil fuels as the single most important step that needs to be taken by my generation, so when another SWATeam member I know mentioned an opening on the team I jumped at the opportunity," he said.
So far, Jack's time as a member has been an educational process.
"I've learned a lot about different forms of energy and all the complications and regulations that go along with things like wind power, solar, and biomass," he said. "The SWATeams bring together sustainability-focused individuals from all over campus in a unique situation where they can pool their collective knowledge and brainstorm better solutions than they they could come up with alone."
These solutions, he hopes, will serve as an example to students — pushing them to pursue sustainability in their lives.
"I think it's important for college campuses to set an example for their students by being as sustainable as possible," he said. "Students who see their school putting in a real effort to be sustainable are more likely to channel that in their future careers."
In his free time, Jack is involved in club cross-country and track, the Phoenix student improv comedy group, and Theta Tau professional engineering fraternity. He also serves as the vice president for the U.S. Green Building Council Students on campus.