Inside the ELP: Student Takes Part
in iSEE's Immersive Experience
iSEE Communications Intern Kratika Tandon is also a member of the inaugural Environmental Leadership Program (ELP) cohort at iSEE.
Here, she chronicles her environmental leadership journey through a series of posts highlighting the ELP immersive experience, from different class sessions, to insights from visiting speakers, to the events and lessons she and her cohort will encounter throughout the Spring 2022 semester.
CONCLUDING POST: March 30, 2022
Our cohort of 21 students spent Spring Break at the ever-popular vacation destination of Springfield, Ill., for what was easily the most gratifying professional experience I've ever had. Allow me to start at the beginning of the week.
As I had mentioned in previous posts, my group was working on HB4093, which is known as the EPA Environmental Justice Bill. However, the bill actually got passed by the House of Representatives just a few days before our trip to Springfield. This meant it would move on to the Senate. But unfortunately for us, the Senate would not be in session while we were in Springfield. We realized that the only thing we could do was find a new bill and somehow manage to get three months' worth of work completed in less than 48 hours — so that's exactly what we did. 
My group adopted SB3073, referred to as the EPA Great Lakes CCR Protection Bill, which has been a contentious piece of legislation. This bill amends the state Environmental Protection Act such that all coal combustion residuals (CCRs) generated by the electric industry bordering Lake Michigan shall be removed from the site. This bill is referring to the NRG coal plant located in Waukegan, which has been polluting the area since the 1920s. We did extensive research about this bill so we could develop a solid elevator pitch and ensure that we were well-informed. My group also reached out to more than 30 House members from both parties to schedule conversations about this piece of legislation.
Two of the groups in our cohort had local bills, so they delivered their presentations to the Urbana and Champaign city councils on Monday and Tuesday evenings. It was interesting to observe what the legislative decision-making process looks like close to home.
For me, however, the excitement came once we reached Springfield. Being at the Capitol and getting to speak with the people in power, knowing we could make an actual difference, was a crazy feeling. We got to meet with four Republican representatives and four Democratic representatives, including our bill's chief sponsor: Rep. Rita Mayfield. We had different experiences and conversations with each one of these legislators, but they were all incredibly receptive to everything we had to say. Please view the accompanying video to see how things went with Rep. Marcus Evans.
In addition to being at the Capitol, our cohort also was able to meet with the Illinois Environmental Council (IEC), the Department of Natural Resources, and the Illinois Environmental Protection Agency. I personally found it so cool that we got to speak directly with IEPA Director John Kim.
Something else that I am so grateful for is how close the cohort was able to become after our time together this week. After our first day of lobbying, we went out for dinner and did a couple of bonding exercises, and everyone's energy and excitement was just infectious. I really enjoyed spending time with my group as well, and I think that we worked very seamlessly together as a team.
Of course, this program would be nowhere without our instructors Eric Green and Paul Gharzouzi, and our resident media specialist Mark Herman, who always did their absolute best to ensure that everything ran smoothly. And all of us students are all grateful to the Alvin H. Baum Family Fund for sponsoring the ELP trip to Springfield.
I would also like to shout out IEC Executive Director Jen Walling, who helped organize all of the meetings and guided us around the Capitol. This was truly an unforgettable experience, and I am beyond grateful that I got to be a part of the very first program.
POST 4: March 11, 2022
It's the last week of the Environmental Leadership Program, and our trip to the Urbana and Champaign City Councils and the State Capitol in Springfield will kick off in a few days. The past couple of weeks kept us very busy: Our groups have put the final touches on our policy proposals. The bill that my group is working on is known as HB4093, or the EPA-Environmental Justice Bill. This legislation was passed by the Illinois House of Representatives after a series of readings and is now making its way through the Senate. In Springfield, we will meet with legislators to discuss supporting the bill.
We've also been busy meeting new speakers as well. This past Friday, we heard from Marissa Brewer, Director of Advocacy at the University of Illinois' Office of Governmental Relations. Her presentation was especially insightful because she gave advice on what to expect when we have our short meetings with our legislators. Brewer gave us basic tips on how to speak with them and what we need to have prepared.
Overall, it's been a great few weeks — and we look forward to wrapping up this experience. Thursday, March 17, will be our final day of presentations, and we plan to conclude the program with a banquet for students and staff to celebrate the launch of the very first version of the ELP.
Stay tuned for a final post within the next week or so!
POST 3: Feb. 25, 2022
We've just completed Week 5 of the Environmental Leadership Program! Groups have been working diligently to formulate their policy proposals. As previously mentioned, my group is working on an EPA Environmental Justice bill and the main thing on our agenda is completing our research. We also plan to reach out to political leaders at Springfield ahead of our visit to the Capitol in hopes of getting more professional advice as we continue with our progress.
These past couple weeks, students also had the opportunity to meet with two individuals from local governments who have taught us a lot about how the policymaking process works at this level. Last week, Scott Tess, the Sustainability Manager & Resilience Officer for the City of Urbana and also a member of the Resilience SWATeam made up of campus and community members, came in to work with the groups that are working on local policy proposals. Tess helped them gain a basic understanding of what goes on behind the scenes and answered any questions that they may have had.
The following week, we heard from Jeff Hamilton, the Communications Manager in the Champaign City Manager's office. Hamilton discussed mayor-council dynamics at local government levels and provided us real-time examples from the city of Champaign. Needless to say, we've had a busy couple of weeks!
POST 2: Feb. 11, 2022
We are now in Week 3 of our meetings for the Environmental Leadership Program. So far, the students have been meeting in smaller groups to organize ideas for our policy proposals. We have also had the opportunity to hear from more guest speakers from different professional backgrounds.
During our first weekly meeting, we heard from the University of Illinois at Springfield's Assistant Professor of Environmental Studies Brandon Derman, who discussed the struggles for climate justice and how uneven geographies and the politics of connection play a big role. Last week, we heard from Eban Goodstein, Director of the Center of Environmental Policy and the MBA in Sustainability at Bard College. He gave us insights on solutions to environmental issues from communications and economic standpoints. Both of these presentations were incredibly insightful and beneficial to us as we continue with our policy work.
The general objective of this program is for students to select a piece of legislation on the local or state level that we wish to pursue. After our bill is determined, we spend the rest of our time conducting extensive research and formulating a short presentation. Once we head to the government buildings in Urbana-Champaign and Springfield, we will be able to present our proposals to local and state government decision-makers. 
The group I'm in is working on a state-level EPA Environmental Justice bill that focuses on defining environmental justice communities and providing these groups with the ability to access resources. That's all I can disclose so far — to hear more about what we've been working on, don't forget to check back in for my next posts on this blog!
POST 1: Jan. 28, 2022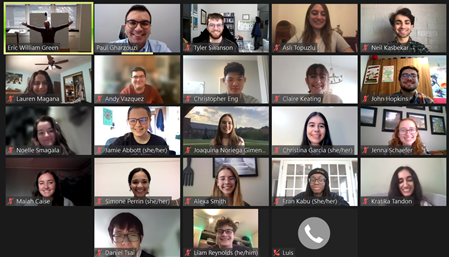 The Environmental Leadership Program has just begun, and it's off to a great start! At the end of winter break, our class met over Zoom to get to know each other and discuss potential policy proposal ideas.
During these first two days of intensive training, we received a crash-course on the basics of environmental advocacy and a comprehensive explanation of what is expected from this program.
We also had the opportunity to hear from guest speakers from a variety of legal, political, and advocacy-based backgrounds at local, state, and even international levels.
The presentation by Illinois Environmental Council Executive Director Jennifer Walling was especially insightful. She explained her duties of administering the strategic direction and management of the council. The organization works to draft, lobby, and pass bills that focus on implementing environmentally responsible legislation within the state. Her real-life experience was particularly interesting because Walling is involved in policy advocacy in Springfield, which is exactly what we will be working on this semester.
Other speakers during our two-day intensive: Grace Wilkin, Ward 6 Representative on the Urbana City Council; Andrea Porter, Legislative Assistant for state Rep. Carol Ammons, D-Urbana; Clara Feng, Senior Fellow at Citizens' Climate International; and Ashley Stead and Mary Hanahan, Senior Legal Counsels at the Office of Illinois Senate President Don Harmon.
Stay tuned for more posts documenting the ELP experience first-hand!