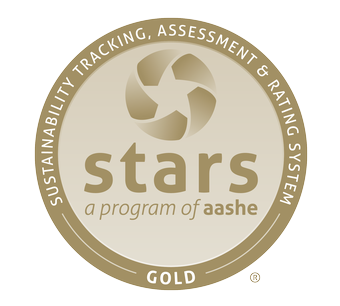 SEPT. 3, 2015 — The University of Illinois at Urbana-Champaign continues to display sustainability excellence by earning its second consecutive Gold ranking from the Association for the Advancement of Sustainability in Higher Education (AASHE).
Through the Sustainability Tracking, Assessment, and Rating System (STARS) program, AASHE encourages higher-ed institutions of all sizes to report and be recognized for the steps they've taken to reduce greenhouse gas emissions and waste, as well as to increase campus participation in sustainability efforts. Based on a detailed set of criteria in 18 categories, schools earn points to improve their ranking. STARS offers four levels of ranking: bronze, silver, gold, and platinum.
Illinois is one of 51 schools — and one of three in the Big Ten Conference — to achieve Gold in latest, more stringent version 2.0 of the STARS tool. The program has ranked 143 schools total with its STARS 2.0 program; 722 overall have registered to use STARS reporting.
The Illinois campus achieved its first Gold rank in 2013. Recognition is conferred every few years. Becoming a Gold-ranked institution is no small feat. Hundreds of pieces of data on campus water and energy use, administrative policies, student efforts, waste handling procedures, transportation, and dining services were entered into the STARS report. Big point-earners in Illinois' second Gold-winning report included the Institute for Sustainability, Energy and Environment (iSEE) Certified Green Office Program outreach campaign, the Campus Bike Center community partnership, Illinois' soon-to-be-released 2015 Climate Action Plan, and the offering of more than 30 courses in continuing education programs (certificates outside of a degree-granting program like a Baccalaureate or Masters). You can read the full report of campus' sustainability efforts over the last here.
"I'm delighted that the excellence of our campus sustainability efforts has been recognized with a Gold ranking from STARS, even with the more stringent requirements of STARS 2.0. This is clear evidence of our campus's leadership in the academic community," said Ben McCall, iSEE Associate Director for Campus Sustainability.
To read more about recent campus sustainability honors, visit the iSEE webpage.