Sustainability, Energy, and Environment Fellows Program
Why is true sustainability so hard to achieve? Behind every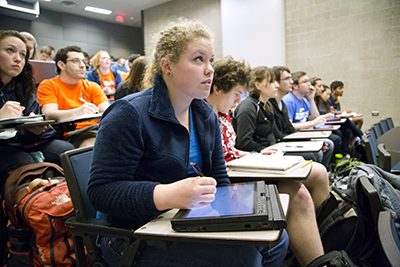 environmentally friendly practice is a web of consequences, trade-offs, feedbacks, and barriers — and this undergraduate minor administered by the Institute for Sustainability, Energy, and Environment (iSEE) will help you develop a systems-level perspective of the economic, environmental and social dimensions of sustainability to help you navigate them.
The Sustainability, Energy, and Environment Fellows Program (SEE FP) is a campuswide undergraduate minor that prepares students for careers in the corporate sector, nonprofit organizations, government agencies and environmental advocacy groups. More historical details about the minor program.
During open enrollment periods, please see "APPLY NOW FOR STEPS AND REQUIREMENTS," below left.
The program is open to all students, though sophomores are preferred (students are encouraged to apply in the spring semester of their freshman year). The Minor requires 16-18 credits to be obtained by selecting from a specified list of courses (see below) in consultation with an adviser from iSEE.
To find out more about the minor and the enrollment process, email Professor Madhu Khanna, iSEE Associate Director for Education & Outreach, at see-fellows@illinois.edu.
APPLY NOW
During open enrollment periods, prospective students must:
Write a personal essay on the following topic: Briefly describe how your participation in the SEE FP will help you fulfill educational, personal, and/or professional goals.
Acquire a digital copy of your official or unofficial transcript.
Email completed application form, essay, and transcript as attachments to see-fellows@illinois.edu.
Featured Course
ENVS 301: Tools for Sustainability will teach systems-level thinking skills to enable better understanding of the different dimensions of sustainability — and the problems and trade-offs involved in achieving that sustainability. Students will learn about metrics for measuring sustainability. They will also gain competence in tools such as cost-benefit and life-cycle analyses needed to compare the sustainability of different technologies and development options.
The course, team-taught by faculty in multiple departments and disciplines, will also emphasize communications skills, enabling students to articulate about the integrated dimensions of sustainability within an interdisciplinary setting.
The course will meet each Spring semester. Sophomores interested in enrolling in the minor are particularly encouraged to take ENVS 301.
For more information about registering for ENVS 301, contact Professor Madhu Khanna at khanna1@illinois.edu.
SEE FP details, history
The purpose of the Sustainability, Energy and Environment Fellows Program (SEE FP) is to promote systems-level thinking about energy and sustainability and foster the development of an integrated view of the economy, society and the environment.
The SEE FP is being offered in partnership with six academic units — the Department of Agricultural and Consumer Economics (ACE), the Department of Civil and Environmental Engineering (CEE), the School of Integrative Biology (SIB), the Department of Natural Resources and Environmental Sciences (NRES), the School of Earth, Society and Environment (SESE), and the Department of Urban and Regional Planning (DURP) — which are also contributing teaching faculty.
This program was approved by the Senate of the Urbana-Champaign Campus at its Sept. 21, 2015, meeting, and enrolled its first cohort of students in late fall 2015.
For more details, please email see-fellows@illinois.edu.