The U.S. Department of Agriculture (USDA) announced today that it is funding a new collaboration between two institutes and a research center at the University of Illinois Urbana-Champaign that will create an integrated farm of the future in the U.S. Midwest.
Titled "I-FARM: Illinois Farming and Regenerative Management," this $3.9 million, three-year project is funded through the USDA's National Institute of Food and Agriculture (NIFA). The Illinois-led study will develop an 80-acre agricultural testbed, where commodity crops (corn and soybean) and livestock are farmed using synergistic and sustainable practices.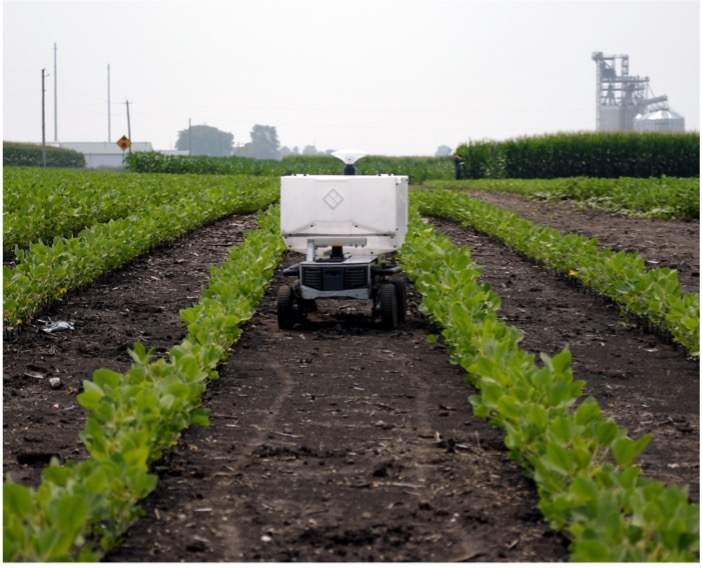 "We will accelerate creation, maturation, and adoption of new management technologies that are fundamentally more sustainable, profitable, affordable, and scale-neutral. The new practices will be enabled by maturing digital agriculture technologies developed in wide-ranging research efforts at the University of Illinois," said Primary Investigator Girish Chowdhary, Associate Professor of Agricultural & Biological Engineering and Computer Science.
NIFA's "Farm of the Future" proposal process was extremely competitive, and only one was awarded from across the nation, said Co-Investigator and Center for Digital Agriculture (CDA) Co-Director Vikram Adve, the Donald B.Gillies Professor of Computer Science.
"This grant is a major endorsement of our growing strengths in digital ag," Adve said.
The I-FARM is a unique partnership between CDA, the National Center for Supercomputing Applications (NCSA), and the Institute for Sustainability, Energy, and Environment (iSEE) at the U of I. Over three years, the I-FARM testbed will feature improved precision farming with remote sensing; new under-canopy autonomous robotic solutions for cover-crop planting, variable-rate input applications, and mechanical weeding; and artificial intelligence-enabled remote sensing for animal health prediction, nutrient quantification, and soil health.
"With the data gleaned from this project, the MyFarm app will provide farmers with an integrated dashboard that can be customized to the needs of their farm," Chowdhary said. "Our focus on scale-neutral technologies can provide a solution to the worsening labor crisis for small farms and improve the sustainability of large and spatially heterogeneous farms."
I-FARM technoeconomic simulations and farmer surveys will clarify barriers and incentives to adoption of sustainable technology to industry and farmers. Integrated extension activities will be conducted in a research space that is open to farmers, with demonstrations and training, easing the adoption of new technologies and opening new markets. The I-FARM team will also help the ag industry create new data-driven products and services for farmers, and an Industry Advisory Board and a Farmer Advisory Board will help the optimize impact on farming practices.
"Together, this integrated suite of solutions will lead to sustainable ways of meeting growing demand for agriculture in a changing climate," said Co-PI and iSEE Interim Director Madhu Khanna, the ACES Distinguished Professor of Agricultural & Consumer Economics. "The CDA, iSEE, and NCSA built the strongest research proposal by reaching across disciplines and bringing together expertise from all over the University of Illinois — from computer science to economics to crop science and animal science, we are exploring as many aspects as possible as we seek to build a farm of the future.
"We look forward to a fruitful collaboration with this project — and similar multidisciplinary work in the future because it is the best way to solve most of the wicked problems this world will face."
As the only "Farm of the Future" nationwide, "all eyes will be on this project as we lay the foundations for the future of agriculture," Adve said. "We are excited to begin this venture and grateful for the support from across campus."
Other U of I project members include Co-PI Kaiyu Guan, Associate Professor of Natural Resources & Environmental Sciences and Founding Director of the Agroecosystem Sustainability Center; and Co-Investigators Isabella Condotta, Assistant Professor of Animal Sciences; Deepak Vasisht, Assistant Professor of Computer Science; Shadi Atallah, Associate Professor of Agricultural & Consumer Economics; Hamze Dokoohaki, Assistant Professor of Crop Sciences; Salah Issa, Assistant Professor of Agricultural & Biological Engineering; Andrew Margenot, Assistant Professor of Crop Sciences; DoKyoung Lee, Professor of Crop Sciences; and Bin Peng, Senior Research Scientist at iSEE and NCSA.
The Illinois team will partner with Olga Bolden-Tiller, Dean of the College of Agriculture, Environment and Nutrition Sciences and Professor of Animal Sciences, and Gregory Bernard, Assistant Professor of Plant and Soil Sciences, at Tuskegee University.
"This is an exciting time to embark on this project, and it is a credit to our team, their expertise, and the thriving research programs we can bring to bear," said Chowdhary, who also holds affiliations with Electrical & Computer Engineering, Aerospace Engineering, and the Coordinated Science Laboratory at Illinois. "I want to thank the institutes, CDA, our departments and colleges, and our Tuskegee partners for their help, the College of ACES for securing us the farm space, and especially those from the farming industry who graciously offered letters of support."
View more details on the I-FARM webpage >>>
Read the NIFA announcement >>>
— Article by Tony Mancuso, iSEE Communications and Public Affairs Director