NOV. 18, 2016 — Researchers in the iSEE-funded Stored Solar Stove Project are the recipients of The Ocean Exchange's 2016 Gulfstream® Navigator Award.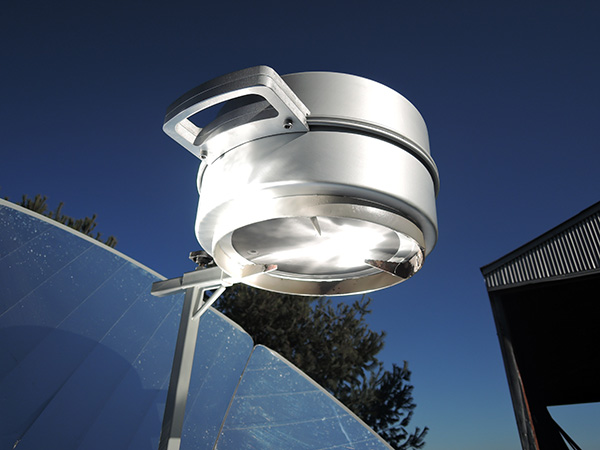 Presented each year at The Ocean Exchange's Annual Event, this $100,000 award honors an outstanding innovation that demonstrates positive impact on the environment, economies, and health while respecting cultures around the world and has applications across multiple industries.
Created by the project team, Sun Buckets are portable, stored solar energy cookstoves that allow users to cook without fire, fuel, or emissions. The cooking vessel design maintains local cooking traditions by emulating the temperature of fire and allowing users to cook where and when they wish, even when the sun isn't shining. Watch how it works >>>
This technology could improve the health of more than 3 billion people who still cook daily meals over solid fuels, resulting in 4 million deaths from smoke and soot inhalation. It can also offer the 700 million energy impoverished households the opportunity to save some of the $100 billion they spend annually on cooking fuels. Sun Buckets Inc. is a startup focused on solutions for this "global cooking problem."
Team member Samantha Lindgren presented the world-changing solution at The Ocean Exchanges annual event on Nov. 10, competing against 14 other finalists to earn the Navigator Award in a people's choice vote. Watch a video of the winning presentation.
"We'd like to convey our thanks to Ocean Exchange and to Gulfstream and the other sponsors," Lindgren said after getting word of the award. "Ocean Exchange was an exciting event for us, and we are proud of our new affiliation with Ocean Exchange and the Gulfstream Navigator award."
Sun Buckets CEO, Stored Solar Stove Project PI and University of Illinois Agricultural and Biological Engineering Professor Bruce Elliott-Litchfield said he was thrilled with the outcome of the competition.
"We left feeling inspired, grateful, and ready to get to work," Litchfield said. "We look forward to our next steps, and hope that our new connections and friends at Ocean Exchange will join us for what lies ahead."
The Sun Buckets team has support from the Institute for Sustainability, Energy, and Environment and the ADM Institute for Prevention of Postharvest Loss at the University of Illinois at Urbana-Champaign.
Founded in 2010, The Ocean Exchange is the international platform for accelerating the adoption across industries of solutions that positively impact the environment, economies, and health while respecting cultures around the world.