Earth Week 2017 Schedule of Events
Organized by Students for Environmental Concerns (SECS)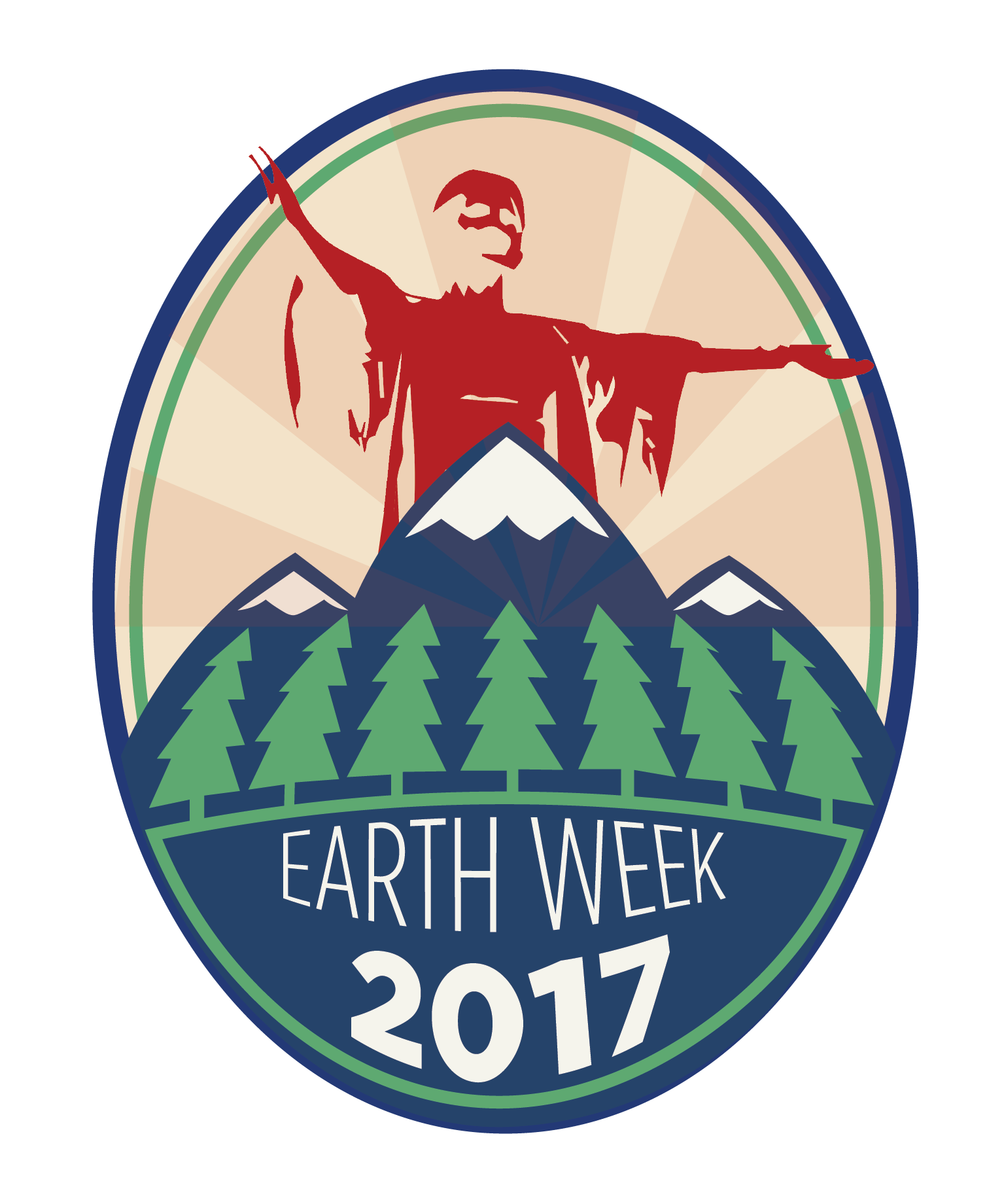 We offer a big thank you to the Students for Environmental Concerns at UIUC for their work to plan lots of fun and educational events during Illinois Earth Week (April 17-22). In addition to the "official" Earth Week, organizations across campus and in the community have organized events throughout April to celebrate our planet.
Check out all of the events in the community:
Friday, April 14
---
Illini Lights Out 4/14
During the last five Illini Lights Out events, student and staff volunteers turned off more than 6,000 light fixtures, saving campus nearly $2,000 in energy costs — not to mention lengthening the lifespan of several thousand lightbulbs! Meet up with other energy-conscious Illinois students at 5:30 p.m. in the Foreign Language Building lobby to get

split into super-cool light-flipping teams. Then, run around buildings on the Illinois Main Quad counting all the lights left on in classrooms, labs and lounges. Once you've counted, turn them off. Finally return to the starting point to turn in your clipboard and pat yourself on the back for being such a good earth citizen.

 Sign up now >>>
5:30-7:30 p.m.   |   Foreign Language Building Lobby
Monday, April 17
---
Green Observer and SECS — Alternative Facts: Fact or Fiction?
Green Observer and SECS are collaborating to bring you the facts. Join us on the Quad to answer environmental news trivia questions and win lots of great prizes!
11 a.m.-2 p.m.   |   Main Quad
Katharine Hayhoe — "Mitigate, Adapt, or Suffer: Connecting Global Change to Local Impacts and Solutions" (Ogura Lecture 2017)
Join Dr. Katharine Hayhoe, Associate Professor and Director of the Climate Science Center at Texas Tech University, as she untangles the complex science connecting our choices to future impacts, and highlights the actions that are being taken to combat this critical issue today. Read more >>>
3:30 p.m.   |   Electrical and Computer Engineering Building, Room 3002
SECS Repurposing Workshop
Can't figure out what to do with those old coffee grounds? Or that empty milk carton? Join SECS to find some new uses for the things you would normally throw away. Facebook event >>>
6-8 p.m.   |   University YMCA, Murphy Lounge (1001 S. Wright St., Champaign)

Tuesday, April 18
---
BikeFace Bike Fix-It Day
Need your bike fixed? Members of Bikeface, the student bike enthusiasts group, will be on the quad doing bike tune-ups. You can get (and learn to do yourself!) basic repairs like pumping up tires, fixing a flat and adjusting brakes and chain. Come by and get your bike tuned up for a small fee. Facebook event >>>
10 a.m.-2 p.m.   |   Main Quad
SECS Environmental Expo
This indoor environmental fair will introduce you to organizations run by students, campus, and community groups. Tour the booths to learn how you can become more involved with causes you care about. Facebook event >>>
11 a.m.-2 p.m.   |   Illini Union Ballroom B
John E. Walsh — "The Arctic: Ground Zero for Global Change" (Charles David Keeling Lecture 2017)
Climate change is happening faster and with more visible impacts in the Arctic than in most of the rest of the world. We will diagnose the recent Arctic warming in terms of the key drivers, which include external forcing (greenhouse gases) as well as internal variability. Read more >>>
5 p.m.   |   NCSA Auditorium
Our Earth 2.0: Raising Environmental Awareness
Join Students for Environmental Concerns to learn more about the facts and solutions to the following: 1) Problems with Pipelines 2) Carbon Tax 3) Renewable Energy 4) Sustainable Living 5) Direct Action.
6-7 p.m.   |   University YMCA
Wednesday, April 19
---
Bike Ride with Chancellor Jones
Join us on a bike ride with Chancellor Robert J. Jones! Explore some of University of Illinois' finest bike paths and bike lanes with our newest campus leader. Together, we can weather all the bumps ahead. Facebook event >>>
9-10 a.m.   | Starts from Campus Bike Center (608 E. Pennsylvania Ave., Champaign)
BikeFace Bike Fix-It Day
Need your bike fixed? Members of Bikeface, the student bike enthusiasts group, will be on the quad doing bike tune-ups. You can get (and learn to do yourself!) basic repairs like pumping up tires, fixing a flat and adjusting brakes and chain. Come by and get your bike tuned up!
10 a.m.-2 p.m.   |   Main Quad
SECS Clothing Swap
Do some spring cleaning and stop by the Y to drop off your gently used clothing — then swap out your donations for other students' items. Every item you donate gets you one swap at the Clothing Swap. Bring your clothes to any of our designated drop-off locations (details in Facebook event) before the day of the swap so you can look around our makeshift thrift shop for something new! Last year, we had thousands of items to choose from and hundreds of participants!
11 a.m.-4 p.m.   |   University YMCA, Latzer Hall
SSC Symposium & Banquet
Please join the Student Sustainability Committee for our annual Symposium and End of Year Banquet. Over the course of the evening, we'll spotlight past projects, provide opportunities to network with past applicants, and present awards to groups and individuals that went above and beyond for campus sustainability. RSVPs are encouraged but not required. Facebook event >>>
6-9 p.m.   |   Illini Union Room 104 (northeast corner)
Thursday, April 20
---
SECS Plant Sale
Add some greenery to your dorm or apartment with herbs and succulents sold by SECS members. Facebook event >>>
11 a.m.-3 p.m., while supplies last   |   Main Quad
Fossil Free UIUC
Learn the negative effects of coal with SECS' Beyond Coal. We'll have an oil/water separation demo and pin the pipelines on the map game.
11 a.m.-2 p.m.   |   Main Quad
CCNet Third Thursday Brown Bag: "Bikes at UIUC and Bike Month in May"
Active Transportation Coordinator Lily Wilcock will discuss what is new with bicycles at the University of Illinois at Urbana-Champaign, progress with goals outlined in the Campus Bike Plan of 2014, and what is planned for the summer and beyond. Also, Wilcock will share an overview of campus and community Bike Month activities and challenge you to walk, bike, or take the bus more this summer! This event is one of the monthly Champaign County Sustainability Network (CCNet) Brown Bag lunches.
Noon-1 p.m.   |   Champaign County Economic Development Corp., 1817 S. Neil St., Champaign
Kim Cobb — "Corals and Climate Change: Life after Death on a Remote Pacific Reef" (CAS MillerComm lecture series)
Cobb will present findings from recent field expeditions to Kiritimati Island that captured the extreme coral bleaching effects of the largest El Niño event ever recorded in the winter of 2015-16. She'll describe how climate change is contributing to severe coral bleaching and mortality. Read more >>>
4 p.m.   |   Spurlock Museum, Knight Auditorium
SECS Film Screening — "Before the Flood"
From the film's website: "If you could know the truth about the threat of climate change — would you want to know? Before the Flood, presented by National Geographic, features Leonardo DiCaprio on a journey as a United Nations Messenger of Peace, traveling to five continents and the Arctic to witness climate change firsthand. He goes on expeditions with scientists uncovering the reality of climate change and meets with political leaders fighting against inaction. He also discovers a calculated disinformation campaign orchestrated by powerful special interests working to confuse the public about the urgency of the growing climate crisis. With unprecedented access to thought leaders around the world, DiCaprio searches for hope in a rising tide of catastrophic news."  Read more >>>
7-9 p.m.   |   Channing Murray Foundation (1209 W. Oregon St., Urbana)
Sonified Sustainability Festival — Cooper-Moore: Sudden Sound Concert Series
Cooper-Moore is an instrument-builder/designer based in New York City, whose music is informed by the avant jazz and improvised music communities he regularly performs in since the early 1970s, but is also deeply rooted in the Gospel, Blues, and Bluegrass traditions from his upbringing in rural, segregated Virginia. As part of the Sonified Sustainability Festival, his solo performance will feature handcrafted instruments constructed from found and repurposed materials including diddley-bow, three-string fretless banjo, and mouth bow. Facebook event >>>
7:30 p.m.   |   Krannert Art Museum and Kinkead Pavilion
Friday, April 21
---
Ramakrishna Nemani: "The Green Discount at a Steep Price"
As our planet warms and weather patterns change, more plant life than ever before can grow and breathe in carbon dioxide from the atmosphere and store in in soil. We may continue to enjoy this "green discount" in the future, but even so, we will be reaching dangerous levels of CO2 in the atmosphere — over 550 parts per million at the current rate by 2100. The only way to avoid such a scenario is to reverse the steadily increasing trend of our greenhouse gas emissions.
Noon   |   Ven Te Chow Hydrosystems Lab, Room 1518

Veggie Burger Cook-Off
Bring your best veggie burgers to grill at Illini Grove as we wind down to enjoy the Earth. Winner receives bragging rights and all the veggie burgers they can eat!
4-8 p.m.   |   Illini Grove
Saturday, April 22 — Earth Day!
---
Sonified Sustainability Festival — Earth Day Celebration
The celebration will feature New York City based artists Terry Dame performing innovative electronic music on homemade instruments made from recycled materials, Bradford Reed and his Amazing Pencilina, an original instrument of his own design, and Geoff Gersh who pushes the sonic capabilities of electric guitar with and without the aid of electronic devices and found objects. Along with our featured artists, there will be special guests from our community, environmentally themed craft activities and an information fair on sustainable organizations.
Facebook event >>>
2–5 p.m.   |   Krannert Center for the Performing Arts, Lobby/Stage 5/Stage 6
Earth Day Trivia Night at Murphy's Pub
Join Society of Women Engineers (SWE) and Students for Environmental Concerns (SECS) for Earth Day Trivia Night. Register with a team (follow the Facebook event link) or play on your own to compete! Learn and promote sustainability and conservation of our environment, share your environmental enthusiasm, help fundraise for SWE/SECS, and compete for a grand prize! Questions? Contact Vera Liu(hvliu2@illinois.edu) and Bryn Carroll (becarro2@illinois.edu).
Facebook event >>>
5–7 p.m.   |   Murphy's Pub (Green Street, Champaign)
Sunday, April 23
---
Sonified Sustainability Festival — Reel Orchestrette: "The Epic of Everest"
For a special festival performance, composers and musicians Geoff Rush and Bradford Reed will perform their original score live during a screening of "The Epic of Everest." Facebook event >>>
7-9 p.m.   |   Spurlock Museum
Thursday, April 27
---
Soundwalk with Eric Leonardson
Eric Leonardson guides participants in an outdoor experience like no other by introducing deeper listening practices to soundscapes of the environments of local parks. Soundwalks are limited to 25 participants per walk. Facebook event >>>
***Three options: 2:30-3:30 p.m., 4:30-5:30 p.m., or 6:30-7:30 p.m.   |   Meadowbrook Park, Urbana
Friday, April 28
---
Soundwalk with Eric Leonardon
Eric Leonardson guides participants in an outdoor experience like no other by introducing deeper listening practices to soundscapes of the environments of local parks. Soundwalks are limited to 25 participants per walk. Facebook event >>>
***Three options: 2:30-3:30 p.m., 4:30-5:30 p.m., or 6:30-7:30 p.m.   |   Busey Woods, Urbana
Illinois Arbor Day Celebration
Every year, we plant a new tree on campus to celebrate National Arbor Day. In honor of the University of Illinois' 150th anniversary this year, we aren't stopping at just one: We're planting FIVE new trees on the South Quad near the bell tower! A dozen shovels will be available for students, staff, faculty, and community members who want to not only witness the planting but be a part of it. Stay a while to play "TREE-via" (trivia game) for PRIZES, and hear the official proclamation of April 28th, 2017 as campus and community Arbor Day. Fun will be had by all. Please join us for this tree-planting extravaganza!
11:30 a.m.-12:30 p.m.  |   South Quad
Illini Lights Out 4/28
During the last five Illini Lights Out events, student and staff volunteers turned off more than 6,000 light fixtures, saving campus nearly $2,000 in energy costs — not to mention lengthening the lifespan of several thousand lightbulbs! Meet up with other energy-conscious Illinois students at 5:30 p.m. in the Foreign Language Building lobby to get

split into super-cool light-flipping teams. Then, run around buildings on the Illinois Main Quad counting all the lights left on in classrooms, labs and lounges. Once you've counted, turn them off. Finally return to the starting point to turn in your clipboard and pat yourself on the back for being such a good earth citizen.

 Sign up now >>>
5:30-7:30 p.m.   |   Foreign Language Building Lobby
Saturday, April 29
---
Boneyard Creek Community Day 2017
Help restore the beauty of natural waterways by volunteering for the 12th annual Boneyard Creek Community Day. Both teams and individuals are encouraged to register. Immediately following, a free lunch for volunteers will be served at Scott Park, where there will be music and interactive learning displays. Read more >>>
9 a.m.-noon   |   Scott Park, Champaign