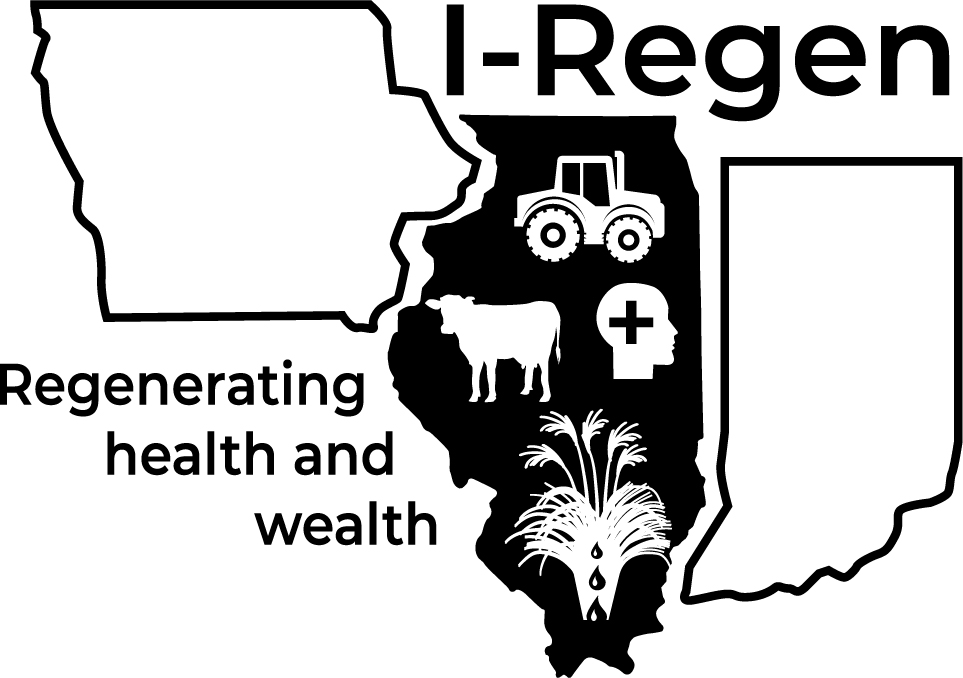 Urbana, Ill. — The Illinois Regenerative Agriculture Initiative (IRAI) marks the successful completion of its first three years with a new name: I-Regen. The name change reflects an ongoing commitment to the future of regenerative agriculture in the Midwest. I-Regen encourages diversified value chains that balance the health and wealth of Midwest agricultural systems, creating a resilient bioeconomy that combats climate change, enhances soil and water quality, supports communities, and ensures food security.
Since its inception, IRAI has served as a catalyst for regenerative agriculture, gathering diverse voices and knowledge to navigate this vital and growing space. Building upon this foundation, I-Regen is poised to reduce fragmentation and promote a shared vision of regenerative agriculture in the I-States region (Illinois, Iowa, and Indiana). Collaborating with Extension and University partners, I-Regen provides a regional approach to research, education, and outreach. Through seed grants, community engagement, public convenings, and innovative projects like Voices and the Coalition of Regenerative Agriculture, Food and Health, I-Regen is strategically positioned to develop regenerative agriculture partnerships across the I-States.
In 2020, the University of Illinois Urbana-Champaign and a collaborative fund at Fresh Taste began the Illinois Regenerative Agriculture Initiative. With IRAI's expansion and name change to I-Regen, Fresh Taste's continued financial support will now be known as the Midwest Regenerative Agriculture Fund (MRAF).
"MRAF is committed to advancing regenerative agriculture in the region," said I-Regen Director Emily Heaton, Professor of Crop Sciences at the U of I. "The strategic alliance of I-Regen and MRAF will enable us to further amplify our impact by mobilizing extension programs, fostering ongoing dialogues, and promoting interdisciplinary education."
"IRAI has been impressively successful in elevating the profile of regenerative agriculture, both at the University and in the constellation of organizations and funders working on food and sustainable agriculture," said Lenore Beyer, Co-Chair of Fresh Taste and Director of Conservation Initiatives at Kinship Foundation, which co-administers Food:Land:Opportunity, funded through the Searle Funds at The Chicago Community Trust. "Building off of this success to further strengthen ties between on-the-ground organizations, growers, and researchers is vital, and this evolution to I-Regen sets Illinois up well to be a leader."
Heaton and Assistant Director Anya Knecht have steered this endeavor into a robust platform for the growth of regenerative agriculture on a regional scale. Said Knecht: "As the new logo illustrates, we are bringing health and wealth to the I-States."
Together, the Illinois team stands united in its dedication to drive forward the cause of regenerative agriculture. "With the support of MRAF and our remarkable team," Heaton said, "we are excited to propel the regenerative agriculture movement to new heights, enriching our communities and fostering a healthier future for all."
"I'm excited to build regenerative agriculture partnerships with our 'I-states' neighbors through I-Regen," said Adam Davis, Head of Crop Sciences at the U of I. "A regional approach to research, education, and outreach will help encourage the diversified value chains needed to balance Health and Wealth in Midwest agricultural systems."
---
MORE BACKGROUND DETAILS
I-Regen: Changing the Midwest Landscape is overseen by the Institute for Sustainability, Energy, and Environment (iSEE), an interdisciplinary research institute at the University of Illinois. The leadership team comprises experts from the Department of Crop Sciences, the College of Agricultural, Consumer and Environmental Sciences (ACES), and University of Illinois Extension. Read more at go.illinois.edu/I-Regen >>>
Fresh Taste, under the fiscal sponsorship of Forefront, is a collaborative funder initiative dedicated to racial and economic equity. It is committed to transforming the way food is grown, processed, distributed, and consumed in the Chicago region, with a vision of promoting healthy land, healthy people, and healthy communities. Forefront, Illinois' membership association for nonprofits, grantmakers, advisors, public agencies, and their allies, oversees all financial and legal activities of Fresh Taste while providing education, advocacy, and thought leadership.
---
For media inquiries, please contact Tony Mancuso, tmancuso@illinois.edu