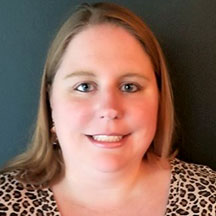 Michelle Marquart is the new Events and Client Relations Coordinator at iSEE. Before joining the Institute, she worked with Conference and Event Services at the U of I for nearly 15 years.
Michelle graduated with a B.S. in Animal Sciences here at the University of Illinois, which means that 2023 marks her 19th year on campus. She originally planned to attend veterinary school, but instead got into event planning. Upon moving up the ranks at Conference and Event Services and becoming team lead, Michelle had a portfolio of various events she was in charge of planning and managing. Five years ago, she completed a part-time MBA program through the Gies College of Business, which allowed her to maintain her full-time job while pursuing a master's degree.
Her longtime interest in sustainability and desire for a change in her professional life led Michelle to pursue a career at iSEE. She had been looking for an opportunity that interested her where she could make good use of her 15 years of event-planning experience, while also taking on new challenges and collaborating with new people. Her responsibilities now involve figuring out logistics for iSEE's events and working to coordinate these programs. A few of the events Michelle is currently focused on are the Environmental Leadership Program, annual Congress, and Critical Conversation.
Her favorite aspect of working with iSEE is getting to collaborate with so many different people who are making an impact in the world. She does her best to implement sustainable practices in her everyday work through this position. This includes doing things like using sustainable packaging for events and recycling whenever possible, using large dispensers of water at events rather than individual bottles, and reducing food waste by being more precise with catering orders.
Michelle says she is always looking for opportunities to grow and learn more, expanding her network. She hopes that meeting and working with new people will open her eyes to new and more efficient ways of doing things. Her long-term goal is to simply be successful in whatever role she's in and do her part to make a difference.
Outside of work, Michelle has a black lab mix named Luna and loves spending time with her whenever she can. She believes in the importance of having a creative outlet and enjoys crafting, building LEGO sets, and decorating her home for Halloween. She is a member of the Junior League of Champaign-Urbana and volunteers with the Champaign Park District and Big Brothers Big Sisters of Central Illinois.
— Article by iSEE Communications Intern Kratika Tandon