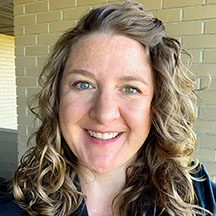 Meet Heidi Leerkamp, iSEE's new Proposal Development Lead! She joined the institute in April 2023 but has been working with the University of Illinois for 23 years.
A native of Chicago's South Side, Leerkamp is a University of Illinois alum, and upon receiving her Bachelor's degree in Finance, she worked in Chicago for a couple of years before returning to the Champaign-Urbana area. She has been on campus since 2000 and has experience as a Coordinator for Research Programs in the College of Liberal Arts & Sciences, and as a Program Manager for the Coordinated Science Laboratory in the Grainger College of Engineering. During the past few years, she was Associate Director of Research Development at the Grainger Office of Research.
At iSEE, her responsibilities involve developing multi-disciplinary proposals to help the Institute grow its research portfolio. She enjoys bringing collaborators together with these proposals — and appreciates that this position allows her to do so in a way that spans across multiple disciplines.
Sustainability is important to Leerkamp.
"Sustainability has grown in everyone's consciousness over the last few years," she said. "It's something that we should all be thinking about."
She is passionate about contributing to iSEE's mission and is excited to learn more about the Institute's many offerings, from research to campus sustainability to education and outreach.
When not at work, Leerkamp enjoys spending time with her family and dogs.
— Article by iSEE Communications Intern Kratika Tandon