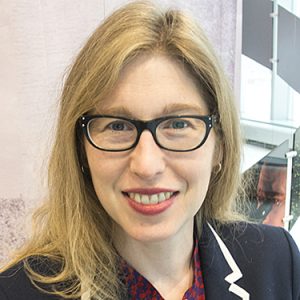 Elizabeth Murphy is the Program Manager for the Center for Advanced Bioenergy and Bioproducts Innovation (CABBI). Before working at the U of I, she was a Hydrologist at the U.S. Geological Survey for 17 years. In February 2018, Elizabeth started with CABBI as a Research Coordinator before becoming Program Manager in July '18
But the Center wasn't her first campus job: In her undergraduate years, she worked in the soils laboratory. Elizabeth obtained a B.S. in Civil and Environmental Engineering and an M.S. in Environmental Engineering, both at the University of Illinois Urbana-Champaign.
Her day-to-day work involves overseeing three Research Coordinators and a Lab Manager. As part of CABBI's project team, her responsibilities include managing budgets, purchasing, documenting publications, organizing meetings and events, grant reporting, and keeping an up-to-date list of the postdoctoral researchers and graduate students working for CABBI. Another of her very important roles involves supporting researchers who submit proposals through iSEE.
In her daily life, Elizabeth tries to be more sustainable by following the tried and true rule of "Reduce, Reuse, Recycle." Just recently, she and her family purchased an electric/hybrid vehicle to reduce their gasoline consumption.
Because so much of her life has revolved around science, Elizabeth has found this job to be a nice extension of her education and research background. She takes pride in keeping CABBI running smoothly, from an administrative perspective. By doing her job well, she can let scientists use all of their time and energy towards achieving their research goals.
One of the most exciting parts of Elizabeth's role with CABBI is that "every day brings something new." She says she gets to stay involved in the science field she enjoys — while also being able to expand her professional experience from an administrative perspective.