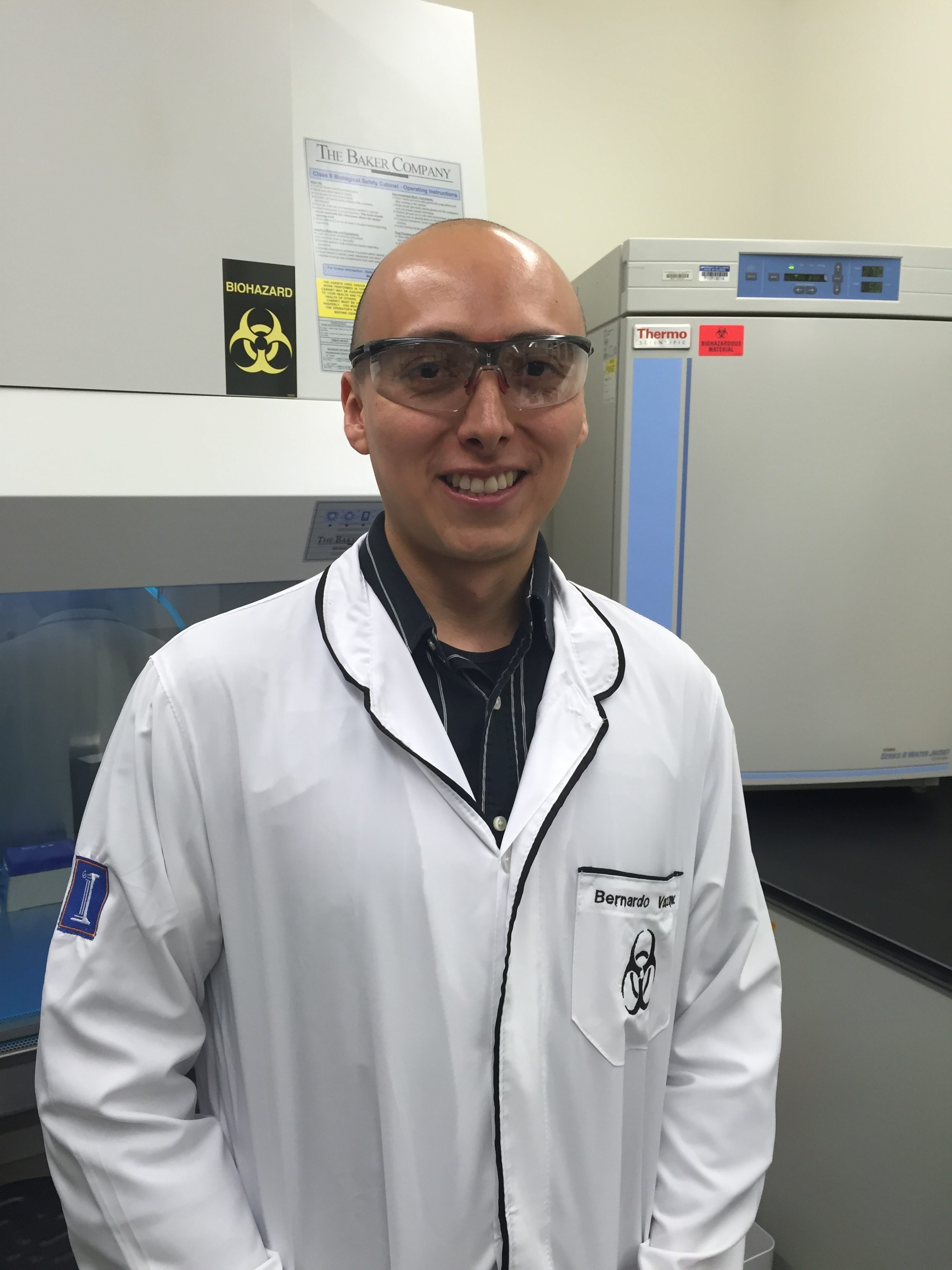 Bernardo Vazquez Bravo is a Ph.D. student in Environmental Engineering focusing on drinking water disinfection.
As part of the Smart Water Disinfection project, he is working to understand more precisely how widely-used modern virus inactivating methods like chlorine and ultraviolet (UV) irradiation treatments work. He and the team want to know the exact change a particular treatment makes to a virus to stop it from being infectious.
His focus is on UV irradition. Ultraviolet light can be produced at a variety of wavelengths, and he is running tests to find out which wavelength is the most effective at inactivating viruses. After exposing viruses to UV light radiation, he gives his samples of UV-damaged viruses to lab partner Kelley Goncalves for further tests to try to discover the particular biomolecular effects of the intense light treatment.
"The idea is that by having that understanding, you can develop better technologies that are targeting specific components of the viruses so you can have more cost-effective treatments," he said.
Bernardo grew up in the city of Puebla, the capital city of the Mexican state with the same name. Both of his parents grew up in smaller, rural communities, which colors his perspective on water challenges with first-hand experience.
"It was fun to me to go to my grandparents' houses because it was different than what we had at home in the city. But through that I got to experience the challenges people have in the rural communities: fetching water from the river, having access to a latrine, and relying on agriculture as the main economic activity," he said.
"Now that I'm working on this project that is trying to address those challenges in the water, health, sanitation, and energy nexus in a sustainable way — those experiences I had when I was little motivate me to develop something that could benefit the people living in conditions similar to those I remember in the communities where my parents grew up."
He completed his undergraduate degree in civil engineering at the Universidad De Las Americas Puebla (UDLAP) in Cholula, Puebla in 2009. A Master's degree in Environmental Engineering followed from the University of Illinois at Urbana-Champaign in 2012.
His interest in water grew when Illinois' Professor Benito Marinas partnered with Bernardo's academic adviser at UDLAP, Professor Benito Corona, to develop an international collaboration on water issues. The first projects, which Bernardo eagerly participated in, started in 2008 and took him to several states in Mexico. The group grew to include interest in sanitation and energy as well as drinking water quality and ventured overseas to Kenya, Tanzania, India, and most recently Uganda.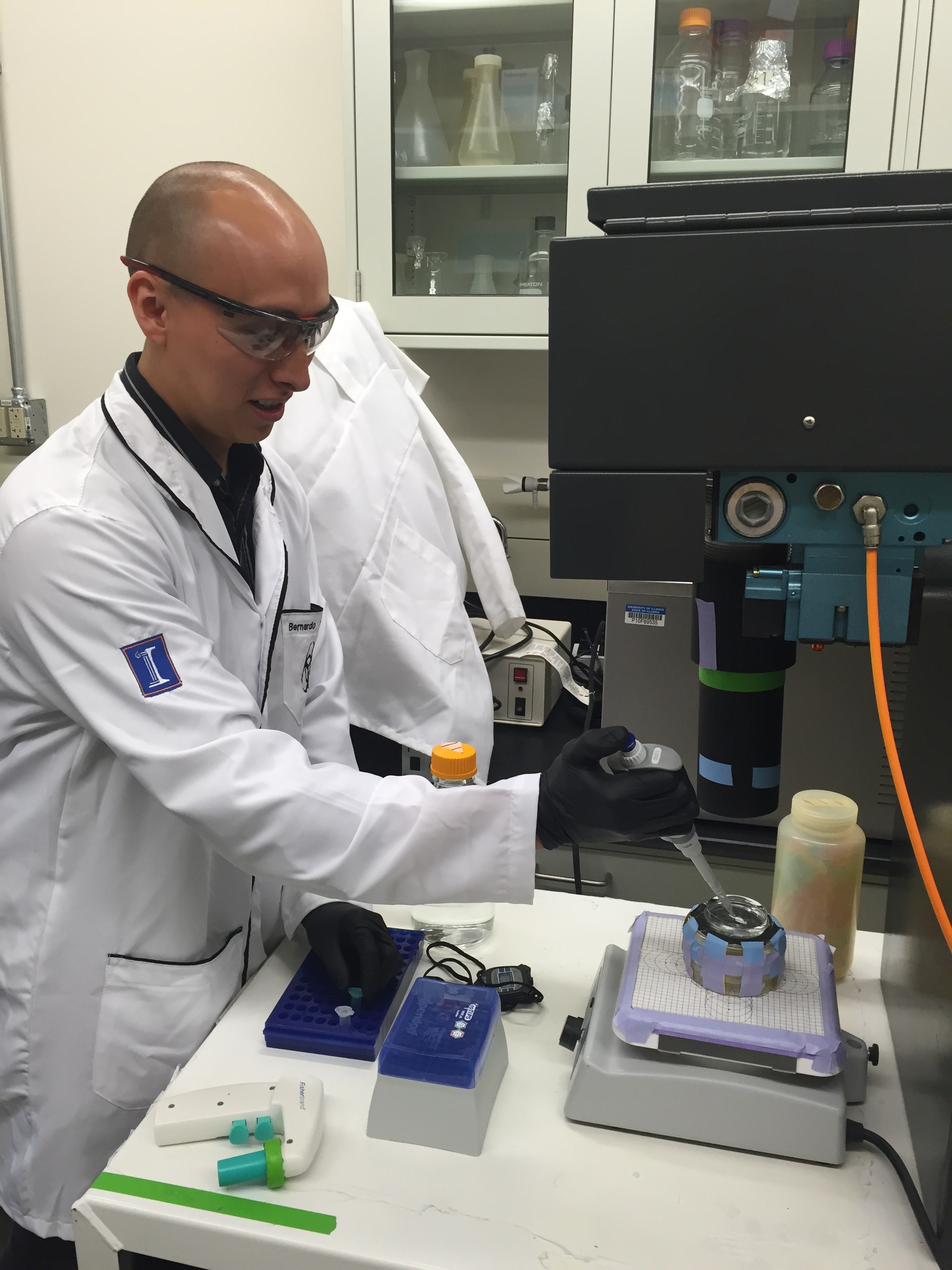 After graduating, he kept up his connection with Marinas while he worked outside academia for one year, and was ultimately invited to the Illinois campus to continue to extend the work.
It presented a mix of feelings for both he and his parents.
"They were very excited. They say that through me they have been able to travel to many different places in the world. But, yes, they were also nervous," he said. "I was, too. When I arrived I couldn't even have a conversation (because my English wasn't very good). That language barrier was one of the key aspects to overcome, because all the classes were on a new topic for me — I hadn't studied water very much before — and everything was in English. It was very challenging."
In his research, Bernardo sees the opportunity to be creative and "think outside the box." He is excited by the chance to look at the problem of drinking water quality from a new perspective and give something a try that hasn't been done before.
The interdisciplinary team he's working with might hold the key to that. "If I only focused on developing this very effective, nicely engineered technology — if I don't have the social sciences or a business model built into the plan of action — it's not going to be sustainable," he said, "The main thing I have learned being involved in this project is in order to tackle all these problems, you need to be working in an integrated team."
Back to the Smart Water Disinfection Project page