Twenty years ago, the University of Illinois and its undergraduates took their first serious steps in fighting climate change — actions that have now led to massive strides for campus sustainability.
In 2003, the Illinois Student Government proposed a referendum that sought approval for a "Cleaner Energy Technologies Fee" of $2 per semester. Its overwhelming approval made history, marking one of the first times that a public university's student body financially committed to providing their campus with renewable energy sources of all kinds.
Two decades and another student fee later, the University of Illinois's very own Student Sustainability Committee (SSC) controls the Illinois Green Fund: the nation's first higher education funding pool of its kind. Officially chartered in 2007 to manage the $14-per-student sum of the Cleaner Energy Technologies and Sustainable Campus Environment fees, the SSC has granted $16.7 million to 353 different projects campus-wide.
On the original fee's 20th anniversary, the SSC is just getting started.
"At its inception, the Student Sustainability Committee was conceived as a checkbook that the students got to write, which is still the case," said SSC Chair Jack Reicherts, a senior in Environmental Engineering. "It's a unique opportunity that really doesn't exist anywhere else in the country."
Reicherts made it clear that SSC's very structure is designed to serve its mission: allocating sustainability funds for the campus by the campus. Every other week, SSC convenes appropriately named "working group meetings" where university students and faculty discuss their ideas in the hopes of receiving funding.
The path to sustainability involves multi-faceted, structural issues that require high levels of organization to tackle — a tall order for already overworked and underslept students. Thankfully, the gargantuan world-class institution that the committee serves has not left them out to dry.
Since 2010, three years after SSC's inception, the Illinois Climate Action Plan (iCAP) has served as a university-wide blueprint for a path toward net-zero emissions by 2050. With the iCAP as a guide, SSC devotes different working group meetings to each of the plan's unique subcategories.
The Energy and Transportation sectors of the iCAP perhaps mark the Committee's sexiest projects: The ongoing Solar Farm 1.0 and 2.0 projects off of First Street and Windsor Road generate nearly 27 million kilowatt-hours of energy every year; the geothermal loops at the Campus Instructional Facility (CIF), for which the SSC paid in part, save the university nearly $45,000 a year in energy costs; and 24 electric vehicle charging stations have been installed, with more on the way.
But important does not always equal showy. Many SSC initiatives often go under the radar, unseen, and sometimes un-smelled. In 2022, "the fume hoods at Morrill Hall were falling apart and the university needed $500,000 to replace them," Reicherts said. The emergency hoods were funded by SSC, sucking up toxic fumes and financial resources alike.
"The project was obviously important for air quality and, of course, it's a safety concern. Not as flashy, for sure. A lot of the time the most urgent projects that we need to fund often end up being the most expensive."
Land and water conservation and air quality — another pillar of the iCAP — are also high on the list of the SSC's priorities. Five completed and ongoing green roof projects, including Krannert Center and the Literatures, Cultures, and Linguistics building, signal a growing trend on campus. Green roofs not only purify the air and reduce the urban heat island effect, they are also a vital component of increasing a building's energy efficiency. In lieu of using energy to cool a building, plants can finish the job for a fraction of the carbon and financial cost — a worthwhile effort considering how buildings expend 30% of global carbon emissions.
Surely aware of this, Reicherts, as a budding environmental engineer, understands the importance and impact of SSC's work. His beginnings as an environmentalist, though, were much humbler.
"I was just out on a run one day," Reicherts said, "and I saw some trash on the road. As I'm picking it up, I'm thinking, 'I'm sick of this, and this is stupid.' " That turned out to be an incredibly consequential piece of garbage.
Shortly thereafter, as a student at Naperville Central High School, Reicherts founded the "Eco Club" that continues to this day. On Quad Day freshman year, he signed his name on SSC's email list. Four years later, Reicherts is the chair and has accepted a position at Apple TV as a sustainability coordinator, crediting his hiring as a direct result of his time with SSC.
Reicherts is just the latest success story. "We have folks working at the Department of Transportation, a few who are working at the National Renewable Energy Laboratory (NREL), as well as others who have gone into corporate sustainability. Many of the people in SSC have gone on to try and incorporate sustainability into their career in some meaningful way," he said.
While he has definitively had a STEM-focused higher education, some of Reicherts' favorite SSC projects pertain to education and engagement — a third iCAP pillar — specifically those that incorporate the fine arts.
A recently approved application, for a yet-unpainted environmentalist mural, will significantly add to the campus's "culture of sustainability." SSC also just funded a multimedia art installation due to debut next semester in the Stock Pavilion titled, "Cetacean," featuring, unbelievably, a life-size marionette of a whale made entirely out of plastic waste.
At their most recent meeting on April 2 the students reviewed other possible projects, including an electric engine for Illini Motorsports, the cultivation of native plants at the Southern Arboretum Woodlands based in Native American cultural practices, and a proposed geothermal energy network for the Gies College of Business's new South Campus Center for Interdisciplinary Learning.
All of this goes to show that, with another school year wrapping up, the Illinois Green Fund has never been more effective or well-managed. Additionally, a newly approved $3.94 increase in the two fees combined — bringing the Sustainable Campus Environment Fee to $15 and the Cleaner Energy Technologies Fee to $3 — will expand the fund by 30%. That will bolster its position as the nation's largest student-run grant pool that goes directly to on-campus sustainability projects — and nearly equal the biggest higher education green fund in the country.
The gravity and influence of SSC's work are hard to overstate — a fact that the students on the Committee are acutely cognizant of. Moments before their April 2 meeting was called to order, Reicherts looked out of the large classroom windows at CIF — geothermally powered, but lights still off — and reminded the Committee of the magnitude of its task.
Coffee in hand, Reicherts gestured to the students walking down below, breathing cleaner air, off to study in more sustainable buildings. This, he said, is who we're doing all this for.
Twenty years ago, the Illinois Green Fund was first established with that small $2 fee; baby steps. As the funding has blossomed, so has the University of Illinois student body's conviction to fight for a cleaner campus and a better world. Such determination has proved contagious and continues to grow stronger — not just by small steps anymore but by leaps and bounds.
See the full list of projects funded by SSC >>>
— Article by iSEE Communications Intern Gabe Lareau
More Illinois Green Fund Project Highlights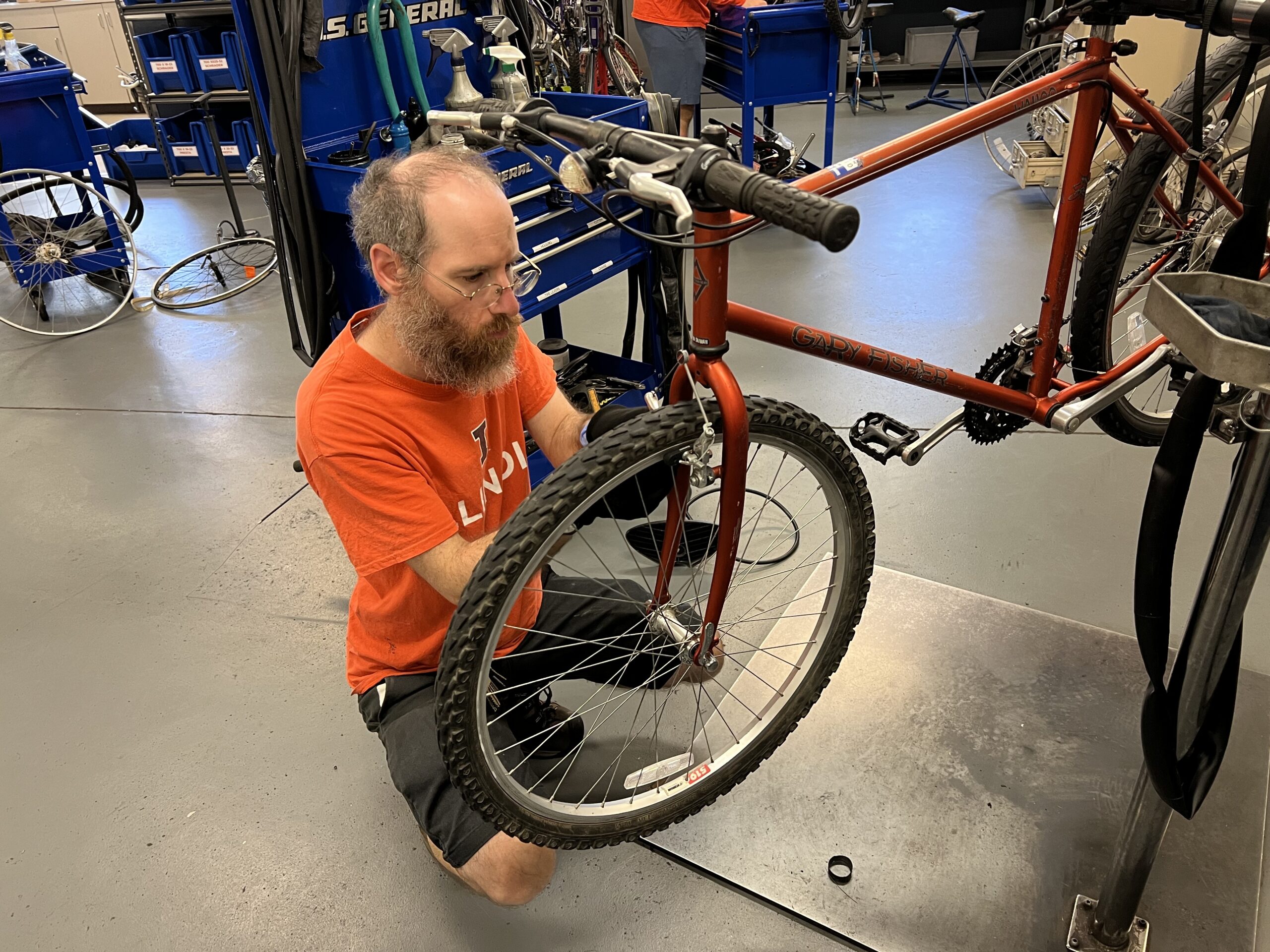 Campus Bike Center Coordinator Jacob Benjamin at work. Credit: Gabe Lareau, iSEE Communications