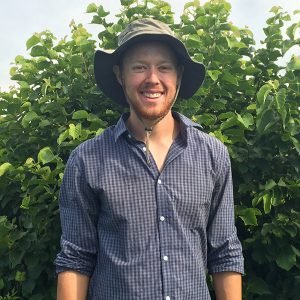 Erik Stanek is a Masters student in Illinois' Crop Sciences program. As a member of the Agroforestry for Food project funded by iSEE, he's determining the role mixed-species farms of trees and shrubs may play in the future of central Illinois agriculture — and in feeding the nation.
The core idea of agroforestry is relatively simple: Corn and soybeans are resource-intensive crops that have to be planted every year. Replacing traditional row crops with nut- and fruit-producing trees that are long-lived has environmental benefits like carbon dioxide storage, fewer greenhouse gas emissions, and lower uses of fertilizer, fuel, and other resources. The iSEE research team established a 30-acre plot of more than 10,000 plants in May 2015 to test different combinations of species in the hopes of maximizing crop yield and environmental benefit.
"A lot of the research done so far has been aimed at answering the question 'Can we make a temperate agroforestry system work?' We haven't really collaborated with a farmer to ask 'Would you actually do it?' " Erik said. "We've consulted people, certainly … but most of (them) are quite innovative, so it's not a fair sample to claim that people in general will adopt agroforestry. The idea is the people we're trying to survey now are not conservationists necessarily, but rather your traditional farmer."
Erik's part of the agroforestry research expands the project beyond the test plot and into real farmers' fields to study the feasibility of adoption by central Illinois growers.
His research walks farmers through the entire design process for a woody mixed-crop system — including site landscape assessment, crop selection, market analysis for potential crops grown, management plan creation, and 3-D visualizations of the site. With all the information and designs in hand, the farmer decides whether or not to buy in. If he or she does, the researchers have earned a remote case study to add to their research data. If not, they've still gathered valuable feedback that can inform the research questions or experiment design at the agroforestry test plot, Erik said.
"If we go through all the farmers on our list and not one of them wants to adopt and they raise clear issues, then we need to rethink what we're doing because that saves us five to 10 years of our time," he said.
Erik grew up in Mokena, a Chicago suburb he describes as being "on the cusp of urban sprawl." While his father trained for marathons by running through a nearby forest preserve, young Erik would bike alongside him.
"That's where I grew a passion for nature," he said, "riding all those trails."
His interest in agriculture also was rooted in his childhood. Until he was 11, he spent summers at his grandparents' home in southwest Iowa, the heart of corn country.
"That time inspired a lot of independence and an interest in rural communities on top of my love of nature from being back at home," he said. "I think those two things really add up well to what I am studying now."
Finding that area of study was a bit of a challenge, he admits. He started his college career with a "save the earth!" attitude, but couldn't find any one subject within his natural resources degree that truly resonated with him. He bounced between professors, but "nothing really stuck," he said. In 2014, he studied abroad in the Netherlands at one of the top agricultural schools, Wageningen University, and took a course in agroforestry.
"That opened my eyes to what I believe to be the most impactful thing I can study and pursue as a career to make a difference ," he said. And, apparently, it also ignited a passion for travel. On subsequent trips, he's visited the Czech Republic, Germany, France, Belgium, the Swiss Alps, Italy, and Nicaragua.
Back in the States, he found a spot as an undergraduate researcher in Agroforestry for Food project leader Sarah Taylor Lovell's lab. He graduated from Illinois in December 2015 with a B.S. in Natural Resources and Environmental Sciences, then jumped right into a Masters to continue his work with agroforestry.
"I like interacting with people and understanding social and environmental issues on landscape scales," he said. "That's what really got me interested in this project. Within this project it's exactly that: getting the word out there about what we're doing to people who will actually begin to adopt it. It's our lab's way of dipping our feet into the water of saying, 'can we make this work outside the research world?' We are asking, 'Are we ready?' It's kind of like our training wheels."
Agriculture is always shifting its best practices, he said. "Many people think it's always been 100 percent corn, all the time. Well, in our lifetime, maybe. However, not too long ago, our grandparents had cattle, pigs, goats, pasture, and fruit trees; the widespread shift to corn didn't happen until the early 1970's when the government said to plant row crops 'hedgerow to hedgerow'. I don't see the current state of agriculture lasting forever.
"What intrigues me about agroforestry for food is it is a simple, achievable solution to a variety of problems facing our environment and rural communities. However, there is still so much to learn about how these systems can be optimized, implemented, and marketed efficiently. I think that's what draws me into this research so much."
Return to Agroforestry for Food project page