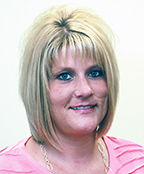 Amy Rosenbery is the Institute for Sustainability, Energy, and Environment's Office Administrator.
Amy is the most veteran member of iSEE's staff. She started working with campus sustainability in 2006 as temporary extra help for the University's Environmental Council. When a permanent position became available in December of that year, Amy applied, and the rest is history. Since then, Amy has worked to keep Councils, Offices, Centers, and Institutes running smoothly.
On a day-to-day basis, you'll find Amy doing one of a million things. "I rarely repeat a task in a day," she says. Her chief duties include managing the schedules and travel of iSEE employees, arranging transportation and accommodation for visiting speakers, tracking iSEE finances, and compiling and distributing newsletters that highlight sustainability events across campus.
Amy understands that we have one planet, one environment and feels that it is important that we take care of it for the sake of our children and grandchildren. She is excited by the breadth and depth of thinking about sustainability shown on this campus, but sometimes fears that we still don't engage as many people as we could in these issues.
It's clear, however, that in Amy's eyes, the future of the Institute is bright. "I'm excited to see where this office will go," she says, "I hope we can get more involved with the campus and become more engaged with other departments than previous versions of sustainability movements on this campus. I think iSEE has what it takes."
Amy lives in Atwood, Ill., with her husband,  step-daughter and son. She enjoys traveling and spending time with her family and pets.