On Sept. 8, 2016, the University of Illinois dedicated its newest residence hall — another step forward in the Urbana-Champaign campus' continued pursuit for a more sustainable way of life.
iSEE Communications Specialist Olivia Harris took a behind-the-scenes tour of this newest residence hall with Jeffrey Riddle, Housing Facilities Project Manager, and Bryan Johnson, University Housing Project Manager, to learn how its features work together to create a green living experience that is so effortless, it fades into the background. Check out a list of our favorite features below!
"A lot of the sustainability you see going into Wassaja Hall is old school for us. We're on our fourth building in six years (in the rebuild of the Ikenberry Commons). It's just become common practice," said Johnson.
Said Riddle: "For an older architect like myself, we were doing these type of practices before they were called sustainability, before you felt you had to do it for LEED points."
But, he said, never before has there been such an emphasis on painstaking accounting of energy and water use, and LEED has been a big motivator in that transition. So much of the sustainability of the building is "hidden" or "boring," said Riddle — it's just a window, it's just a faucet. But is it?
While sustainability practices are widespread across campus (many buildings have installed low-flow faucets and transitioned to energy efficient lighting) Wassaja Hall and the Bousfield Residence Hall built just before it are the first places on campus where all the tricks of trade have been applied in one package.
And although these practices are standard to an extent, it doesn't diminish their impact for a healthier environment.
The roof of Wassaja Hall sports 120 solar panels that can collectively produce 1,000 volts of energy — roughly 1% of the building's total energy use — in direct sunlight. (That's equivalent to powering 10 average U.S. houses.) The system doesn't have a storage component, so the solar energy gets used immediately as it's generated. Grid energy kicks in right after.
Real-time energy production levels are on display around the clock on the hall's lobby TV screens, so that students can see how their home is performing. Want to see the numbers right now? Check out real-time readouts and historical energy data for Wassaja Hall on the Sunny Portal.
Based on campus energy utility rates for the 2016 fiscal year, Wassaja's solar power will save about $3,300 in energy costs each year.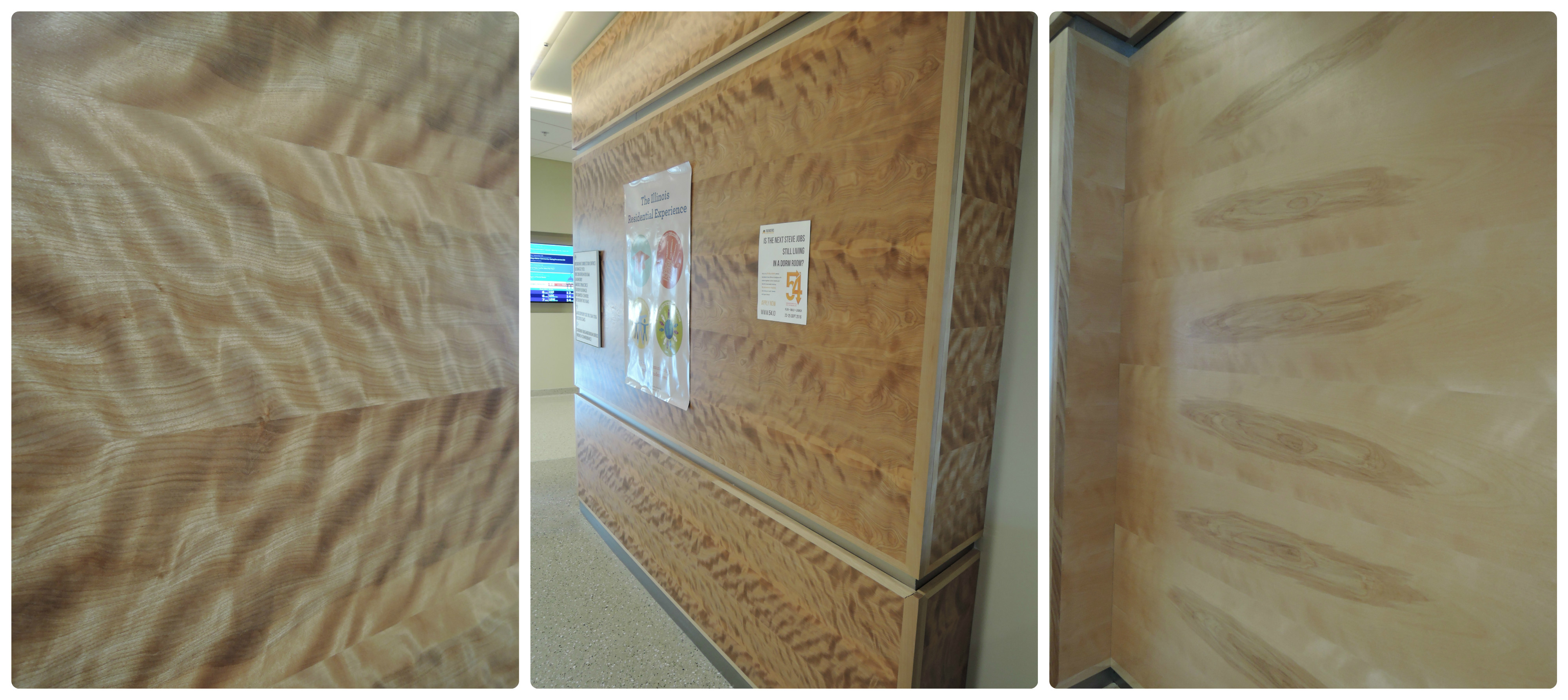 The first-floor lobby, conference room, and lounges all feature striking accent walls paneled with rich golden wood. Rather than cutting down living trees for this timber, the architects opted for wood "reclaimed" from old logs that had been sitting at the bottom of a lake for decades. Through the board-cutting process, each former tree trunk revealed its own unique grain — meaning that some walls in a room don't "match."
"The panels went on the wall at the very end of the project. And as more and more panels went up you could start to see the pattern more and more clearly," Housing Facilities Project Manager Jeff Riddle said."But then when some of the very last panels went up, you could see immediately that it was a very different pattern — and it didn't look right. So we asked (our supplier), 'Is it possible to make this match better?' And that's when they told us the story … ."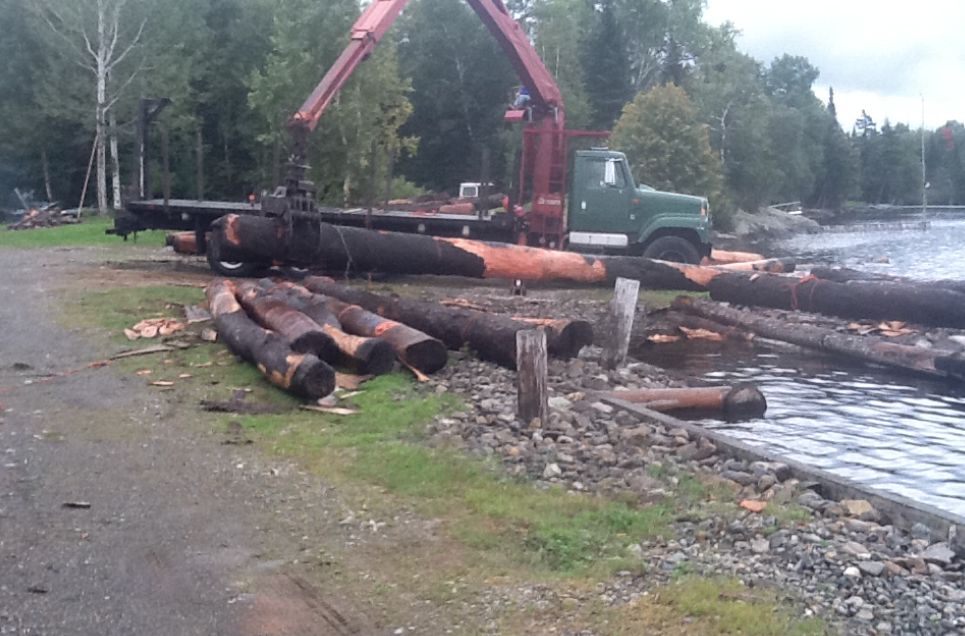 The veneer is made from two logs that are each more than 400 years old. They were likely first cut down in the 1600s as part of the Northeastern colonial timber industry, but sank to the bottom of a lake in Maine during bad weather and were lost. Just a few years ago, they were recovered from that very cold lake by a company that prefers to work with preserved wood rather than cut down new trees. The cold water preserved the logs, and now we can enjoy their beauty as the original loggers intended.
"Once we knew that, we knew we wouldn't change it — we wouldn't go out looking for another log. Now, everybody likes (the odd-looking wall) because it's such a good story of why it is that way," Riddle said.
Heat Recovery Wheel: 
One of greatest energy consumers in every building is the heating and cooling system. In Wassaja Hall, a heat recovery wheel allows energy invested do double duty. To supply fresh air to student rooms, outside air is brought into the HVAC system, its humidity is reduced, and then it is heated or cooled to the desired temperature. In other systems, that air was just exhausted from the building after leaving the areas it was sent to heat or cool. Now, using a heat recovery wheel, it's brought in contact with a new batch of outside air. At this contact, the two bodies exchange heat and settle at a temperature somewhere in the middle — meaning that in the winter warm inside air pre-heats the outside air, and in the summer cool inside air will cool the hot outside air. This isn't enough to get new air all the way to the temperature it needs for building circulation, but it offers a head start so that less fossil fuel energy is needed. 
"We've already invested energy in getting a first batch of fresh air to the condition we want it, so why waste that energy?" Riddle said.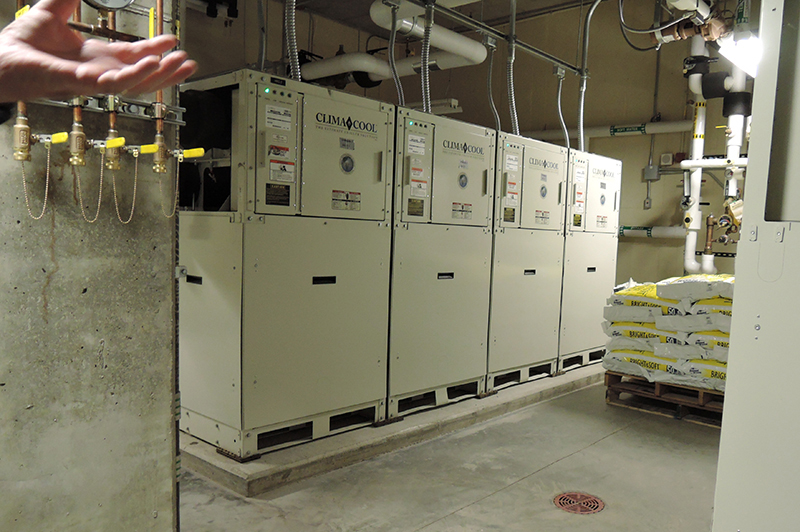 Heat Recovery Chiller: Much like the recovery wheel does for air, a heat recovery chiller will redirect energy already invested in heating or cooling water toward a new batch for circulation — pre-heating it so that energy in the campus steam loop can warm it the rest of the way to desired temperature using less energy.
Bousfield Hall — just across the Ikenberry Quad from Wassaja — was the first building on campus to use this technology. After a year in operation, housing authorities report that it is using one-third of the energy normally used to heat water. Similar savings are expected at Wassaja.
Thermostats: Each student room in Wassaja has its own thermostat, which gives students a personalized comfortable space, but the range of temperatures to choose from is limited so that energy isn't expended excessively.
Windows: Windows throughout the building allow in plenty of natural light (reducing energy needs during the day) and feature a tinted thermal coating that stops that sunshine from heating up the room — and making cooling systems use more energy.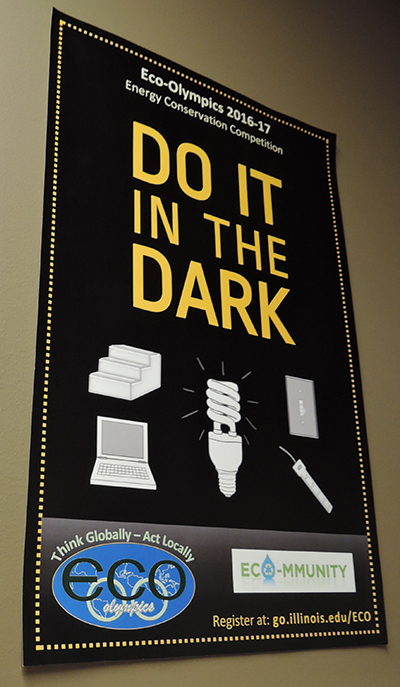 All the lights in Wassaja Hall are either high-efficiency T8 fluorescent or LED bulbs. Although LEDs are a common (if not standard) feature of buildings today, less than 10 years ago when the Student Resident Dining and Programs (SDRP) building in the Ikenberry Commons was designed and constructed, they were a luxury.
"Back then, LEDs were too expensive to justify in the project and were used sparingly," Riddle said. "Now, you know, you can buy them at Menards and put them in your house. So we're using them more and more in bathrooms and other places that get a lot of use by students."
Occupancy sensors in bathrooms, hallways, lounges, and other areas that are shared by students automatically turn off lights when no one is in the room.
To encourage recycling, every floor of Wassaja has several compartmentalized recycling bin stations. These bins are larger than models in other dorms and are made completely from recycled plastic milk jugs. Signage above and an easily-recognizable recycling color-code help students find the right bin for their waste.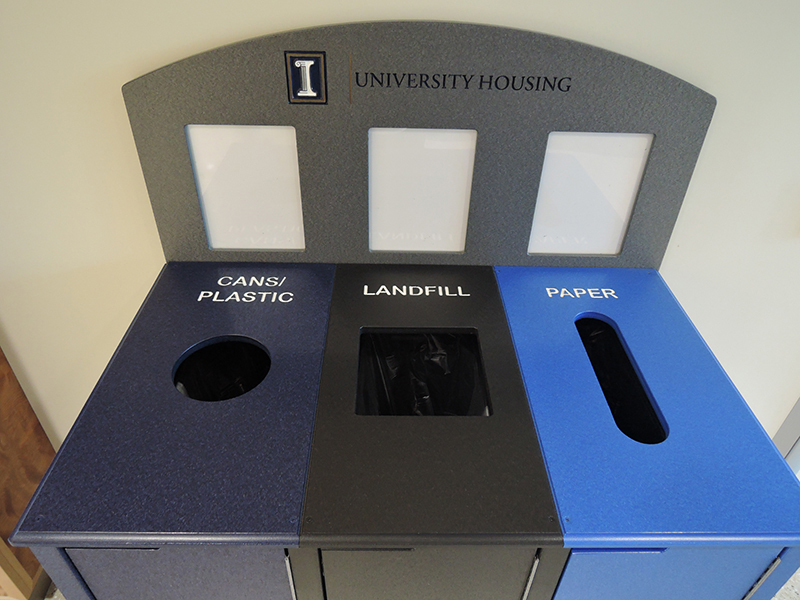 All bathrooms in the new dorm include low-flow shower heads and faucets. The toilets are dual-flush models, meaning you can use more water when you need it and less when you don't to remove waste.
Drinking fountains are fitted with bottle-filling spigots so students can fill their reusable bottles on the go, rather than rely on wasteful bottled water.
Building Sanitation Workers are equipped with a full range of green cleaning products, many of them plant-based.
No harsh chemicals will ever be sprayed indoors to fight pests. Instead, Riddle says, facilities workers are baiting the bugs and mice to catch them before they ever enter the building. When indoor pest control is needed, Housing follows a strict set of guidelines for what products are considered safe. For this integrated pest management system, the University of Illinois at Urbana-Champaign was one of the first universities recognized with Green Shield Certification — a nationally recognized standard in environmentally friendly building operations.
Check out these beautiful recycled glass countertops at the front desk!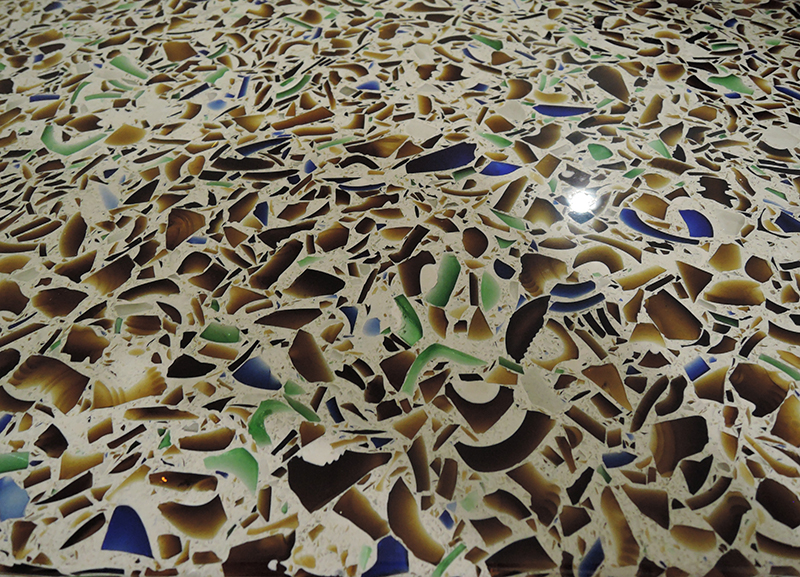 Each floor of Wassaja Hall features its own color palette of paint and carpets to create spaces that aren't so one-size-fits-all. One of the most distinct is a "field carpet" that has small rows of many colors that resemble rows of corn growing in a field. This fun flooring was made to use up the leftovers and scraps from the manufacture of solid-color carpets —turning supplies that would have been wasted into a beautiful feature.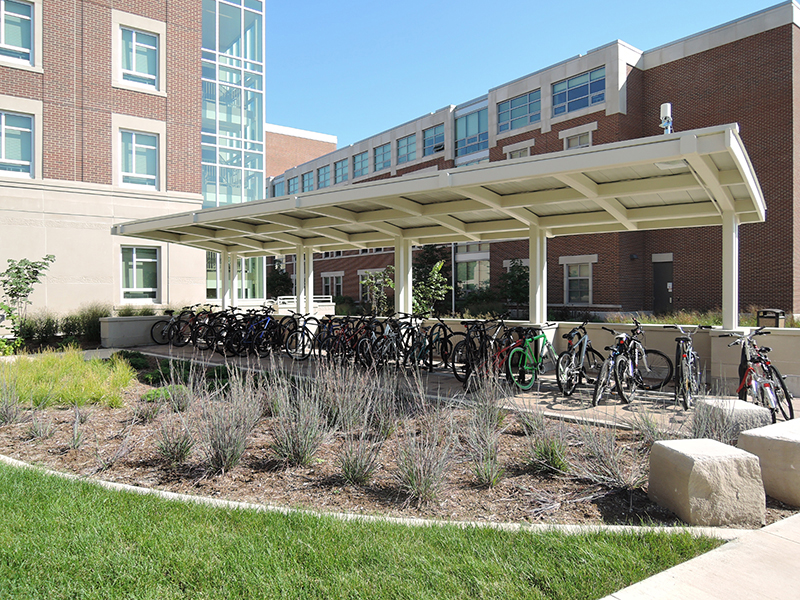 Two bike parking areas under permanent shelters flank the south side of the building. All residence halls have bike parking loops, but the covered design gives a little extra protection from the weather. No one likes a soggy bike seat!
"We hope it means students will use their bikes more if it is easier to do so." Riddle said.