The University of Illinois has taken a major step toward zero waste. In August 2020, the Urbana-Champaign campus joined a coalition of sustainability-striving schools across the country called the Post-Landfill Action Network, or PLAN for short.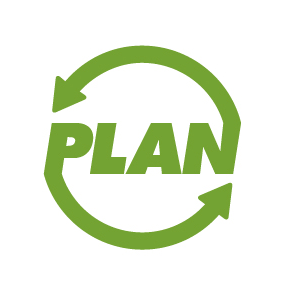 PLAN was founded in 2013 by a small group of college students. The now-national organization "cultivates, educates, and inspires the student-led zero waste movement" via its certification programs, discounts on zero-waste products, educational events, and more. If motivated students are the vehicle driving sustainable progress on campus, PLAN is the fuel that equips them with the necessary resources.
Maddy Liberman, a senior in Natural Resources and Environmental Sciences, discovered PLAN while on a field trip with the Sustainability Living Learning Community. Inspired, Liberman submitted a grant to the Student Sustainability Committee to bring PLAN to the U of I campus. The 2020-21 school year marks the U of I's first of two years in the PLAN pilot program.
In the simplest terms, a university's subscription to PLAN offers free educational opportunities to staff and students to expand their sustainable horizons.
Through the campus's membership, students can receive the Beyond Waste Leadership Certification, which requires students to take online courses in five areas, including "Tools and Tactics for Taking Action," "Social Media for Social Change," and "Building and Sustaining Your Team." Upon completion, students will have the know-how to bring zero-waste habits with them wherever they go. Not to mention the certification is a great addition to any resume.
PLAN also provides countless guides with blueprints for bringing zero-waste practices to campus, like the Campus Composting Manual, the Plastic-Free Campus Manual, and the Move-Out Manual. Though sustainable action, especially on a large scale, can often seem out of reach, these manuals make it a little easier. The documents are free, accessible, and easy to read.
"The guides are my favorite part of PLAN. You can learn how to create a specific project and how to make an impact on your own campus," Liberman said.
PLAN holds several online events every month that are open to anyone and range from movie nights to educational talks. PLAN also holds the annual Students for Zero Waste Conference, where environmentalists of all ages and professions converge in Philadelphia to participate in student-led workshops, trainings, and panels. The 2020 conference was canceled, and it has not been scheduled for 2021 at the time of this article's publication.
As a broke college student and an environmentalist, my personal favorite aspect of PLAN is the endless discounts on zero-waste products from brands like Alchemy Goods, Bee's Wrap, and Final Straw. These sustainable products range from hiking gear, food ware, feminine hygiene products, and even skateboards. Often, sustainable lifestyles can be unrealistic because of their high price tag; however, PLAN helps alleviate those stressors for students.
"I know so many people who are becoming more conscious about their personal environmental impact. But sometimes, getting the tools necessary can be a barrier. So, having discounts through PLAN is very important," Liberman said.
All of these features are totally free to all U of I staff and students — though your account must be activated first. Just click "Login" in the top right corner of the website and register with your Illinois email account. Easy!
The benefits of PLAN range from the individual scale to the global scale. PLAN facilitates individual education and change at the household level, decreasing our personal carbon and waste footprints. And with more waste-conscious students comes a more waste-conscious campus; PLAN's guides on organized action help facilitate campuswide change and make it a little less daunting. Finally, once more universities subscribe to PLAN and a more zero-waste mind-set, the positive environmental impact will be exponential.
Until then, I'll sit back with my new Klean Kanteen and get started on my Beyond Waste Leadership Certification!
— Article by iSEE Communications Intern Maria Maring