The University of Illinois at Urbana-Champaign has participated in Recyclemania, a national collegiate competition that lets campus communities compete while benchmarking their waste reduction activities. Illinois' Recyclemania participation has been through E-cyclemania electronic waste recycling events and Zero-waste events.
E-cyclemania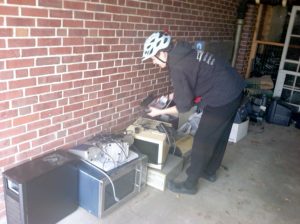 On March 18, 2014, the campus collected nearly 7 tons of electronic waste for recycling. The university's E-cyclemania efforts, part of the Recyclemania national collegiate competition, brought in 13,870 pounds of materials — virtually "anything with a plug or that runs on batteries" — or about 0.24 pounds per person on campus. The waste filled two box trucks. There were three main collection sites: Allen Hall, Ikenberry Commons and the Illinois Sustainable Technology Center, but recyclers were able to make drop-offs at numerous participating campus buildings as well. The use of bike trailers by volunteers helped reduce traffic issues as the electronics were hauled from drop-off points to the main collection sites without causing congestion on campus. All e-waste collected was recycled by an R2 and E-steward certified vendor. Weight of the material collected was reported as part of the national Recyclemania competition.
Zero-waste events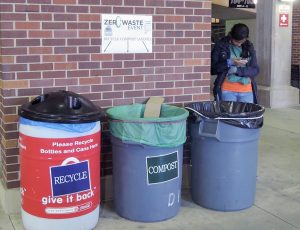 In the first Recyclemania event, a men's basketball Game Day on Feb. 26, 2014, at the State Farm Center, the U of I finished sixth in per capita waste generation and 19th in diversion rate at 31.5 percent with its recycling efforts. At the Illini Homecoming game on Oct. 25, 2014, the campus participated in the Game Day Recycling Challenge, a partnership between Recyclemania, the College and University Recycling Coalition (CURC) and Keep America Beautiful (KAB) that is supported by the EPA's WasteWise Program. Various campus and community partners — including the Illinois Sustainable Technology Center (ISTC), the Division of Intercollegiate Athletics, Facilities & Services and iSEE — worked together to raise awareness and have a positive lasting impact at this inaugural Zero-Waste Football Game. About 150 volunteers from all over the Urbana-Champaign community assisted the thousands of spectators in reducing waste — from the money spent sending materials to landfill to the volume of materials that impact our water, air, and soil. To read more about the event, click here.