iSEE Congress 2020: 'THE FUTURE OF WATER'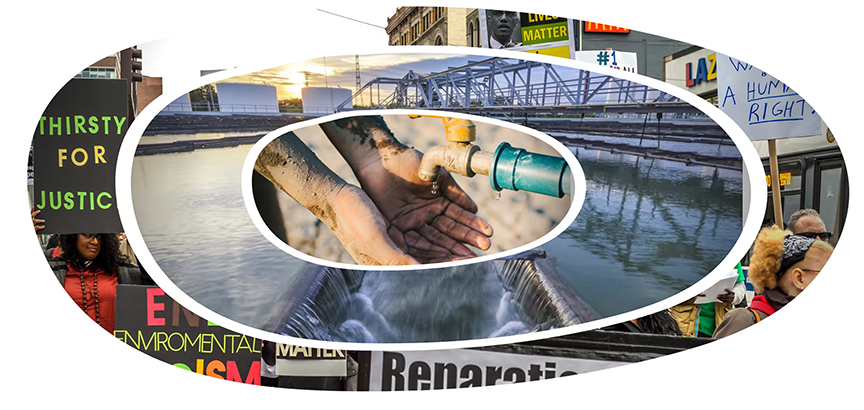 Oct. 5-6, 2020
National Center for Supercomputing Applications (NCSA)
University of Illinois at Urbana-Champaign
#iSEECongress2020
About the Congress
In the seventh iSEE Congress, we are partnering with the Joint Area Centers (JACS) and the
Illinois Global Institute
to readdress the topic of global water crises. Water is not only a basic human need, but also serves as a critical input for energy and food production as well as ecosystem services — which in turn affect human livelihoods and well-being. Climate change is leading to increased hydrologic variability with a significant impact on the hydrologic cycle, water availability — and water demand at the global, regional, and local levels.
Over two days, "The Future of Water" will bring together a diverse group of researchers, educators, journalists, and activists to dive deeper into the topic. Our modified "teach-in" event will introduce the Illinois campus and community to cutting-edge thinking from highly influential scholars on topics ranging from drought, to the global politics of water, to pollution, public health and biodiversity.
The Congress 2020 organizing committee includes iSEE Associate Director for Education & Outreach Gillen D'Arcy Wood, Geology Professor and Illinois Water Scholars Chair Jim Best, Center for Global Studies (CGS) Director and Associate Professor at the International & Area Studies Library Steven Witt, Musicology Associate Professor Michael Silvers, CGS Associate Director Donna Tonini, iSEE Academic Program Instructor/Advisor Eric Green, iSEE Graduate Educational Research Intern Paul Gharzouzi, and student volunteers.
Conference Program
MONDAY, OCT. 5
4-5 p.m., NCSA Courtyard — Performing Arts Workshop: "The Future of Water"
Jennifer Monson
Professor of Dance, University of Illinois at Urbana-Champaign
Carlos Carrillo
Assistant Professor of Composition-Theory, University of Illinois at Urbana-Champaign
5-6 p.m., NCSA Auditorium — Opening Keynote
Introduction by Evan H. DeLucia, iSEE Baum Family Director, University of Illinois at Urbana-Champaign
Peter Gleick
Co-Founder, Pacific Institute
Presentation title: Coming soon.
Abstract: Coming soon
Bio: Gleick is a leading scientist, innovator, and communicator on global water and climate issues. He co-founded the Pacific Institute in Oakland, one of the most innovative, independent non-governmental organizations addressing the connections between the environment and global sustainability. Dr. Gleick's work has redefined water from the realm of engineers to the world of sustainability, human rights, and integrated thinking. Gleick pioneered the concept of the "soft path for water," developed the idea of "peak water," and has written about the need for a "local water movement." Among many other honors, Gleick received the prestigious MacArthur "genius" Fellowship, the U.S. Water Prize, and has been named "a visionary on the environment" by the BBC. He was elected in 2006 to the U.S. National Academy of Sciences. In 2018 he was awarded the Carl Sagan Prize for Science Popularization. Gleick is the author/editor of many scientific papers and books, including The World's Water series, Bottled and Sold: The Story Behind Our Obsession with Bottled Water (Island Press, Washington), and A 21st Century U.S. Water Policy (Oxford University Press, New York).
6-7 p.m., NCSA Atrium — Reception
7 p.m. — Dinner (invitation only)
TUESDAY, OCT. 6
8:30-9 a.m., NCSA Atrium — Coffee and Pastries
9-9:15 a.m., NCSA Auditorium — Welcome & Introduction by Gillen D'Arcy Wood, iSEE Associate Director for Education & Outreach
9:15-10:15 a.m., NCSA Auditorium — Session I: Title TBA
Moderator TBA
Megan Konar
Assistant Professor of Civil & Environmental Engineering, University of Illinois at Urbana-Champaign
Presentation title: Coming soon.
Abstract: Coming soon 
Bio: Konar, the William J. and Elaine F. Hall Faculty Fellow at Illinois, conducts policy-relevant research that focuses on the intersection of water, food, and trade. Her research is inherently interdisciplinary, drawing from hydrology, environmental science, and economics. To conduct this research, she applies a range of quantitative tools, such as modeling, network analysis, and econometrics. Konar's research is motivated by questions such as: How does trade link water and food systems? How will climate and socio-economic shocks impact global food trade and its associated embodied water resources? What policy options will best improve water and food security? Her awards and honors include the Princeton Energy and Climate Scholarship from the Princeton Environmental Institute, the Ford Fellowship from the Woodrow Wilson School of Public and International Affairs, the Pre-doctoral Fellowship from the Association for Women in Science, and the Holly A. Cornell Scholarship from the American Water Works Association. She received the NSF CAREER award and AGU Hydrologic Sciences Section Early Career Award in 2019.
Jessica Barnes
Assistant Professor of Geography, University of South Carolina
Presentation title: Coming soon.
Abstract: Coming soon 
Bio: Barnes is the Peter and Bonnie McCausland Fellow of Geography at South Carolina. Her research examines the culture and politics of resource use and environmental change in the Middle East. Her first book, Cultivating the Nile: The Everyday Politics of Water in Egypt (Duke University Press, 2014) is an ethnographic study of water and the politics surrounding its use. In subsequent work, she has explored the intersections of climate change, water, and agriculture, focusing in particular on how scientific understandings of climate change and its impact on the water resources of the Nile Basin are produced, interpreted, and negotiated in different knowledge communities. Related to this research interest, Barnes has co-edited a collection of anthropological essays on climate change with Michael Dove, entitled Climate Cultures: Anthropological Perspectives on Climate Change (Yale University Press, 2015). She is currently working on a book titled Secure States: Wheat, Bread, and the Politics of Sufficiency in Egypt, which examines the longstanding and widespread identification of food security in Egypt with self-sufficiency in wheat and bread. Work on this book has been supported by an ACLS Fellowship from the American Council of Learned Societies and Howard Fellowship from the George A. and Eliza Gardner Howard Foundation.
10:15-10:30 a.m., NCSA Atrium — Coffee Break
10:30-11:30 a.m., NCSA Auditorium — Session II: Title TBA
Moderator TBA

Roderick Wilson
Assistant Professor of History, University of Illinois at Urbana-Champaign
Presentation title: Coming soon.
Abstract: Coming soon 
Bio: Wilson is also an Assistant Professor of East Asian Languages and Cultures at Illinois. His research focuses on the intersection of people and their local habitats in early modern and modern Japan. His first book entitled Turbulent Stream: Environmental History of Japan's Rivers, 1600-1930 will be published by Brill in 2020. He has also begun research for a second book about the social and environmental history of Tokyo. At Illinois, he offers a variety of courses on the history of Japan, East Asia, and the environment.
Lisa Lucero
Professor of Anthropology, University of Illinois at Urbana-Champaign
Presentation title: Coming soon.
Abstract: Coming soon 
Bio: Lucero's research interests include Classic Maya, ritual, political power, climate change, and sustainability. She has been an American Association for the Advancement of Science (AAAS) Fellow since 2012 and served as Archaeology Division President of the American Anthropological Association (2017-19). Lucero authored the book Water and Ritual: The Rise and Fall of Classic Maya Rulers (University of Texas Press, Austin) and co-authored Changing the Atmosphere: Anthropology and Climate Change (American Anthropological Association Climate Change Task Force Report, Arlington, Va.).
11:30 a.m.- 12:30 p.m., NCSA Atrium — Lunch
12:30-1:30 p.m., NCSA Auditorium — Keynote
Introduction TBA
Marcus King
Associate Professor of International Affairs, George Washington University
Presentation title: Coming soon.
Abstract: Coming soon.
Bio: King's areas of expertise include environmental security, climate change and security, environmental scarcity and fragile states, and energy security. He is Director of the Elliott School's Master of Arts in International Affairs Program after previously serving as Director of Research and Associate Research Professor. King draws on experience in public service, research, and the private sector. He joined the Elliott School in 2011 from the research staff of CNA Corporation's Center for Naval Analyses where he directed studies on security, resilience, and adaptation aspects of climate change. He was also Project Director for the CNA Military Advisory Board (MAB), an elite group of retired admirals and generals constituted to provide recommendations and reports on how these topics affect U.S. national security. From 2003 to 2006, King was Research Director of the Sustainable Energy Institute; and Senior Manager for Energy and Security Programs at a private consultancy. During the Clintan Administration, he held Presidential appointments in the Office of the Secretary of Defense, where he represented the United States for negotiation of the UN Framework Convention on Climate Change, and the Office of the Secretary of Energy, where he directly supported the Deputy Secretary and participated in negotiations on the peaceful uses of nuclear energy with the Russian Federation.King is a member of the Center for Climate and Security's Advisory Board. His current research focuses on identifying ties between water scarcity and large-scale violence. He is a regular contributor to radio, television and print media.
1:30-2 p.m., NCSA Atrium — Coffee Break
2-3 p.m., NCSA Auditorium — Session III: Title TBA
Moderator TBA

Elliott Brinkman
Executive Director, Prairie Rivers Network
Presentation title: Coming soon.
Abstract: Coming soon 
Bio: Brinkman
Elliot leads a qualified and committed staff at Prairie Rivers Network, carrying out a mission to protect water, heal land, and inspire change in the Urbana-Champaign area. Prairie Rivers Network is the independent, state affiliate of the National Wildlife Federation. Using the creative power of science, law, and collective action, PRN protects and restores local rivers, returns healthy soils and diverse wildlife to lands, and transforms how residents care for the earth and for each other. Prior to becoming Executive Director in April 2019, Brinkman served on the PRN staff for eight years, working to promote wildlife habitat conservation and ecological restoration of rivers and streams throughout Illinois. Today, he oversees the organization's operations and finance, works closely with board and staff to develop and drive conservation strategy, and builds strong relationships with partners, donors, and foundations to ensure the strength and sustainability of Prairie Rivers Network into the future. Prior to joining PRN, he worked as a Research Assistant at Southern Illinois University at Carbondale and as an Environmental Educator for Redwood National and State Parks in California.
Emily Cedzo
Land, Water & Wildlife Program Director, Coastal Conservation League
Presentation title: Coming soon.
Abstract: Coming soon 
Bio: Cedzo is a proud North Carolina native with interests in conservation and public health. She helps lead efforts at the Coastal Conservation League, an organization based in South Carolina that has worked for more than three decades with communities, businesses, and other conservation and citizen groups to protect the natural landscapes, abundant wildlife, clean water, and quality of life up and down the coast in South Carolina. The League has projects throughout the state in five major areas of concern: air and water; energy and climate; food and agriculture; land and community; and transportation. Cedzo, who obtained an M.S. in Environmental Management and Certificate in Community-Based Environmental Management from Duke University's Nicholas School, and a B.S. in Environmental Studies from the University of North Carolina at Asheville, has also worked with Southern Alliance for Clean Energy, North Carolina Sierra Club and North Carolina Sea Grant.
3-3:15 p.m., NCSA Atrium — Coffee Break
3:15-4:15 p.m., NCSA Auditorium — Session IV: Title TBA
Moderator TBA

Ashlynn Stillwell
Associate Professor of Civil & Environmental Engineering, University of Illinois at Urbana-Champaign
Presentation title: Coming soon.
Abstract: Coming soon 
Bio: Stillwell, the Elaine F. and William J. Hall Excellence Faculty Scholar in Civil & Environmental Engineering at Illinois, focuses her research on creating sustainable water and energy systems in a policy-relevant context. Her expertise encompasses urban water and energy sustainability, electricity and water resources, green stormwater infrastructure, and energy and water policy analysis. She received the National Science Foundation CAREER award and the UCOWR Early Career Award for Applied Research for her research work on the energy-water nexus. She was honored with the 2015 Girl Scouts of Central Illinois Woman of Distinction Award in Science, Technology, Engineering, and Mathematics, the 2018 Rose Award for Teaching Excellence, and the 2018 Association of Environmental Engineering and Science Professors (AEESP) Award for Outstanding Teaching in Environmental Engineering and Science. Stillwell has also been included on the List of Teachers Ranked as Excellent by their Students at Illinois. She is an AEESP member as well as having held several positions with the American Society of Civil Engineers: Environmental and Water Resources Institute, 2012-present; Past Chair of Sustainability Committee (previous rotation of Secretary, Vice Chair, and Chair); Vice Chair of Environmental and Water Resources Systems Committee (previous rotation of Secretary); and Member of Energy & Environment Nexus Committee.
 Mark Duey
Chief Programs Officer, Water for People
Presentation title: Coming soon.
Abstract: Coming soon 
Bio: Duey believes the global water and sanitation crisis can end during our lifetime. He was a Peace Corps volunteer in Honduras and then a consulting engineer before joining Water For People in 2008. Water For People is an international nonprofit based in Denver, Colo., with a goal to bring water, sanitation, and hygiene services to everyone, and to make sure those solutions last forever. WFP partners with local community members, businesses, and governments in nine countries, helping them bring sustainable water and sanitation systems to their communities — then ensuring they have the training and tools they need to maintain those systems for generations. Duey holds an M.S. in Economics, Finance, and Management from the Barcelona Graduate School of Economics, where he was a Rotary Ambassadorial Scholar. HE enjoys strong family ties to Central America, where his wife and two of his three children were born.
4:15-4:30 p.m., NCSA Atrium — Coffee Break
4:30-5:30 p.m., NCSA Atrium — Poster Session & Pop-Up Presentations
5:30-6:30 p.m., NCSA Auditorium — Closing Keynote
Introduction TBA
Somini Sengupta
Environmental Reporter, New York Times
Presentation title: Coming soon.
Abstract: Coming soon.
Bio: Sengupta Somini Sengupta is The New York Times' international climate correspondent and the newspaper's George Polk Award-winning foreign correspondent. Now based in New York, Sengupta spent a decade abroad, with postings in West Africa, India, and according to her LinkedIn page, "the most foreign posting of all, Silicon Valley." She has written about child soldiers, receding glaciers, Himalayan monarchs, and much more. Sengupta is the author of The End of Karma: Hope and Fury among India's Young (2016, W.W. Norton).
Venue

The National Center for Supercomputing Applications (NCSA) is on the north-central end of the University of Illinois campus in Urbana. 
Address: 1205 W. Clark St.
Urbana, IL 61801
View on Google Maps or the Illinois Campus Map.
Getting here:
Many of the Champaign-Urbana Mass Transit District's bus routes pass right near NCSA.
Bicycle racks are available, and active transportation is encouraged.
Metered parking is available in the parking garage just north of NCSA, on Clark Street, and on other surrounding streets. Rates are $1/hour, and all meters accept quarters, dimes, nickels and dollar coins. While you can park all day in the garage, street parking is generally limited to two hours. There is no attendant in the parking garage, but you do have the option to pay for metered parking by credit card by calling 1-866-234-PARK (7275); the garage is Location 4801. For more information, go to paybyphone.com.
Nearby eats: There are plenty of places to grab a bite to eat between sessions on Green Street, a few blocks south of NCSA.
Air Travel
Willard Airport (CMI)
The quickest, easiest way to travel a long distance to the iSEE Congress is to fly into Willard Airport (CMI) in Savoy.