Concrete, showers, T-shirts, and other green designs you might not have noticed.
Eleven LEED–certified facilities, three Gold Level honors in STARS, two Second Nature marks of distinction … the University of Illinois at Urbana-Champaign is committed to achieving carbon neutrality by 2050 and has set hundreds of projects in motion to reach that goal. Buildings and organizations across campus have made individual strides towards minimizing U of I's carbon footprint. Which of this sustainable features list, courtesy of iSEE Communications Intern Molly Gates, have you seen?
9. Sustainable Student Farm 
Founded in 2009, the Sustainable Student Farm uses student workers and volunteers to provide sustainable produce for the University and campus community. Ninety-five percent of all fruits and vegetables grown are used by Dining Services, but students can also purchase the fresh produce on the Quad every Thursday from May through October.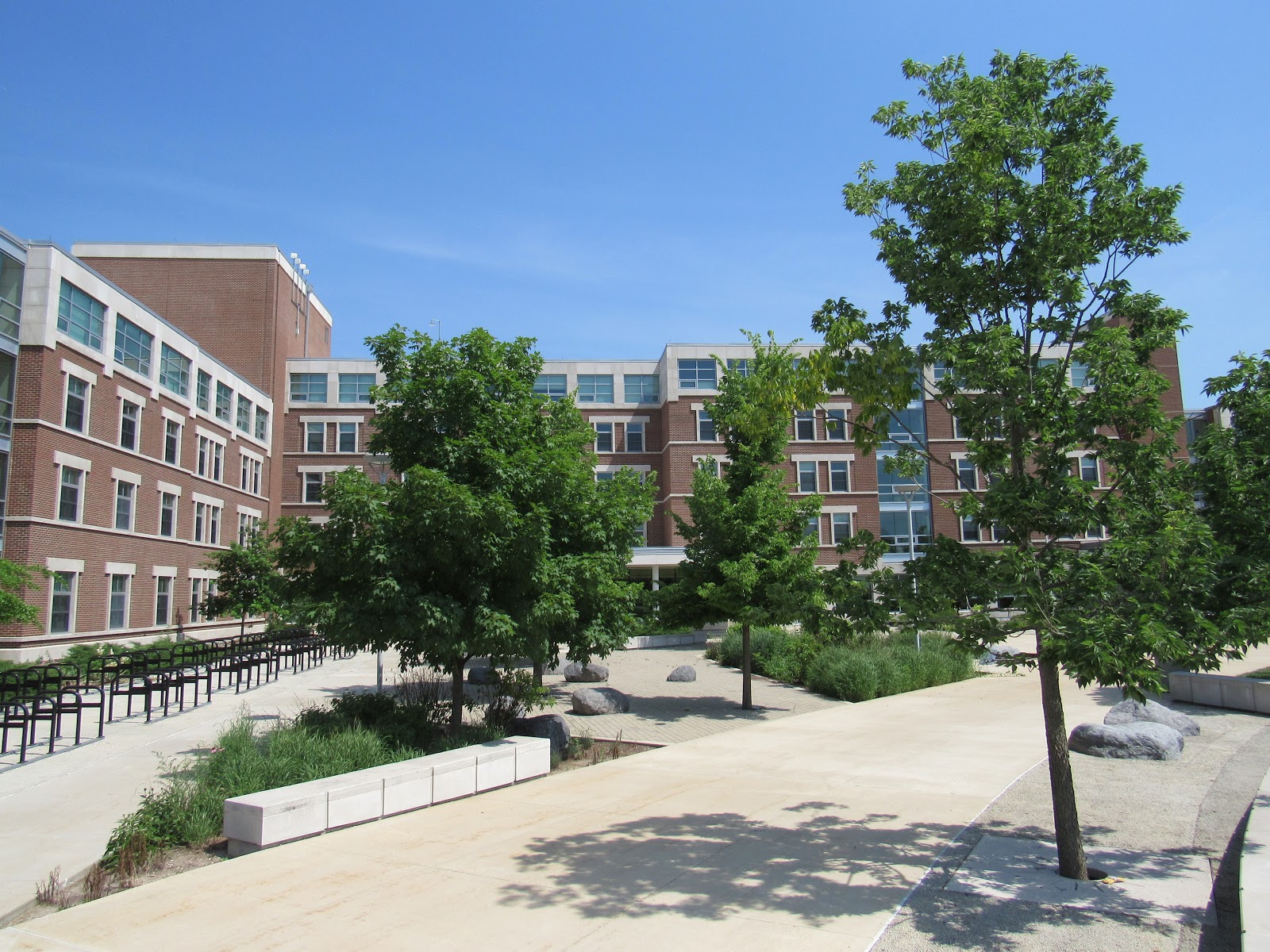 8. White Concrete at Nugent Hall 
Nugent Hall was awarded LEED Silver certification in 2011 for its sustainable construction practices — such as using locally sourced recycled materials — and overall energy conservation. The building sports a white roof and white concrete walkways, both of which reflect the sun's heat and reduce the amount of energy necessary for air conditioning.
7. Motion Sensors at BIF 
Completed in Summer 2008, the Business Instructional Facility (BIF) was the first LEED Platinum-certified project at any university or college, making it a model of sustainability. Complete with rooftop solar panels and an atrium that maximizes natural light, the facility is filled with energy-saving features. Motion sensors around the building turn off lights in empty rooms, and automatic light dimmers detect sunlight and adjust accordingly to reduce energy consumption.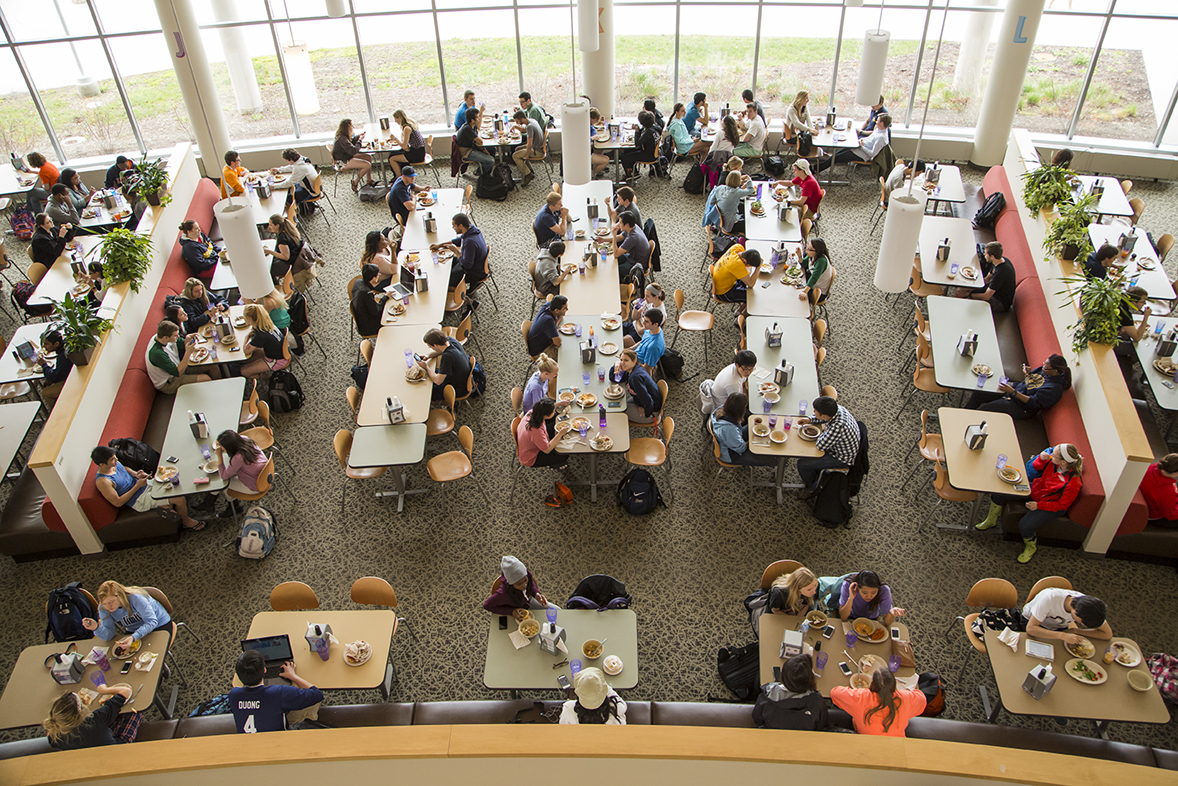 6. Your Food! 
The University Housing Dining Service is no stranger to sustainable efforts. They source many of their products locally, such as pork from Rantoul, fruits and vegetables from the Sustainable Student Farm, coffee from a Champaign-based company, and Asian carp from the Illinois River. Dining Services also participates in several waste-reduction programs to properly handle food waste and minimize their environmental impact. Student employees even wear uniform T-shirts made from recycled materials.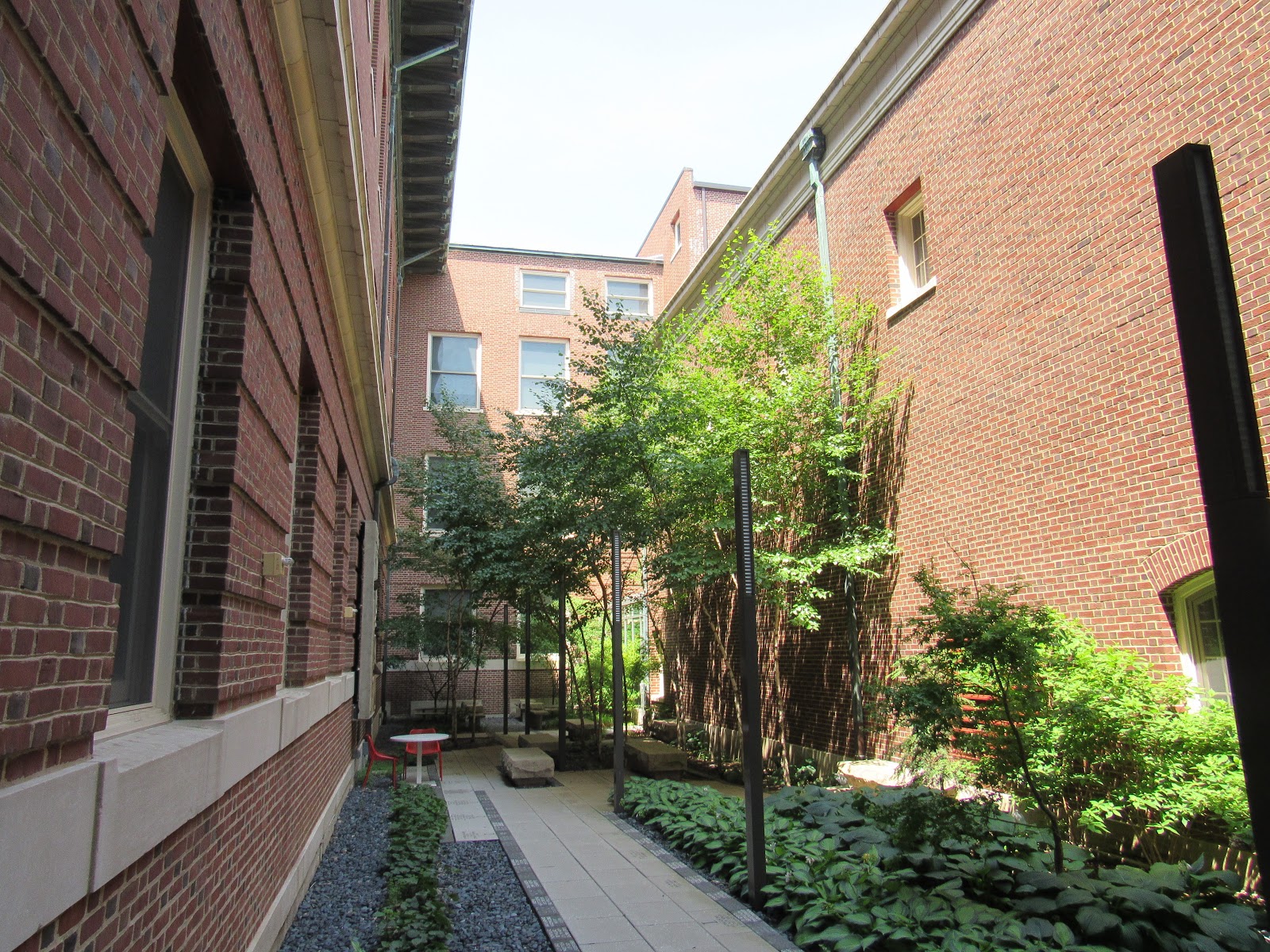 5. Landscaping at Lincoln Hall
Reopened in Fall 2012 after a thorough renovation, Lincoln Hall is now one of the most sustainable buildings on campus. Shower facilities for cyclists, low-flow water fixtures, sophisticated electrical systems, automatic lights, and much more have helped Lincoln earn the LEED Platinum certification. The building also has two living roofs covered in 12 variations of sedum, which provide insulation for the building and reduce water runoff. The two courtyards in the center of the building use native plant landscapes, which require less water and support wildlife.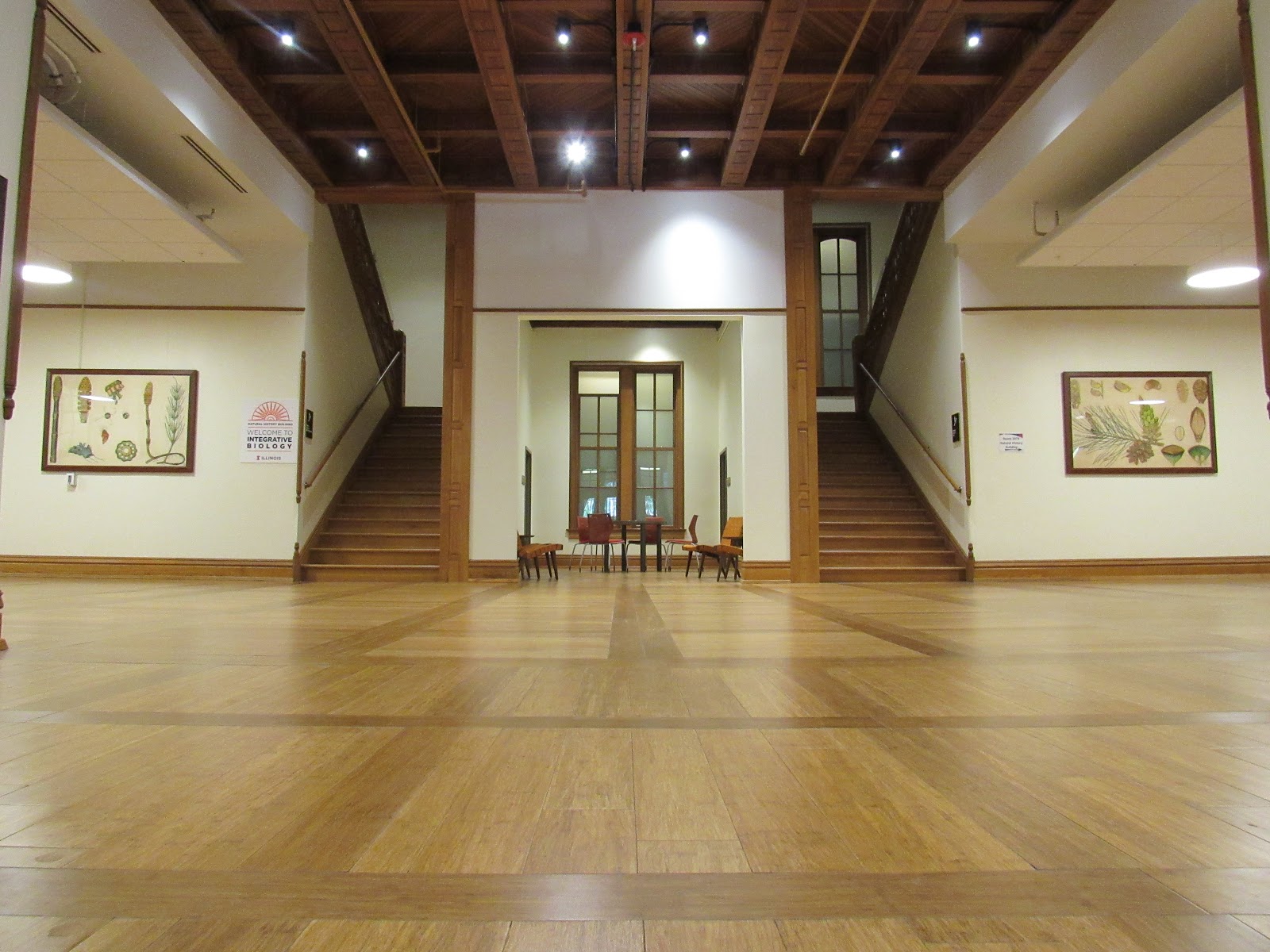 4. Bamboo Floors at NHB
Following a recent $78.3 million renovation, the Natural History Building (NHB) is on the way to earning LEED Gold certification. While much of the original woodwork was restored, the traditional hardwood floors were replaced with bamboo flooring — because it only takes three to five years to harvest, bamboo is a more renewable alternative.
3. Trees on the Main Quad 
In April 2018, the University of Illinois received its third designation as an official Tree Campus USA by the Arbor Day Foundation. This recognition is awarded to campuses that maintain a tree advisory committee, establish a campus tree-care plan, dedicate annual stewardship for a campus tree program, perform an Arbor Day observance, and develop a student service-learning project. The University celebrated this year's Arbor Day by planting a new tree on the Quad, adding to the more than 20,000 trees on campus.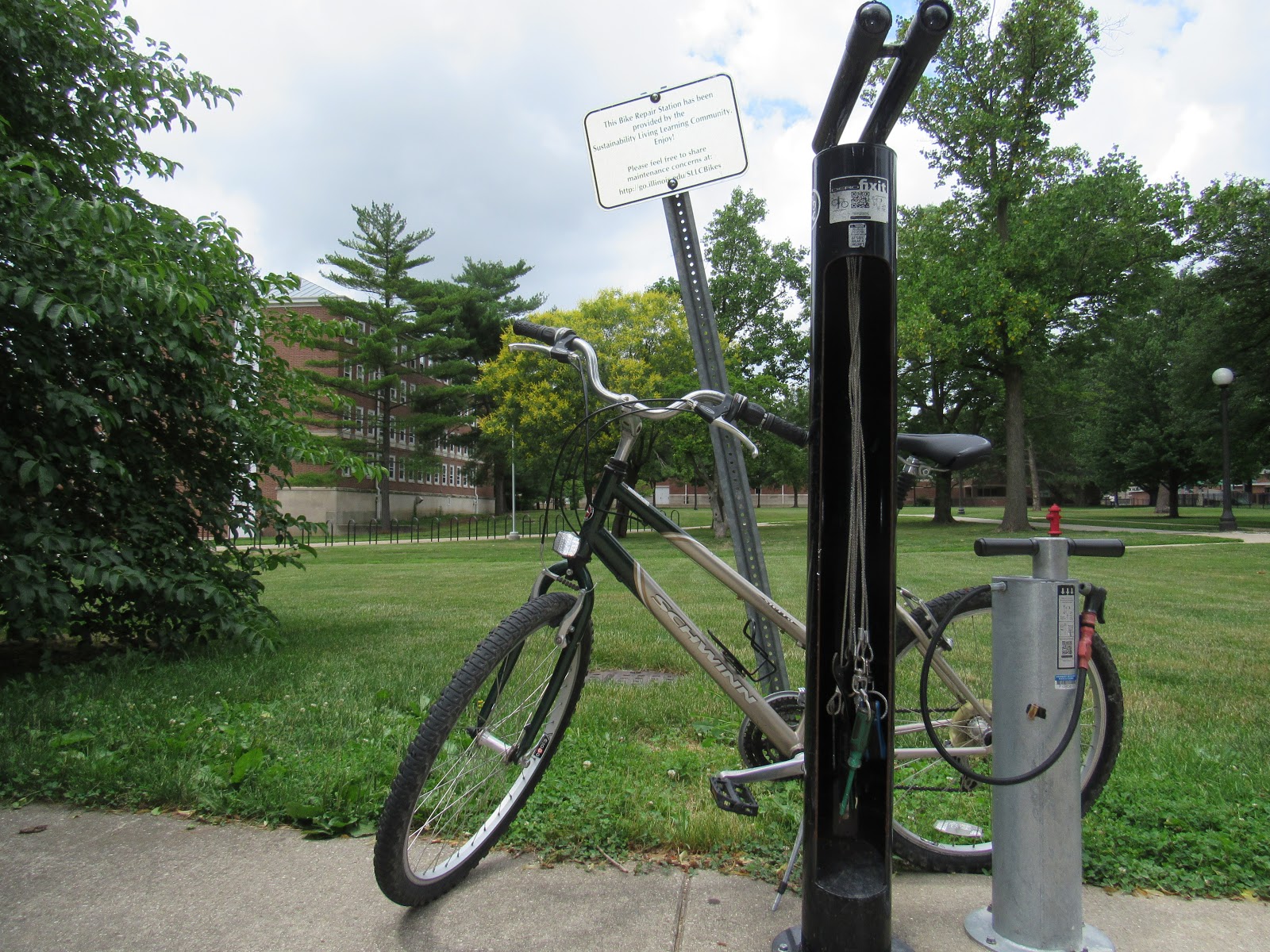 2. Bike Maintenance Stand at LAR 
Lincoln Avenue Residence Hall (LAR) is home to the Sustainability Living-Learning Community (LLC), which provides unique opportunities for its residents. LLC members have access to programs such as bike rentals, Food Fridays, group trips, a native plants project, and other fun sustainability-related activities. The LLC used its funds to purchase a bike maintenance stand for LAR to encourage the usage of bicycles on campus.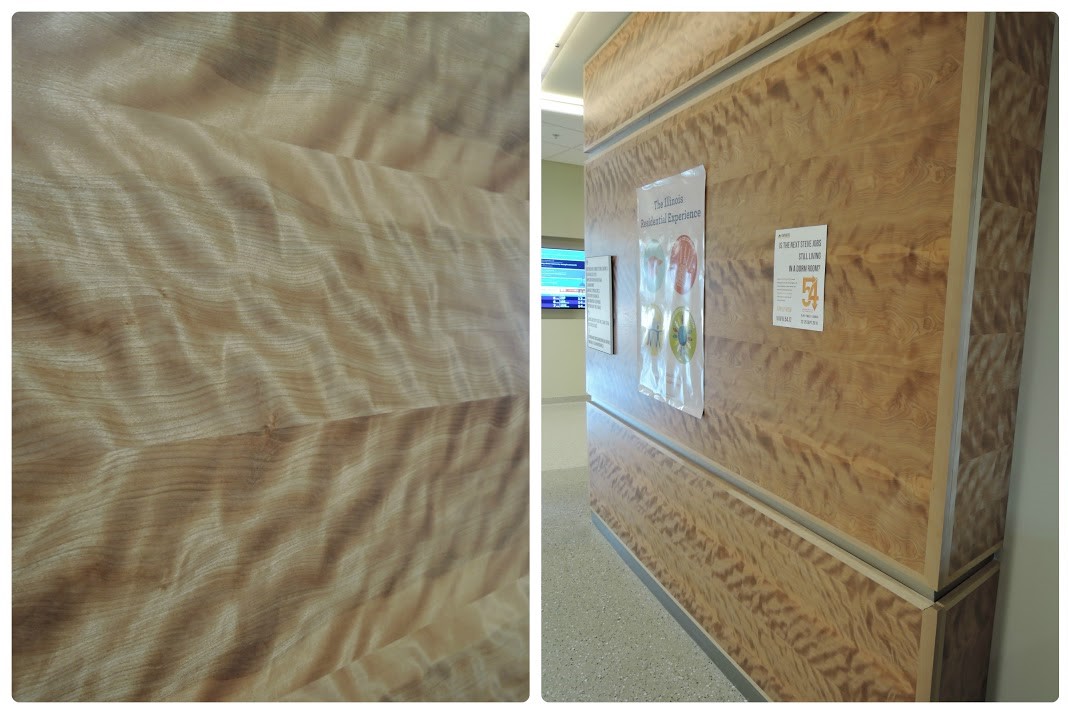 1. Wood Paneling at Wassaja Hall 
Wassaja opened its doors in 2016, making it the newest residence hall on campus. It was awarded LEED Gold certification in Spring 2017 for its sustainable furniture and finishes. The walls on the first floor feature accent paneling made of reclaimed wood from centuries-old logs that were recovered from the bottom of a lake in Maine.