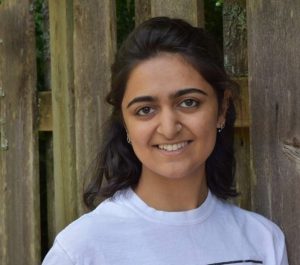 Meet Tulsi Chudgar, a sophomore majoring in Civil and Environmental Engineering and a member of our Transportation SWATeam.
Tulsi is excited to learn about the process of working with fellow students, faculty, and staff toward a common goal — especially when it comes to enacting change on campus.
"A college campus has the opportunity to encourage sustainable changes nationwide because it is a place of education and research," she said. "I think it's an incredible experience to be able to take advantage of this cutting-edge outlook by participating in sustainable changes."
While Chudgar believes this campus places an importance on alternative forms of transportation by having an extensive network of bike paths and buses, she is still eager to further Illinois' culture of alternative transportation. In addition, she hopes to effectively represent the student population in the discussion of transportation and sustainability on this campus, while working to meet Illinois Climate Action Plan (iCAP) goals.
Above all, she hopes her time on the SWATeam will help to change individual attitudes toward transportation on campus so that everyone can take a more mindful approach to getting around town.
"Whether that means walking or taking the bike to class, or using public transportation to travel to Chicago for the weekend, I hope that we can rethink our modes of transportation," she said.
When she's not in studying, you can find Tulsi working with UIUC Chapter of Bridges to Prosperity, an RSO that builds bridges connecting isolated communities in Central America. She also enjoys climbing the wall at the Activities and Recreation Center and exploring the restaurants in Campustown with friends.
Return to Transportation SWATeam page