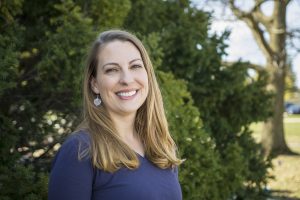 Traci Quigg Thomas is the Project Manager for Crops in silico (Cis), a research project that iSEE originally seed-funded in 2014 as it fits into the Institute's research themes of Climate Solutions and Secure and Sustainable Agriculture.
She has her Bachelor's degree in Food Science and Human Nutrition (FSHN) and is currently pursuing her Master's in Public Administration. Before coming to Champaign-Urbana, Quigg Thomas worked in the private sector as an accountant.
Now as the project manager of Cis — which is an iSEE collaboration with the National Center for Supercomputing Applications and in early 2019 received a $5 million extending grant from the Foundation for Food and Agricultural Research (FFAR) — Quigg Thomas is in charge of various tasks, and no two days are the same. Some of these tasks include technical, administrative and financial decisions for the five institutions the Crops in silico team is associated with.
According to Quigg Thomas, one of the highlights of her job thus far is planning and organizing the fourth annual Crops in silico Symposium & Hackathon – only months after starting her position.
Organizing events like these and working with researchers who produce groundbreaking research, she said, is one of the reasons we can build sustainable communities for current and future generations.
"The Crops in silico team is continuing to pursue opportunities to work collaboratively to help address current and future food insecurity.  No one researcher or institution has all the resources to address these issues completely; developing effective research collaborations will be essential to solving global food insecurity," Quigg Thomas said.
Aside from planning events and working with researchers, you can find her simply enjoying the outdoors by hiking or gardening. Within the past year she has visited 20+ national parks and monuments.