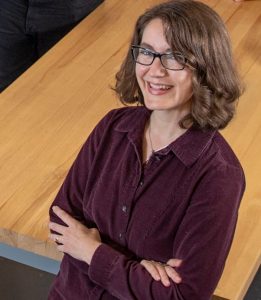 Meet Stacy Gloss, a Research Specialist in Indoor Climate Research & Training (ICRT) at the Applied Research Institute, and member of the Education SWATeam.
Before joining ICRT, Gloss worked in the field of energy efficiency as a policy advocate in Charleston, W.Va. She's also worked for a Weatherization Assistance Program, where she coordinated two community energy fairs and worked on a city energy efficiency incentive rebate program.
Gloss has always been involved in projects with sustainability as a focal point. Even when she was in graduate school, she took courses in sustainable development and interned with the Western North Carolina Renewable Energy Initiative.
These days, Gloss coordinates complex field research projects that intersect energy efficiency with indoor air quality. When a colleague introduced her to the university's SWATeams, she jumped at the opportunity to get involved.
"My SWATeam is a good fit with my interests in community outreach and education around sustainability and energy issues in Champaign-Urbana," she said.