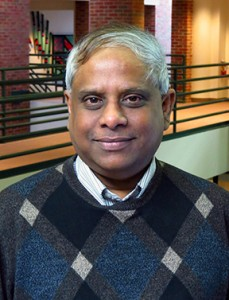 Meet Nandakishore Rajagopalan, Associate Director at the Illinois Sustainable Technology Center (ISTC) and a member of the Water and Stormwater SWATeam.
Before coming to the University of Illinois as a student 30 years ago, Rajagopalan held positions in project and plant management and was the project engineer for the largest integrated rapeseed processing plant in India. After graduating, he worked as a Pollution Prevention Engineer at the Hazardous Waste Research and Information Center (now ISTC, a Division of the Prairie Research Institute). Currently, Rajagopalan directs and researches sustainability solutions as the ISTC Associate Director and the Illinois Pollution Prevention Scientist.
He has always been interested in water conservation and reuse.
"Water is basic to human quality of life. It serves so many purposes; I hate to see it taken for granted," Rajagopalan said.
Other Illinois projects he has worked on include surveying campus cooling water on behalf of the Student Sustainability Committee (SSC) and initiating the Billion Gallon Water Challenge on the state level. He joined the WSW SWATeam to provide guidance on water conservation measures and practices.
Rajagopalan's favorite part about the University of Illinois? "The libraries — they have kept me in town all these years."