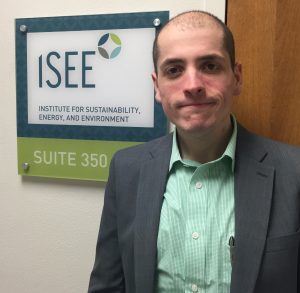 Micah is iSEE's Sustainability Program Manager. He started his career by obtaining his B.A. in Linguistics and M.A. in Public Administration from the University of Houston. Micah transitioned from the Student Sustainability Committee (SSC) Coordinator to iSEE in 2015. Before coming to Illinois, he was a Program Coordinator at the University of Houston.
Micah doesn't have an average day at iSEE, but rather works on different projects simultaneously. Some of his projects include managing and advising on educational opportunities for students, such as the Sustainability, Energy, and Environment Fellows Program and Certificate in Environmental Writing, documenting and reporting on the University's sustainability successes and initiatives, and leading Illinois' Greener Campus programs. 
To Micah, one of the most important parts of working in sustainability is the continuous impact it makes on the environment. He finds it rewarding to see the students impacted by iSEE programs who go out to do big things in the world, making our country and planet a greener place. 
In addition to his work with iSEE, Micah is a elected representative for District 4 of the Council of Academic Professionals. His love for the outdoors expands beyond the office: On weekends you can catch him exploring local parks and traveling around the country.