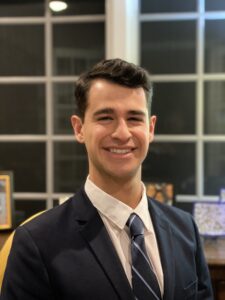 Matthew Gold is an undergraduate student pursuing a Bachelor of Science in Earth, Society, and Environmental Sustainability. He also plans on graduating with minors in Business and in Sustainability through the Sustainability, Energy, and Environment Fellows Program. He is a current member of the Energy SWATeam.

Gold's involvement began last year as he got in contact with a team clerk. After their conversation, he applied to join the team as he realized it would be a great way for him to make a difference here on campus.
He is interested in working toward energy efficiency and reduction and loves the idea of making a real impact. Gold understands that achieving these goals comes from better engagement with students and staff and looks forward to making this happen.
He hopes to help recommend at least three projects over the course of the 2021-22 academic year and would love to push them to get funding for further development. 
In his free time, Gold is a huge Chicago White Sox fan and enjoys distance running outdoors.
Return to the Energy SWATeam Page >>>
— Article by iSEE Communications Intern Kratika Tandon