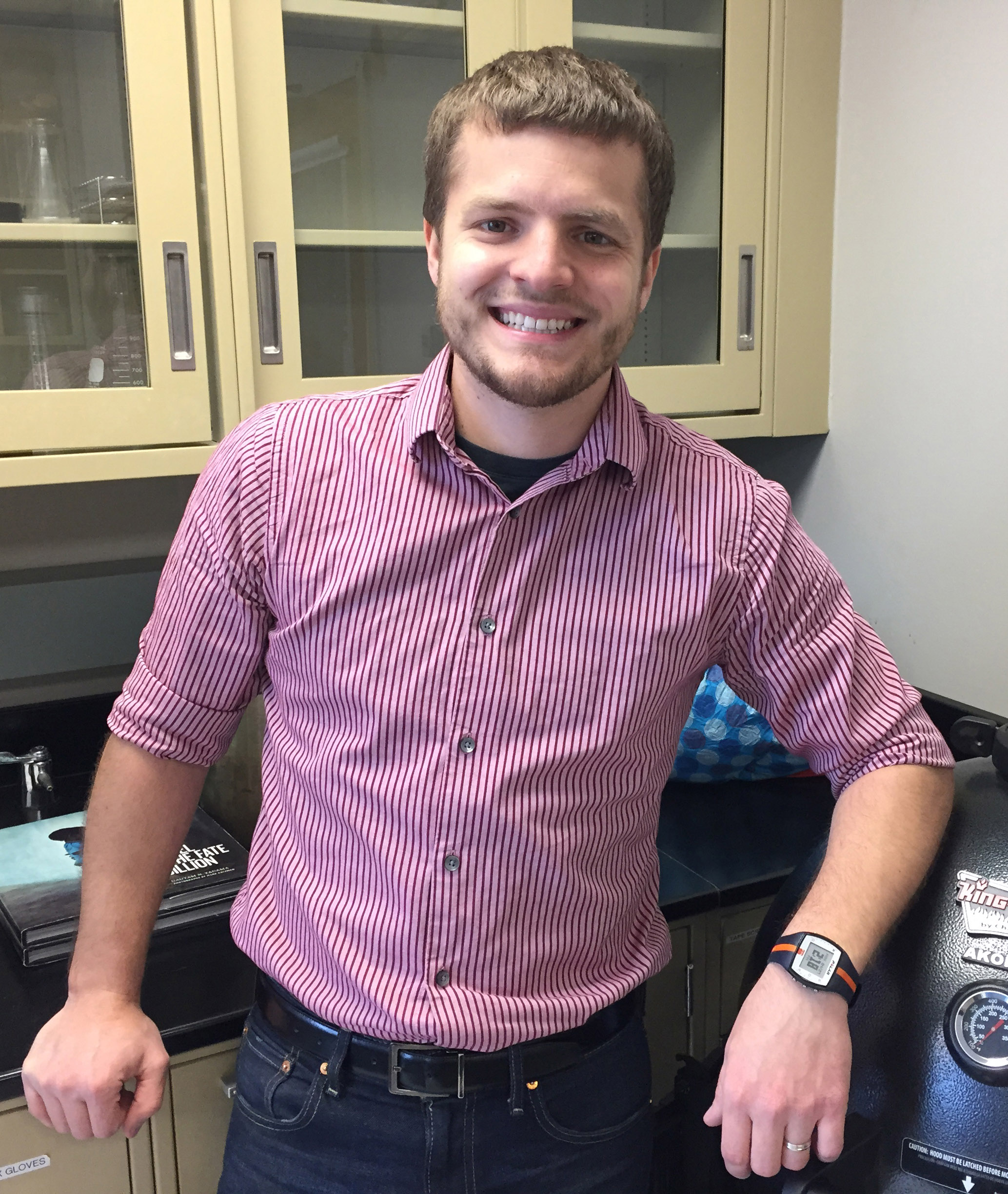 Matthew Alonso is a Ph.D. candidate in Agricultural and Biological Engineering and a graduate research assistant in the Litchfield Research group.
In the Stored Solar Stove lab, Alonso is a jack-of-all-trades as he seeks to understand how to collect, store, and recover solar energy for household cooking. He manages undergraduate students, collects data during cooking experiments, searches for new energy-storing materials, and tests the properties of those materials.
Alonso completed a Masters in Mechanical Engineering with a focus on projection micro sterolithography in 2010. Afterward, he followed his passion for teaching as an instructor in the Illinois Engineering First-Year Experience (IEFX) program. During that time he started conversations about the global cooking problem — 4 million deaths a year from inhaling smoke and particles from wood and other solid-fuel cooking fires — with his advisor Professor Bruce Litchfield. Between them, they had advised several groups of undergraduates working on a solar cooking projects, but had met failure in all attempts.
"Bruce and I didn't understand why, and that's why we wanted to go and give it a better push," he said.
The idea for addressing the health risks of fire cooking had been in the back of Alonso's mind for several years since a visit to his wife's grandmother in Ecuador.
"I woke up in the morning and went to breakfast, and when I walked into the kitchen, I walked into a cloud of smoke. This was something that was really new to me: the idea of having a wood fire indoors," he said. "But wow, there it was, a wood fire in the corner of the room throwing all this smoke and soot into the air. I had no idea half the world was still cooking on fire."
Solar seemed a simple way to eliminate smoke but wasn't terribly practical, he said.
"The traditional thought in solar cookers is a low and slow crockpot type thing, but that has never had traction with people globally. People want to cook on something that feels like fire and is available whenever they need it," he said.
With help from Litchfield, Alonso set out to find a material and design that could store energy at a high enough temperature to cook on quickly. He borrowed a small corner of lab space from the Agricultural and Biological Engineering Department in the College of ACES.
"The initial work was really on the side. It was garage science, you know, begging and borrowing supplies to test," he said. It wasn't long until he had his first breakthrough.
"I cooked a 10-ounce steak, a pound of sausage, and a couple cups of rice on the stored energy. That was more than 3,300 calories of food. It was really important for us to see that it can actually happen," he said. "Now we just want to make it even better."
After the cooking success, they made the research "official," and Alonso applied to his current Ph.D. program.
He and his wife have lived in Champaign and Urbana for more than 10 years as each of them rotated through Bachelor's, Masters, and Doctoral programs.
He especially enjoys teaching and mentoring, recognizing that he benefited from these himself. As a high school student in Freeport, Illinois, Alonso was in the FIRST (For Inspiration and Recognition of Science and Technology) Robotics program, in which students built robots to compete in challenges. He spent time "hanging out" with engineers and machinists at Honeywell, a large engineering solutions company.
"I think seeing people give back and spending their time with us and mentoring was what helped me want to do something more and get involved," he said. Now, he wants to give to students of the future.
"My goal for getting my Ph.D. is for teaching. I want to be an educator at the collegiate level someday."
He is also finding ways to give back to the Urbana-Champaign community. He has been a mentor for the CU 1-to-1 mentoring program and engages the community in STEM (science, technology, engineering, and math) outreach.
"I think being involved in iSEE has made me more vocal, getting a little bit more involved in social responsibility. I always cared about issues, but never acted," Alonso said. "Now that I'm getting more involved in the biking community, I went to a campus bike infrastructure forum and told them about my concerns as a citizen. I've never done that before."
Return to Stored Solar Stove Project page